Travel money cards have been all the rage over the past few years. Being able to load foreign currency onto a travel credit card at a fixed rate has become an appealing proposition for many travellers, and the ability to use these cards for withdrawing local currency from a foreign ATM without having to pay regular bank fees has also been a big selling point.
The advantages of locking in currency at a fixed rate has become evident in recent months with the US$ to NZ$ having dropped from .7398 earlier in the 2018 to .6603 at the time of writing this. Anybody who had locked in currency at the higher rate would benefit significantly from this if they were heading to the United States now.
In 2011 Air New Zealand partnered with BNZ to launch their OneSmart card offering. Every Airpoints card issued to its own Airpoints members was also a multi-currency prepaid Mastercard backed by BNZ using the Mastercard Rev platform. All a customer needed to do to utilise the card was to activate it and load funds onto it - something that was incredibly easy to do. The OneSmart card allowed you to load multiple currencies onto the card at fixed rates and withdraw money from foreign ATMs without paying any fees. OneSmart also featured virtual card numbers - something that BNZ pioneered in the NZ marketplace, and something sadly not available from any bank or credit card in New Zealand now.
In 2015 Air New Zealand and BNZ had a falling out, which resulted in BNZ no longer being an official Airpoints credit card partner. In 2016 Air New Zealand handed over the running of the OneSmart card to Travelex, who in turn migrated OneSmart to their own white label travel card platform that was already used to run their own Travelex travel card offering. The Travelex platform is also used by a number of other New Zealand banks to run their own branded travel cards which are the same white label product as OneSmart.
The move was not without issue, with plenty of customer complaints and media articles complaining about problems. I personally activated my new OneSmart card but now have no access to the online platform - security questions required to login or access their call centre don't work, and the New Zealand based Air New Zealand OneSmart team could be of little help as the Travelex platform is all managed by the Travelex call centre in Manila. I have given up trying to access the card as after multiple calls to Travelex and Air New Zealand nobody was able to help me.
One of the biggest benefits of the OneSmart card is that it allows you to pay for Air New Zealand flights and pay no credit card fees - a benefit so huge that it is ironically not mentioned anywhere on the OneSmart website. If you're somebody who books a large number of flights and don't rely on credit card travel insurance for international travel, you could easily save hundreds of dollars per year in credit card fees simply by using your OneSmart card to pay for your flights.
If you don't use a OneSmart card for booking flights however, there are probably no real reasons why you would want to use it. Travelex offer the exact same multi currency travel card product under their own branding but with better rates, more features, and fewer fees than the OneSmart card.
While OneSmart and the Travelex Money Card are technically a similar product run on the same platform, the exchange rates on offer differ between both cards in part because of the commission structure. Air NZ (and other providers who use the white label offering)  receive a commission from Travelex, which in turn allows Air New Zealand to offer Airpoints earn on all purchases at a rate of APD$1 for every NZD$100 spent overseas.
To understand foreign exchange rates you firstly need to understand how they're set. The "official" exchange rate you see in the news and currency websites is what is known as a mid market rate. When currency is traded on international markets this rate is the midpoint between what a currency is sold and bought for. You will typically never be able to buy or sell currency at the mid market rate, but the closer you can get to this rate, the better your deal is.
The two most commonly used currencies (AUD and USD) both consistently offer very poor rates on OneSmart vs the Travelex Money Card. For this reason alone if you're a heavy user of a travel card in these countries then the Travelex card is significantly better value for money.
These rates were all taken from the OneSmart, Travelex and xe.com websites at 1:30pm on the 4th September 2018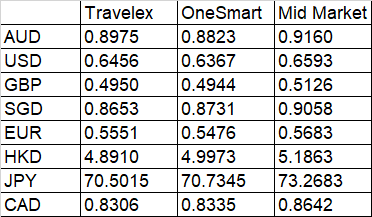 Once your OneSmart or Travelex card is loaded with foreign currency there are no additional charges or fees for credit card purchases or ATM withdrawals, unless you exceed the free transaction limit on the OneSmart card, use a private ATM with a surcharge, or you attempt to purchase something in a currency that doesn't have sufficient funds on the card. In a case like this dynamic currency conversion will occur, taking funds from other currencies on the card and dynamically converting it to the currency you're trying to use.
It is important that if offered a choice of currency options on the credit card terminal that you choose the correct foreign currency you want to pay in - it's not uncommon to see foreign terminals offer the choice of paying in local or your home currency when you insert your card. If you you're in the US and select NZ$ rather than US$ your transaction will be charged to your card in NZ$ at the current rate set by the provider (which is typically not that great).
For comparison using a regular NZ credit card for purchases overseas will incur foreign currency conversion fees of between 2.25% and 2.5% depending on your bank.
Visa or Mastercard will firstly convert the foreign amount to NZ$ at their conversion rate (a rate which will be pretty close to the mid market rate) and your bank will then apply its foreign currency conversion fee on the NZ$ amount. In the real world this means you will be paying an effective conversion rate of typically just over 2.5% to use a credit card overseas depending on your bank.
Some banks offer lower rates of around 2.25% for foreign transactions, however I'm not aware of any credit cards in New Zealand that waive foreign conversion fees - something that is commonplace on some cards in many other countries.
Using your regular bank EFTPOS card to withdraw cash from a foreign ATM will incur foreign currency conversion fees and a transaction fee for most banks. ANZ have recently scrapped their foreign ATM transaction fees, and Westpac charge no transaction fee if the ATM is part of the ATM Global Alliance.
To top up a OneSmart or Travelex card you need to transfer money online using Internet banking, a process that typically happens overnight, but one that can take up to 48 hours. You can now top up a OneSmart card online using another credit card, however a 2.5% fee applies for this to cover credit card interchange fees. Any gains you may make by locking in a currency are likely to be outweighed by this fee, so it's hard to see why anybody would willingly use this method because it simply ends up being a bad deal.
So what other key differences are there between the two card offerings?
The OneSmart card allows three free cash withdrawals per calendar month from foreign ATMs, with subsequent transactions charged at NZ$3 each. The Travelex Money Card allows unlimited free foreign ATM withdrawals every month. For both cards (along with your regular credit card and EFTPOS card) a surcharge may apply at private ATMs that are not part of a bank network.
The OneSmart card charges a NZ$1 monthly account fee regardless of whether you use your card or not. The Travelex Money Card charges NZ$4 per month after 12 months of inactivity - so providing you use your Travelex Money Card at least once every 12 months you will pay no account fee.
The OneSmart card has a $10 fee for a replacement Airpoints / OneSmart card. The Travelex Money Card offers a replacement card for free. If your credit card number is compromised and requires a replacement card or the chip is damaged, the fee will not be waived on the OneSmart card, whereas you can get a free replacement with Travelex.
The OneSmart card has no service fees for loading of NZ$ or foreign currency. Foreign currency is at the quoted rate at the time of the transaction. Travelex Money card fees apply for loading of NZ$ onto the card (quoted directly from their PDS) "Load/reload in NZD: the greater of 1.0% of the initial load/reload amount or NZD$10.00. Load/reload in other currencies: zero. For example, for a Distribution Outlet charging a 1.0% initial load fee, if you purchase a Travelex Money Card and load NZD$800, you would be charged (NZD$800 x 1.0%=NZD$8), unless a minimum fee of NZD$10 applies"
Both Travelex and OneSmart cards have similar processes for dealing with disputed transactions. You print out and either post or email a form on their website and wait for them to process this. This process can require significantly more effort that dealing with your bank for a normal credit card.
The Travelex Money Card also offers three months free global unlimited WiFi access at more than 1 million Boingo WiFi hotspots around the world for up to four devices as part of its partnership with Mastercard. Each time you top up your Travelex Money Card you are eligible for another three months free access. This offer does not apply to the OneSmart card.
The appeal of travel cards is more than just being able to lock funds in at a fixed rate. I know of people who have used the cards as a savings scheme for their overseas holiday - each week they simply add money to the card and then then have this available for use when they're on holiday. I've also seen couples or groups of friends all add funds so they can use these cards for things such as dining out and avoiding the hassle of having to split a bill every time.
Despite the perceived benefits of travel cards I personally don't use one. I use my regular ANZ Airpoints Platinum credit card for all travel expenses and use my regular ANZ EFTPOS card for ATM withdrawals as I pay no fees using that. The Airpoints earn on my ANZ credit card means I'm paying an effective conversion rate that's as good, or even slightly better than a travel card, and I know that the ANZ fraud detection analytics and processes for dealing with credit card fraud are world class.
There are many reasons why these cards may sound appealing, but my advice for anybody who uses one of these cards is to very carefully look at the rates and fees you're paying. If you have an activated OneSmart card you'll be paying $1 per month regardless of whether you use it or not. If you have a Travelex Travel Money card you haven't used for over 12 months, you'll be paying $4 per month.
Travel cards have their place in the market, but you really need to understand what benefits they may deliver you, and whether they are the best solution for your needs.