Internet access while travelling is almost a necessity these days. Being able to keep in touch via social media, use Google Maps or order an Uber are now an essential part of travel.
So what's the best option for staying in touch if you're travelling around the UK and Europe?
As a frequent traveller I'm with Vodafone NZ for my mobile because their $5 daily roaming beats the roaming offerings from Spark and 2degrees hands down. The convenience of arriving in another country and being able to use my included minutes, SMS and data without having to change SIM cards or have a different number is a huge bonus.
On my current trip to the UK and Europe instead of using $5 daily roaming I opted for a Vodafone UK Pay As You Go prepay SIM while keeping my NZ SIM in a secondary phone. As of mid June 2017 roaming charges across the EU have been scrapped, meaning you can use a phone from any most European countries in any other European country with no roaming surcharges. Vodafone UK offer this free roaming across 50 destinations in Europe.
Why use a local SIM rather than $5 roaming? Not all destinations in Europe are included in Vodafone's $5 per day roaming, and as a heavy data user the performance benefits are significant - so it's worth it. If you're also roaming for any more than a week you're also going to save money. The main reason for using $5 roaming would be if you're answering lots of inbound calls from New Zealand.
One thing many people don't realise is that when you're roaming all your Internet traffic has to head back to your home mobile network for billing purposes. This means using data roaming on a NZ mobile while in the Europe can be a very sluggish exercise due to the approximately 350ms round trip delay back to New Zealand. Unless the laws of physics change, this delay won't change.
If you're accessing sites or content located within New Zealand the experience is fine, however accessing content from the US or UK means that round trip delay can be up to approximately 700ms as the data needs to go from your phone to New Zealand, from New Zealand to the UK, back to New Zealand and the back to the UK, making the experience a very sluggish one.
There is a technical solution called local breakout roaming is part of the 3GPP specifications and will probably start to be used globally within the next 12-18 months. This allows you data to egress within the local country rather than needing to head back to your home network.
I purchased a Vodafone UK Prepay SIM for £20 offering 6GB of data and 500 minutes of calling to the UK or any of 50 included destinations. As I was travelling with friends we all purchased SIM cards and could easily stay in touch via our usual methods such as WhatsApp, but could also call each other using these included minutes.
I purchased the Vodafone UK SIM because it was my first destination in Europe - if you're flying into another country first you can simply buy a SIM card there and still use it across any of the other countries without paying roaming charges.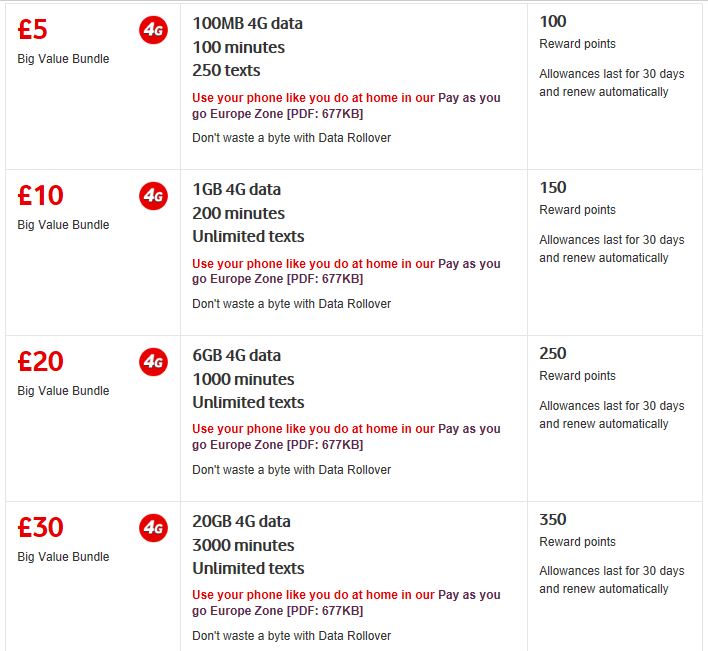 The list of destinations for Vodafone UK is: Albania, Austria, Azores, Belgium, Bulgaria, Canary Islands, Croatia, Cyprus, Czech Republic, Denmark, Estonia, Finland, France (inc Corsica), French Guiana, Germany, Gibraltar, Greece, Guadeloupe, Hungary, Iceland, Ireland, Italy, Latvia, Liechtenstein, Lithuania, Luxembourg, Malta, Madeira, Martinique, Mayotte, Monaco, Netherlands, Norway, Poland, Portugal, Reunion, Romania, Slovakia, Slovenia, Spain (inc Balearic Islands), Sweden, Albania, Bosnia and Herzegovina, Guernsey, Jersey, Isle of Man, San Marino, Saint Martin, Switzerland, Turkey, Vatican City. Desinations for other networks may vary.
Vodafone UK offer a number of monthly plans ranging from £5 for 100MB data and 100 mins calling up to £30 for 20GB data and 3000 mins calling to the UK or within any of these destinations.
Calls to New Zealand are not included in these minutes, but with so many people using applications such as WhatsApp or Facetime to keep in touch these days that's hardly an issue.