What would you think if I told you I knew a way to save a thousand dollars on your Air New Zealand Business Class trip from Auckland to Los Angeles as well as getting two free trips to Sydney thrown in for free? You'd probably think I was crazy. (Well I am, but that's not the point..)
Competition in the Australian marketplace sees Air New Zealand selling airfares to North America in the Australian market at times for a lot less than they sell for in New Zealand - despite the fact those flights all transit via Auckland. This is nothing new, and it is certainly nothing unique - it's also common to see Qantas sell fares in the New Zealand market for a lot less than they sell for in Australia.
Through traffic between Australia and The Americas is an incredibly important part of Air New Zealand's business, with up to 30% of passengers on flights from Auckland to Buenos Aires, Houston, San Francisco, Vancouver and Los Angeles being passengers who are merely transiting through Auckland on their way to or from Australia. Maintaining competitive pricing and market share in the Australian market is an incredibly important focus important for Air New Zealand.
Initially you might think there is no easy way of taking advantage of the cheaper flights from Australia.. But you'd be wrong.
Lets start by looking at the cost of flights to Los Angeles from Auckland for April next year. I picked two random dates to see the cost of flights -
The return cost from Auckland to Los Angeles flying out on Tuesday 9th April and flying back on Saturday 20th April is NZ$1,893 in Economy, NZ$4,523 in Premium Economy and NZ$8,763 in Business Premier.
The three fare booking classes selected (L in Economy, A in Premium Economy and J in Business Premier) represent the cheapest booking classes available from Air New Zealand on this route. These are not "special" fares, they are simply the cheapest class "regular priced" long term publish airfares that are available.
Lets now look at another option to book those same flights from Auckland to Los Angeles and return - but with a twist. We'll take advantage of the fare rules and throw in two return trips to Sydney that are months apart from the trip to the US.
By booking an airfare starting and ending in Sydney, you'll need to find your way to Sydney and home again. Doing this at the same time as the flights to the US seems like a rather stupid thing to do - but the beauty of the fare rules and multi stop tool is that it allows you to book the flights from and to Sydney months apart (up to 12 months depending on your airfare).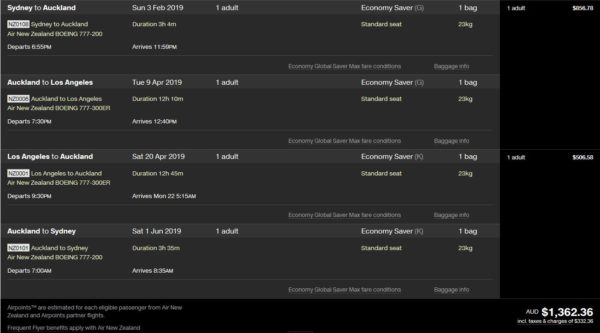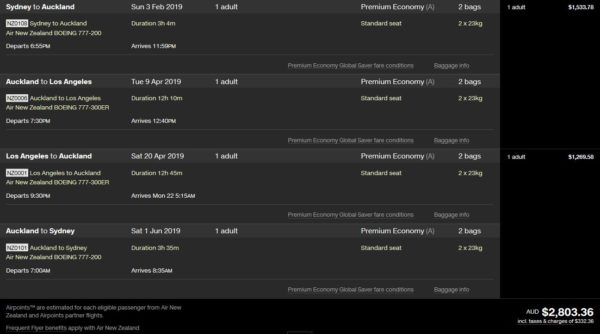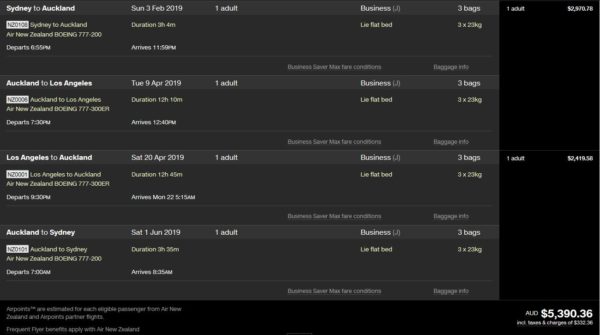 Now you simply need to book two one way fares to and from Sydney. Lets look at one way flights from Auckland to Sydney on the 2nd February, and from Sydney to Auckland on the 2nd June.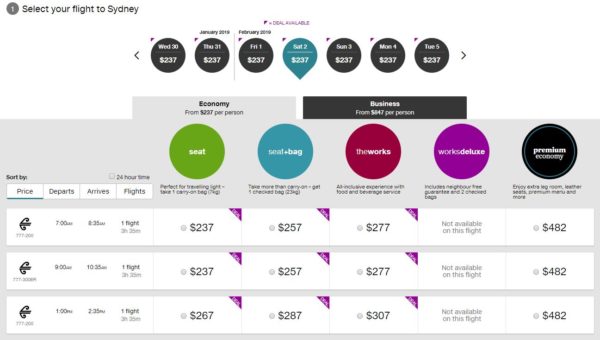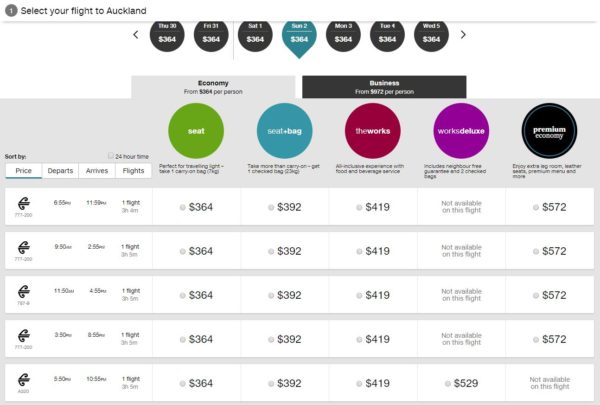 The vast majority of flights between New Zealand and Australia are operated by Airbus A320 aircraft with a single cabin economy fit out. Ex Auckland these flights are supplemented by Boeing 777 and Boeing 789 Dreamliner aircraft that feature a three class Economy, Premium Economy and Business Premier fit out. These Boeing flights are primarily in the mornings and afternoon so they can provide connecting services for Premium Economy and Business Premier passengers transiting to and from North America.
If you're keen on Business Premier all the way this will cost a total of NZ$7,673 for the two standalone airfares to Sydney as well as the original airfare from Sydney to Los Angeles and back to Sydney. This is a saving of over $1000 over the cost of purchasing the same airfare from Auckland to Los Angeles for NZ$8,763. If you're happy with Premium Economy for your standalone flights to and from Sydney (remember you'll still fly Business Premier on the flights from and to Sydney that are part of your main ticket) this will only cost you NZ$6,918
If you're not keen of splashing out for Business Premier you can still save money flying Premium Economy. It'll cost you NZ$4,103 to fly to the US in Premium Economy and enjoy Premium Economy both ways on your two flights to Sydney. This compares to NZ$4,523 for the trip from Auckland to Los Angeles if booked in New Zealand.
If you opt for an Airbus A320 flight which only features Economy, you'll save even more.
If you're more of a budget traveller you can still save money in Economy - it's NZ$1,893 to book the Auckland to Los Angeles trip in Economy but only NZ1,481 to book Sydney to Los Angeles return via Auckland. You can add on the side trip to Sydney for NZ$237 which means you'll still pay less for your trip to Los Angeles and get a side trip to Sydney.
If you don't want to spend the final weekend in Sydney you don't need to - by not turning up to Auckland airport and checking in your ticket will simply be invalidated. You can't do this though for the first leg from Sydney to Auckland though - if you don't turn up in Sydney for your first flight your whole ticket will be invalidated.
The examples I've posted above were completely random dates picked for the purpose of demonstrating this scenario. They won't be representative of the savings that can occur at all times of the year as Air New Zealand sales from New Zealand can mean that flying from New Zealand will be cheaper at times than flying from Australia.
They do however demonstrate how you can take advantage of cheaper fares from Australia, and get to experience a free trip or two to Sydney. Happy travels!