Renting a vehicle can be one of the most confusing, frustrating and potentially risky parts of travel, especially when it comes to understanding the insurance cover you may (or may not) be getting. Get things wrong and you could suddenly find your holiday becomes a very expensive one!
If you rent a vehicle in most countries in the world excluding Canada and the United States, you'll typically find yourself with several options for the excess or excess reduction when you make your booking. In the example below from Apex Car Rental here in New Zealand you'll see a $2,000 excess is standard - this is known as a collision loss waiver (CDW) or loss damage waiver (LDW). You'll also see additional CDW/LDW excess reduction options to reduce this to $500, or to zero.

If you hire a car with a CDW or LDW offering a $2,000 excess it means you'll be liable for a maximum of $2,000 for any damage to the vehicle while rented to you. Take the zero excess option and you will not be liable for any damage to the vehicle.
It's worth remembering here that "damage" may not just involve a crash - if you lose a key with a transponder for a modern vehicle you could easily face a $300+ bill for replacement. Stone chip damage to a windscreen can easily result in a $500+ bill if a full windscreen replacement is required. Most rental policies will also hold you liable for the excess regardless who is at fault - something that is the exact opposite of personal vehicle insurance which will typically only charge you an excess if you are at fault in an accident.
Another example is listed below from Thrifty Car Rental - in this case the standard excess is $3000 which can be reduced to $500 (confusingly it mentions 300 NZD liability which is obviously an error) for an extra $26 per day, or reduced to $0 for $31 per day.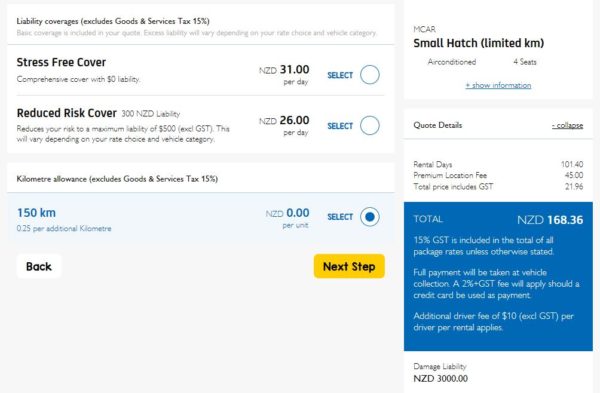 If you're hiring a vehicle outside New Zealand and have travel insurance you'll normally have cover for rental vehicle CDW/LDW in your policy. My 1Cover travel insurance policy covers me for up to $5,000, meaning I'll be covered for the CDW/LDW up to a value of $5,000. As I have a worldwide annual travel insurance policy with 1Cover, I am also covered when renting a vehicle rental inside New Zealand when I'm more than 50km from my home.
As rental companies are not insurance brokers they can't legally sell you "insurance" - so CDW/LDW is not technically insurance. It's also important to note that your travel insurance typically does not provide you with full insurance cover for the vehicle, it merely covers the CDW/LDW excess that you may be liable for. Even with travel insurance, if your vehicle has no CDW/LDW included you will be liable for the full cost of the damage to the vehicle, and could even find yourself paying out the full replacement cost of the vehicle, plus any other losses the rental company may have suffered.
Many premium credit cards also provide travel insurance as a benefit these days. It pays to fully understand your policy if you are relying on this - most policies will only provide cover while outside New Zealand, so you will have no domestic cover for travel or vehicle rental while in New Zealand.
It's important to note here that not all travel insurance is equal. Up until December 2017 ANZ New Zealand offered travel insurance from AIG as part of their Gold and Platinum credit cards. Despite claiming to provide rental vehicle cover as a benefit, in reality due to a carefully worded clause in their policy document it may not have provided you with any cover at all.

This clause means AIG will only provide cover if you've taken out all insurance on offer from the car rental company whether discretionary or mandatory. As pretty much every company I've ever rented a vehicle from offers a full excess buyout option (as shown above in the images above from Apex and Thrifty) which reduces your excess to $0, it means you will have no cover from AIG unless you have taken out this option... And of course once you've taken out the full excess buyout option you will not be liable for any damage to the vehicle, and would therefore have no need to make a claim with AIG under your travel insurance policy. In my opinion it's an incredibly harsh clause to appear in a travel insurance policy.
Westpac also provide travel insurance through AIG as a benefit with some of their credit cards. Their AIG policies do not include this clause in them.
Kiwibank, ASB, BNZ and American Express credit card policies that I've looked at also do not include such a clause, and neither does any other travel insurance policy that I've looked at.
In early December 2017 I received a letter from ANZ detailing their move from AIG to Allianz for their credit card travel insurance from the 15th December 2017. Their letter advises "we've updated the policy wording to clarify the terms of cover for rental vehicle excesses". I initially assumed this had meant the clause had been realigned to match every other travel insurance policy, but it seems that it not the case. Upon reading their new policy my interpretation of this is that it merely attempts to clarify their lack of cover - (note the red is the text from the original ANZ document and is present in their PDF at the time of writing this. It would appear to be the change history for the document)

And further into the document it creates some more confusion -

The previous ANZ/AIG policy did not provide you any rental car cover from most major rental car companies and my personal view is that mentioning rental car cover as part of the policy benefit was incredibly misleading.
The new ANZ/Allianz policy also does not appear to also offer any rental cover either, and if the intention is to now provide cover it's incredibly poorly worded. CDW/LDW is not "comprehensive insurance" therefore opting for anything other than a policy with full excess reduction will potentially leave you personally liable for the CDW/LDW and ANZ/Allianz not providing you any cover for this.
It is also worth noting that the ANZ/Allianz policy specifically only covers a "sedan or station wagon" and does not cover any other types of motor vehicle.
If you're travelling overseas, renting a car, and were planning to rely on an ANZ credit card travel insurance policy I would strongly advise you fully research both the rental car CDW/LDW options along with fully reading your ANZ travel insurance policy and seeking advice from ANZ and/or Allianz to ensure you fully understand how this clause will affect you if you were to damage a rental vehicle.
As most countries around the world have similar CDW/LDW policies and normally have a basic CDW/LDW included in the base policy it means the CDW/LDW excess is all you will be liable for in the case of damage to the vehicle. If renting a car in the United States things become a lot more complex as most rental companies in the United States don't include any form of CDW/LDW in the base price. If you own a vehicle in the United States your own insurance typically covers you while driving any other vehicle so there is no need for companies to include CDW/LDW in their rental price as a typical US resident booking one of their vehicles will already have full cover.
In the United States CDW/LDW is always available as an add-on and typically available with two options - one offering basic cover with an excess of several thousand dollars, and a second option offering zero excess. You need to opt for one of these options, as without it you will have no cover at all with most travel insurance policies and will be liable for the full cost of any damage to the vehicle.
Making matters more complex in the United States is the issue of personal liability insurance. They love lawsuits, and if you've watched any TV ads in the United States you'll realise legal action for vehicle accidents is big business. Hit somebody even at low speed in a carpark and before you know it you could well find yourself the subject of legal action to recover the other person's medical costs and damage to their vehicle. If they've been injured in an accident and require hospital treatment these could easily extend into seven figures. To cover yourself for this you need liability insurance.
As most United States citizens also don't need this cover, it's also typically not included by default. Most United States rental car companies provide liability insurance as an add-on, normally referred to as Supplementary Liability Insurance (SLI) which covers you typically up to a few million dollars. Most travel insurance policies include liability insurance but specifically exclude "motorised vehicles" in their sub clauses.
You should ensure you're fully aware of the terms and conditions of your rental car and travel insurance policy, and if your travel insurance policy specifically excludes liability cover for motorised vehicles you should ensure you purchase SLI from the rental car company if this is not included to ensure you are fully covered.
If booking a rental car inside the US you will find that bookings typically do not include any form of CDW/LDW or liability insurance, but that booking a vehicle from outside the US even on the same company website may provide CDW/LDW and/or liability cover options online. Many 3rd party booking sites also provide their own insurance options. It really comes down to understanding what is on offer, and if you're unsure of what may be on offer, to ask questions so you do understand what is included.
With so many acronyms and so much jargon, it's not surprising many people find rental vehicle insurance as well as travel insurance as a whole very confusing. Hopefully this goes some way to explaining the complexities of vehicle rental, which is something that I've even found very confusing at times.
Disclaimer: I am a customer of both 1Cover and ANZ. Neither had any input into the content of this post.