Flight: NZ2
Route: AKL (Auckland) -> LAX (Los Angeles)
Flight Departure: 11:20pm
Flight Duration: 12h 00m
Aircraft: Boeing 777-300ER
Seat: 26D Premium Economy
I flew through to New York in February and opted to fly over via Los Angeles (LAX) and back via Houston (IAH). As I'm a huge fan of the Air New Zealand Premium Economy Spaceseat I wanted to experience what I thought could have been my final flight in one as the Spaceseat is now being replaced as part of the 777-300ER fleet refubishment that began in February.
Air New Zealand operate a twice daily services to Los Angeles - NZ6, and NZ2 that continues on to London Heathrow. While I took NZ2 on this occasion due to price I have a preference for NZ6 that leaves earlier in the evening.
The Spaceseat configuration is a 2-2-2 configuration. Middle seats and outer seats are both different, with the inner seats aimed at couples traveling together, and the other seats for individuals. I much prefer the inner seats due to the centre armrest that can be lifted up meaning I sleep incredibly well. I'm a great fan of the Air New Zealand Premium Economy product and feel it fits perfectly between the Business Premier and Economy offerings. Unlike some airlines who simply pitch Premium Economy as marginally enhanced Economy offering, Air New Zealand's offering is far closer to Business than Economy.
The Spaceseat is either loved or hated, and this has no doubt played a part in Air New Zealand deciding to replace it with a more conventional business class style recliner seat during the refit - I'm sure the fact they're going to fit 10 more seats into the same cabin has nothing to do with the decision making process!
Premium Boarding at Auckland was efficient with Business Premier first, followed by Premium Economy along with Air New Zealand Airpoints Elite, Gold and Koru members.
Present on the seat was a pillow, blanket, water bottle, amenity kit and noise cancelling headphones. I personally use my Bose headphones as they're vastly superior.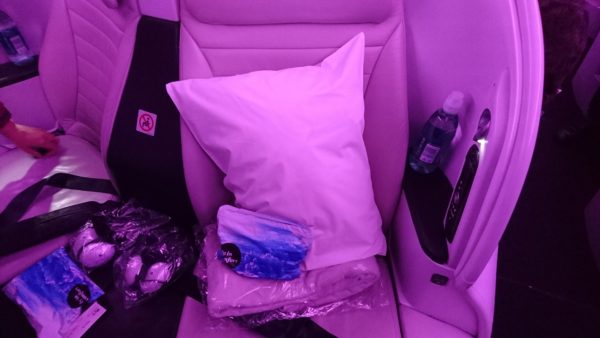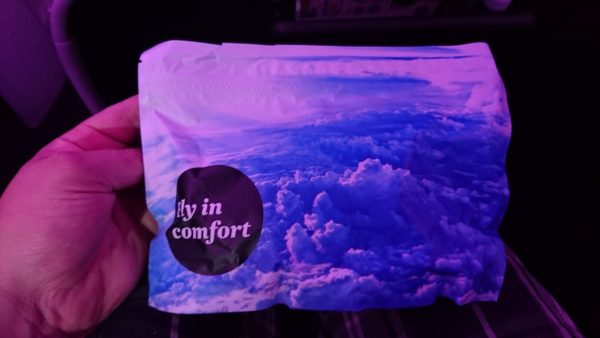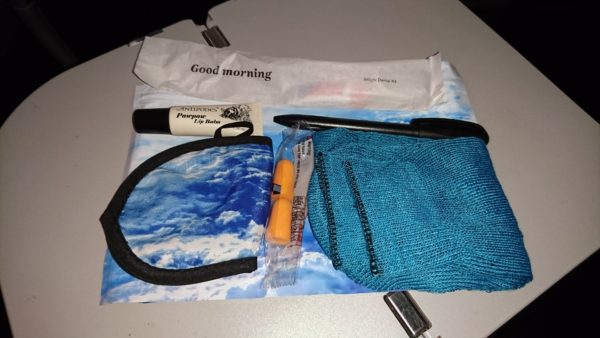 After take-off crew delivered a hot towel and delivered drinks... And then seemed to disappear.  Meal service was incredibly slow and when you've left Auckland at 11:20pm my preference is to get the meal out of the way so I can sleep.
In Premium Economy the meal tray complete with starter and desert is delivered to your seat, and the goal is to deliver the main course not long after this. Up first was prosciutto with radicchio, asparagus, grilled artichokes and blue cheese. That didn't really go down that well and so I filled myself up on a selection of bread from the bakery until the main arrived..
I waited.. And waited.
Eventually the blackened salmon with citrus labneh, saffron mash, edamame beans and steamed spinach turned up (and was worth the wait as it was delicious). Dessert was boysenberry bramble swirl cheesecake. Looking around the cabin most people seemed to give up waiting for their main and proceeded to eat their desert first.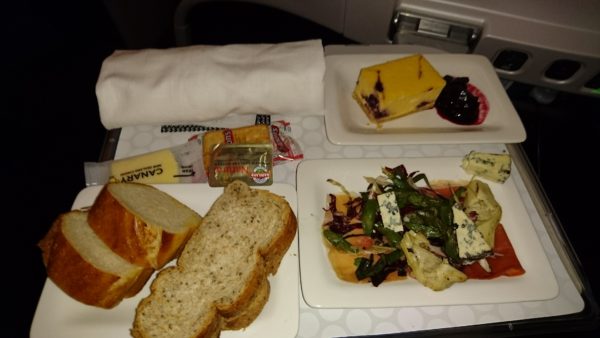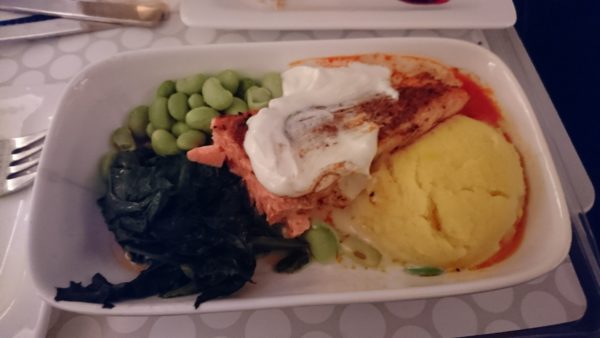 After the service was complete I headed off to sleep and enjoyed a great sleep for around 6 hours  only waking up once. If you're peckish or thirsty mid flight snacks are available from the self service snack bar in the galley.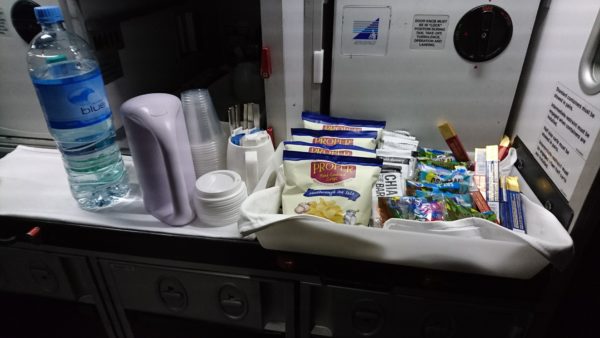 Around two hours before we landed at Los Angeles crew handed out hot towels the breakfast service commenced. This meal service seemed to go far better than dinner. To begin there is fruit, cereal, and a croissant with strawberry jam. Following that was scrambled eggs with hash fried potatoes, soft onions and pastrami, and a tomato red pepper relish. The other main option of hotcakes also looked delicious.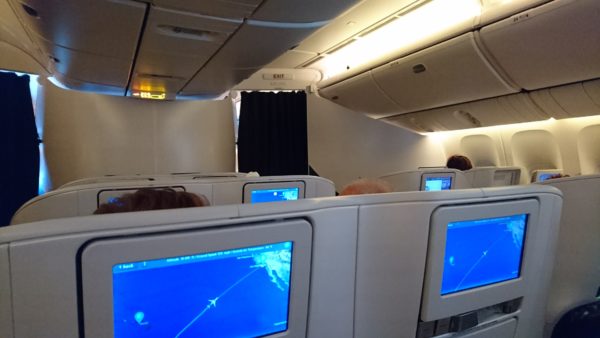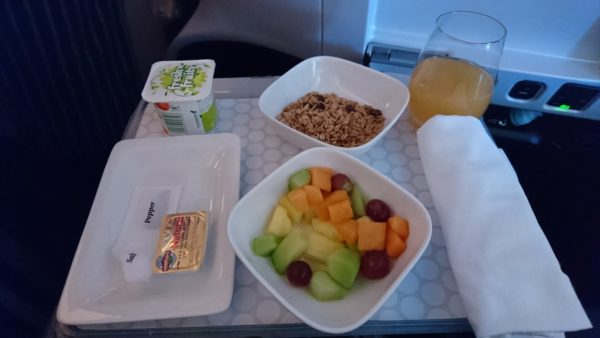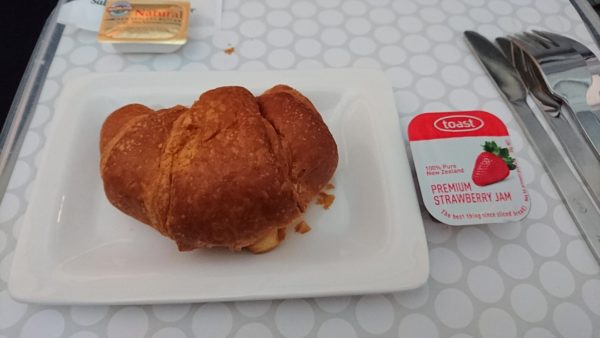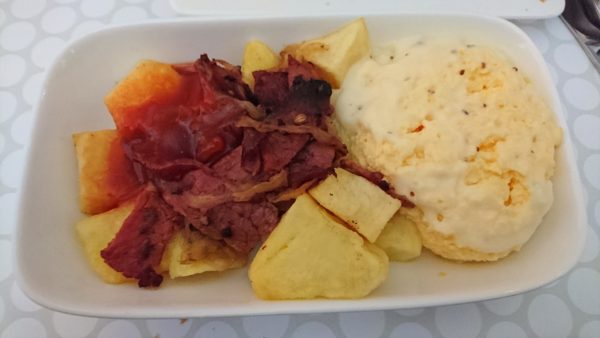 While we arrived into Los Angeles slightly ahead of schedule, we were faced with an incredibly common dilemma now at LAX of no gate being available for us. After around 40 mins of waiting we finally arrived at the gate, and made our way off the plane. As usual queues at immigration at Los Angeles were a nightmare with it taking around 75 minutes to clear immigration, and around 90 minutes in total from leaving the plane until stepping outside for the hotel shuttle.
While I love Premium Economy and couldn't really fault the product, overall this was not a great Air New Zealand experience. I've written elsewhere about inconstant crew and this flight further emphasised the issues. As an Air New Zealand Elite I didn't receive a greeting from the Inflight Service Manager, and while the crew were professional, they just didn't seem happy nor efficient. Every flight should be a magical experience. This wasn't.