A few weeks ago I made an impulse decision to fly to Canberra for the weekend on Singapore Airlines. Singapore Airlines began flying from Wellington to Singapore via Canberra in September 2016 in what marked the first direct longhaul service connecting Asia and Wellington. It also marked the first scheduled international service from Canberra after an upgrade of its terminal to support international flights.
Due to the short length of Wellington airport's runway it was the first time a regular scheduled Boeing 777 service has operated from Wellington airport. As the aircraft can refuel in Canberra, it's able to operate from Wellington due to the reduced takeoff weight as it only carries a minimal load from Wellington.
The service isn't without its critics - the introduction wasn't possible without subsidies from both Wellington and Canberra. Wellington City Council are contributing up to $8 million over 10 years towards the service.
Flights currently operate 4 x per week using a Boeing 777-200ER aircraft with 38 business class and 228 economy class seats.
SQ292 leaves Wellington at 2015 and arrives into Canberra at 2205. It then leaves Canberra at 2330 arriving into Singapore at 0540 the following morning.
SQ291 leaves Singapore at 2300 and arrives into Canberra at 0835 the following morning. It then leaves Canberra at 0950 arriving into Wellington at 1505.
As Singapore does not have Daylight Saving Time the above departure times are approximately 1hr later during Summer months when Daylight Saving Time is in place in New Zealand and Australia.
I arrived at Wellington Airport around 1730 on a Friday evening. Check-in was prompt and efficient with no queues. As a Star Alliance Gold customer I was eligible to use the Business Class check-in counter and was invited to use Air New Zealand's Koru lounges.
As this is the only international flight at this time of the day from Wellington, security screening and immigration do not open until 1830. The staff advised that we were able to use the domestic Air New Zealand Koru lounges until this time, and then move to the Air New Zealand International Koru lounge.
Air New Zealand operates two domestic Koru lounges at Wellington Airport. The main lounge is located after security screening, and a smaller regional lounge is located in the terminal before security screening (no security screening is required on regional non jet flights). I opted to use the regional lounge until international security opened to avoid the hassle of having to go through security. At this time on a Friday evening the lounge was very busy but seats were still available.
Security and immigration were both quick with no queues and it took around under 10 minutes in total to walk from lounge to lounge.
The Air New Zealand international Koru lounge has plenty of seating and had a good selection of food and beverages. The lounge feels very dated compared to the modern Koru lounge design (it's still the former "New Zealand bach" theme) but I feel it still suits its purpose well.
The lounge only had around 25 customers in total in it which was a strange feeling - I'm used to it being packed when I'm normally in this lounge before Air New Zealand or Virgin Australia departures to Australia.
Unfortunately due to the start of construction of a hotel on site at the airport the windows have now been covered up. While the view was only of a carpark, it was nice to actually see natural light. The lounge has showers for those who want to freshen up before the flight.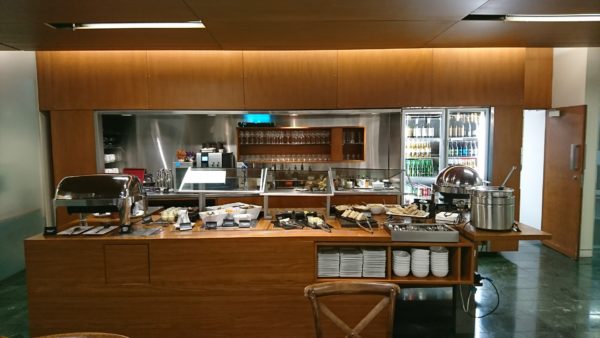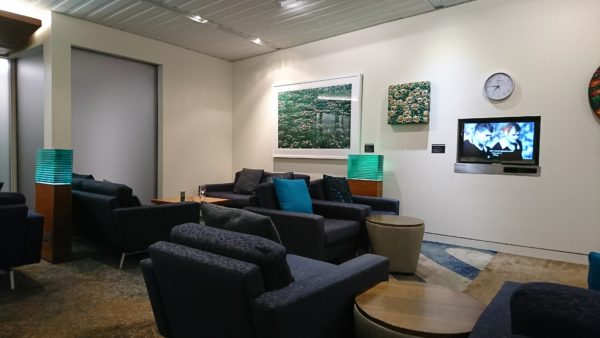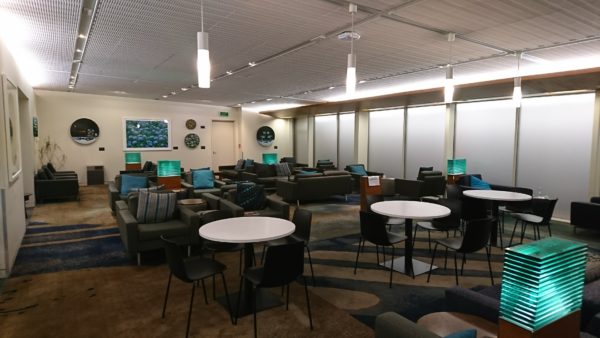 Boarding was called around 30 minutes before takeoff and I'd estimate somewhere around 120-130 people were waiting to board the plane. As a result boarding was very quick on such a large aircraft and we pushed back a couple of minutes earlier than scheduled.
Due to passenger loadings from Canberra to Singapore not all seats can be sold from Wellington. The bonus of this is that this flight will always have plenty of space and free seats.
It's been around 14 years since I'd flown on Singapore Airlines. Ironically this is the approximate age of the Boeing 777-200ER aircraft on this route. Stepping on board is like stepping back in time - the interior makes the aircraft feel very dated, however the 3-3-3 seating in ecomomy (most airlines operating Boeing 777 aircraft have moved to 3-4-3 seating) and large seats brought back many memories of long haul travel in the late '90s and early 2000s. Despite the age the cabin and bathrooms were spotless.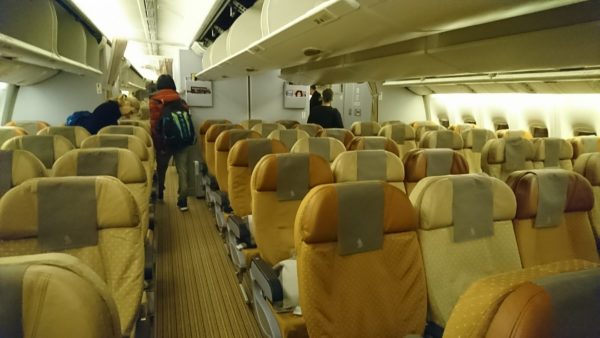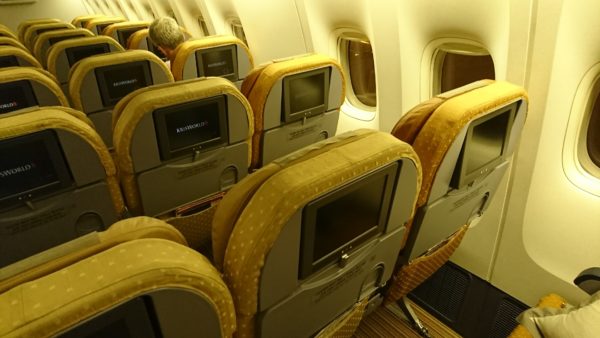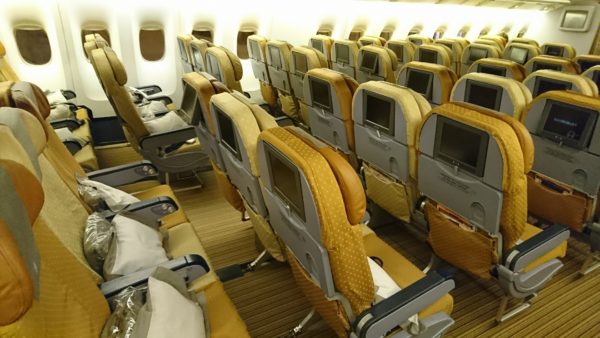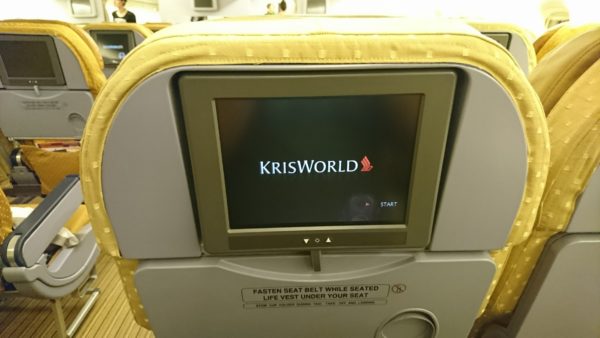 Each seat has its own inflight entertainment (IFE) screen with a large selection of movies and audio. Due to the age these screens are pretty small by modern standards, are 4:3 rather than 16:9 widescreen, have an incredibly poor viewing angle, are non touch meaning you need to use the remote, and are very sluggish to operate. The system was so poor I didn't bother even using it apart from selecting the Airshow screen.
Looking around the cabin during the flight I don't think I've ever been on a flight and seen so few people using the IFE - something that no doubt reflects how poor the offering is.
While I only flew in Economy I got to see the Business class seats while boarding. These are in a 2-2-2 configuration and are a dated angled lie flat seat vs the true lie flat that people have come to expect in Business class these days.
Upgrades to Business class from Wellington to Canberra were available at check-in for $299. I momentarily considered it when I saw the signs but after seeing the seats was glad I didn't. It's not a price I'd personally be willing to pay at the gate for such a dated product.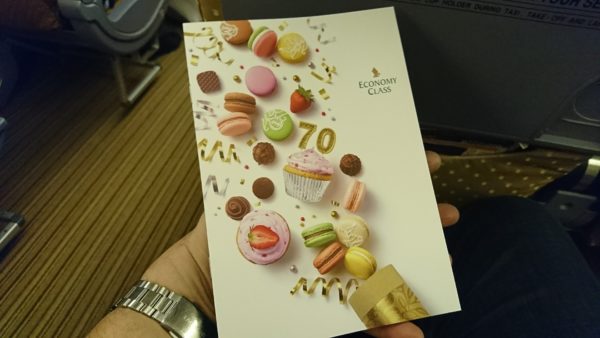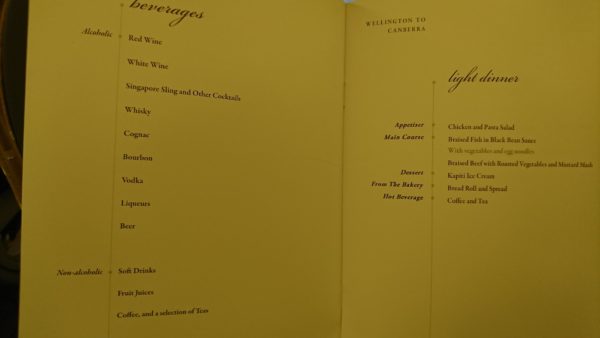 Not longer after takeoff the meal service began firstly with drinks. A selection of beer, wines, spirits and cocktails were on offer. I opted for a beer as Singapore Airlines have partnered with Wellington craft brewery Garage Project and offer their Hapi Daze beer onboard.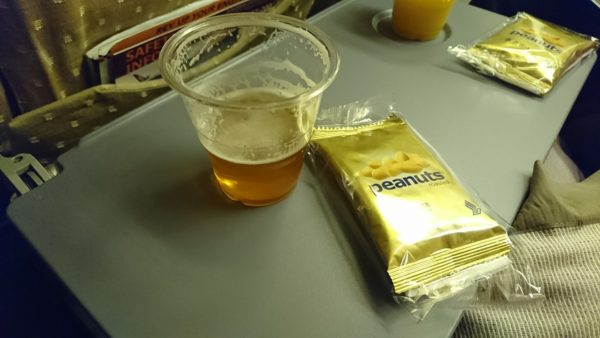 The meal service commenced not long after this and I opted for the fish. My impressions of the meal were very good - it was a large serving of food that was very nicely presented. I finished dinner off with a Singapore sling cocktail.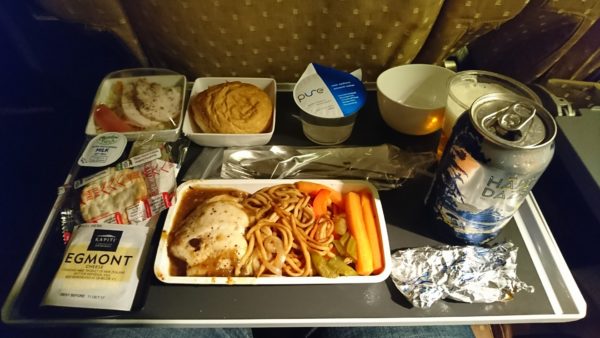 The next hour or so of the flight was pretty uneventful. The size of the seats meant using a laptop in Economy class was actually possible so I caught up on some work rather than attempt to use the IFE.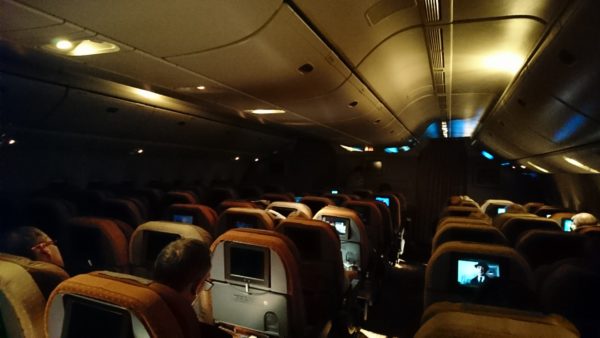 I did however wonder what had happened to the Kapiti ice cream that was mentioned in the menu for desert. Around 30 mins before we landed I found out the answer as crew decided to distribute these around the cabin.
What followed was an experience I've never seen before on a plane as crew tried to rush around the cabin around 15 minutes before landing clearing the rubbish away, all while PA announcements were made telling crew to be seated for landing. I don't think I've ever come aross a crew that seemed so unaware of timeframes or rush so quickly to try and secure the cabin for landing.
Overall the crew were friendly but seemed to be inefficient and simply not that good at their jobs. Part way through the flight arrival documentation for Australia was distributed to the first few rows of the cabin, but before the flight attendant got to my row became distracted and never came back. I had to ask on five (yes five!) occasions before I finally received an arrival form and was busy trying to fill this in as we were coming into land.
I'd estimate around 35 passengers left the flight at Canberra. Despite manual processing as there are no Smartgate machines I had my bag and was out of the airport within about 15 minutes of landing.
Canberra was a great place for a weekend. The war memorial is a must visit and the museum below it was amazing. A walk up the track behind the museum to Mount Ainslie delivers amazing views of the city.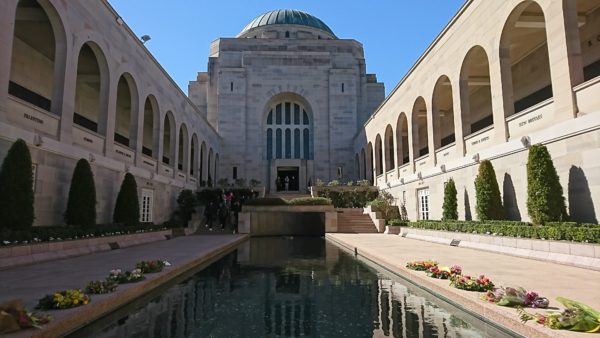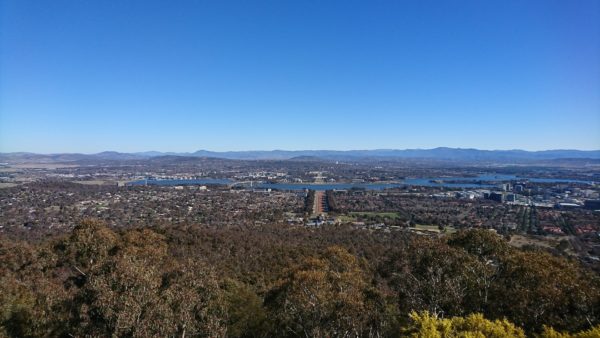 For the return flight to Wellington I arrived at Canberra airport at 0800 on Monday morning. While the airport was busy at this time with domestic customers, the counters for Singapore Airlines were quiet with only a single other customer in line.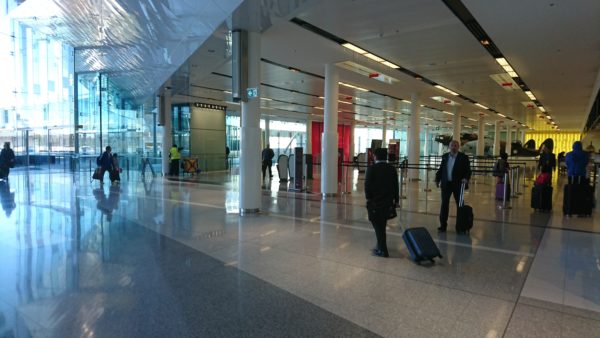 While checking in I was surprised to be told I could access the Virgin Australia lounge, something I was not expecting.
The Virgin Australia lounge is not a Star Alliance Gold (*G) lounge and Singapore Airlines documentation says access is only available to Business Class customers, the airline's own KrisFlyer Gold, PPS and Solitare customers, and Virgin Australia Gold and Platinum customers.
I'm still awaiting some clarification on access but it does appear that Air New Zealand Airpoints Gold and Elite customers are entitled to lounge access here because Air New Zealand codeshare on the flight from Wellington to Singapore (but not on the Wellington to Canberra sector).
The Virgin Australia lounge is a domestic lounge and is located before immigration. This means it can only be used before the flight to Wellington or Canberra and can't be accessed during transit between Wellington and Singapore or Singapore and Wellington. Transit passengers have access to the terminal which has a cafe and duty free store.
It's an amazing lounge that has great views over the runway and tarmac. The breakfast offering was good with plenty of perfectly cooked crispy bacon which I'd rate a solid 11 on a scale of 1 to 10!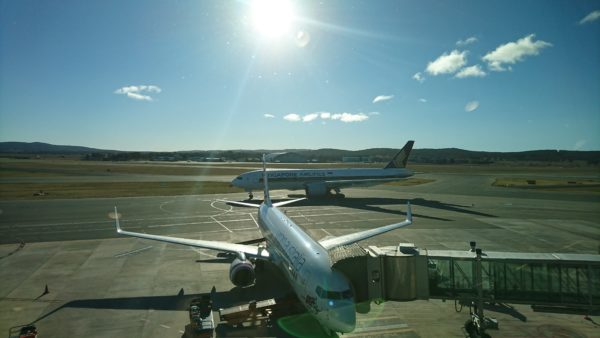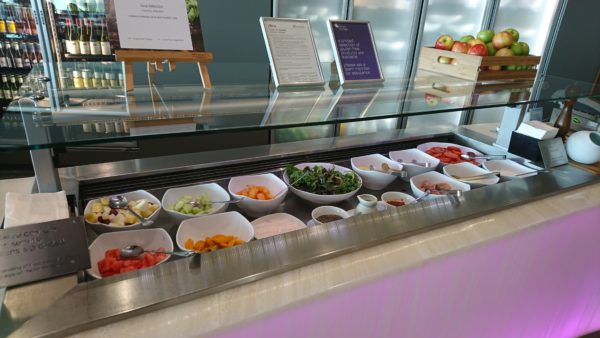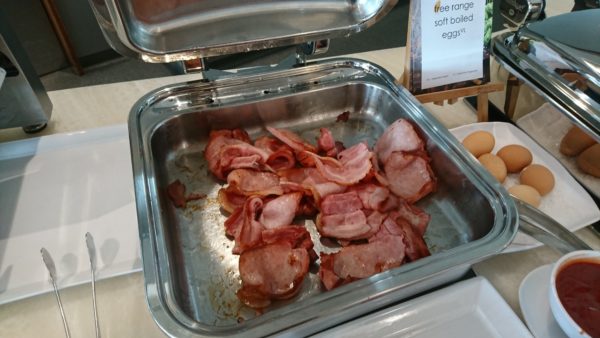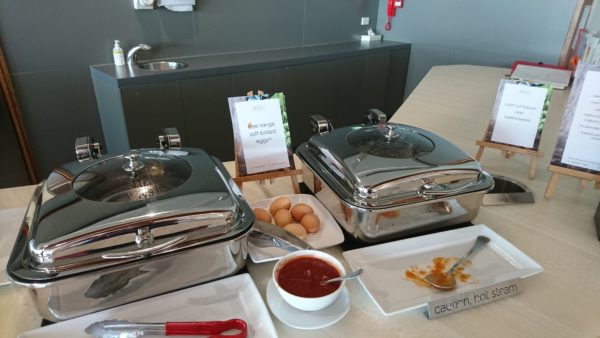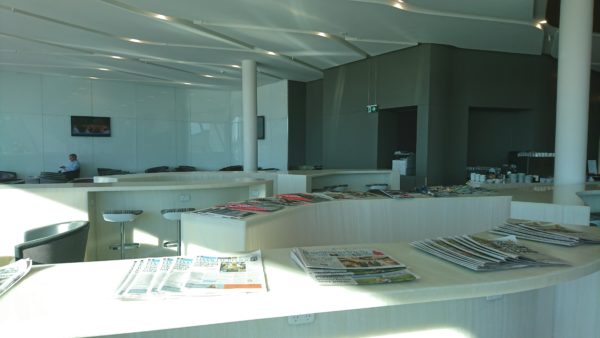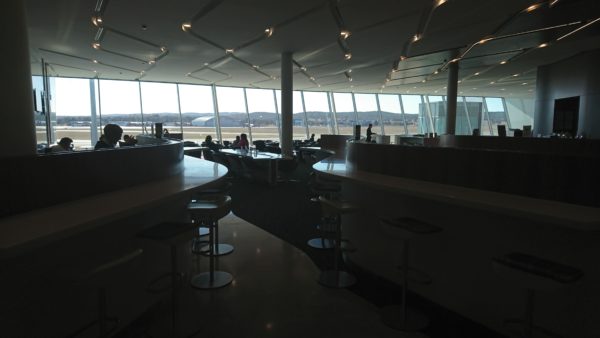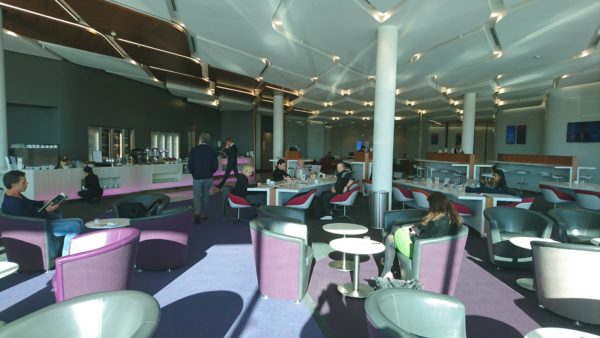 After clearing immigration and additional security screening I waited for the flight to board. Once again I estimated the flight to be about half full.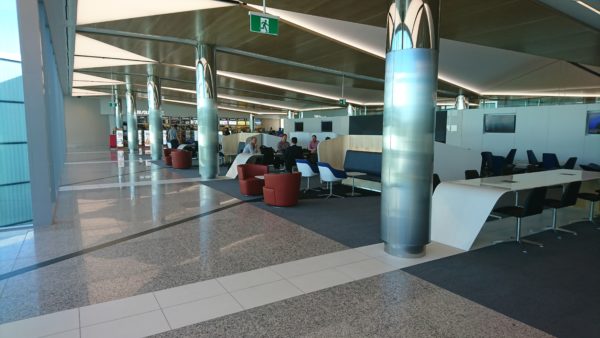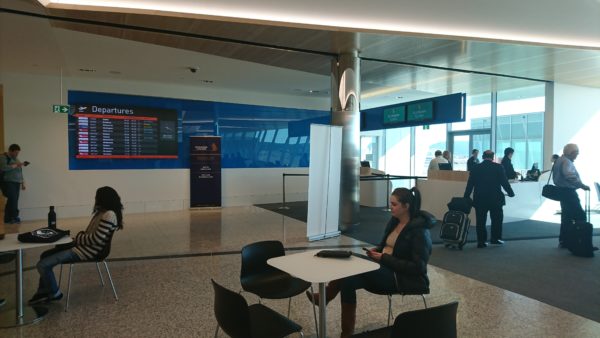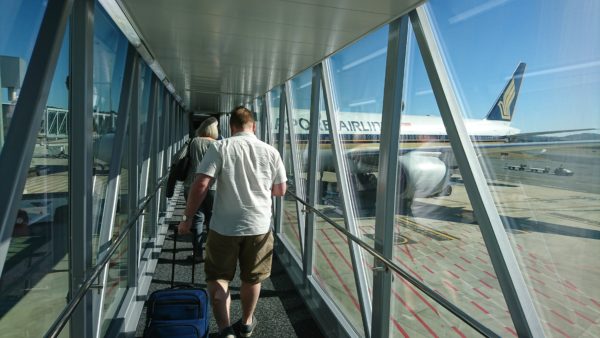 The return flight was much the same as the one over. While friendly, the crew once again didn't seem particularly efficient. The meal service was once again great, and once again I had to ask for an arrival card as these were not distributed around the cabin.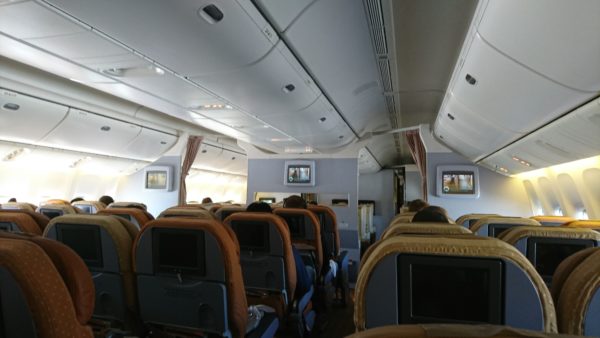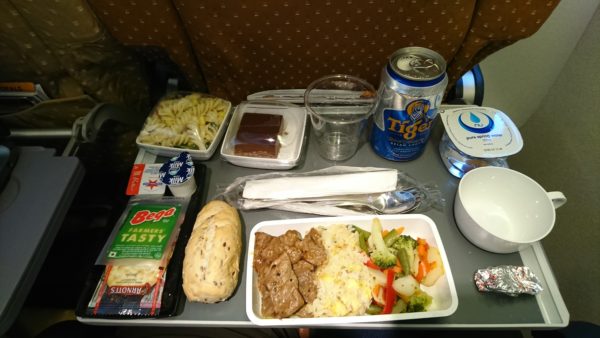 We landed in Wellington on time, and despite the arrivals area being pretty busy with both Air New Zealand and Qantas flights from Sydney that had only landed minutes beforehand, I cleared immigration and biosecurity and was on my way out of the airport within about 10 minutes of landing.
Overall both flights were pleasant and enjoyable. The fitout of the aircraft is both a pro and a con - the IFE is incredibly old and dated, but the joys of 3-3-3 seating and a huge amount of personal space means the overall experience and comfort levels are much better than flying in Economy on most modern aircraft.
The flight offers a good alternative for those wishing to head to Singapore who don't want to transit via Auckland or Christchurch. The arrival time into Singapore is perfectly suited for early morning onward flights to Europe.
For those wanting to visit Canberra for a long weekend it's also the perfect option. While not having the same appeal as Melbourne or Sydney, Canberra was an enjoyable place to spend the weekend and pricing on this sector is very competitive.