Flight: NZ8
Route: AKL (Auckland)->SFO (San Francisco)
Flight Departure: 7:40pm
Flight Duration: 11h 55m
Aircraft: Boeing 777-300ER
Seat: 6K Business Premier
On one of my recent trips to the US I flew on NZ8 to San Francisco rather than flying through Los Angeles. In my opinion San Francisco is a much nicer airport to fly through if you're simply on a stopover to another city, or in my case stopping by for a weekend to catch up with friends before heading to Phoenix for a conference.
Premium customers at Auckland Airport have their own check-in area that feels much more like a hotel than an airport. As I had already flown from Wellington I had already checked and had my boarding passes so simply used the Premium area as it has it's own lift to the departures level along with it's own customs agent and fast track to security screening.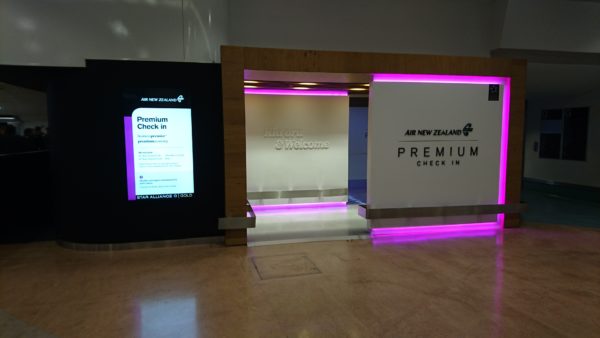 Passing through security was a breeze, and I was soon on my way to the Auckland Koru lounge. Unfortunately it was the first week of school holidays so the lounge felt more like a McDonalds with the number of kids around.
Boarding Air New Zealand services as a Premium customer seems to be a bit of a mixed bag depending on where you're flying from. There are times where boarding can be chaotic, and other times where things run perfectly. Flying out of Auckland is typically a good experience with clearly marked lines for Premium and Economy passengers, and I was soon walking down the air bridge to the plane.
Air New Zealand have a forward and rear cabin for Business Premier in the 777-300ER with a galley in the middle. Some people prefer the rear cabin and believe that it's quieter than the front cabin due to fewer people. I personally don't have a preference between the two.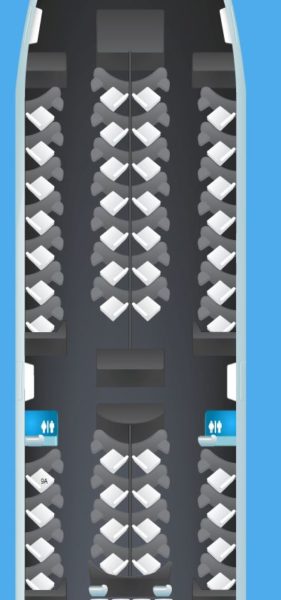 I was greeted by the crew and proceeded to make my way to 6K in the front cabin. Air New Zealand offer a full lie flat bed in a 1-2-1 configuration offering direct aisle access for all customers. Due to the herringbone seat layout it'll always be slightly difficult to communicate with another passenger if you're traveling with somebody. My personal preference is to sit behind each other rather than across from each other. My preference is for a B or K seat as I naturally sleep on my right hand side so when I'm sleeping I prefer to face the monitor rather than the rear wall of the seat.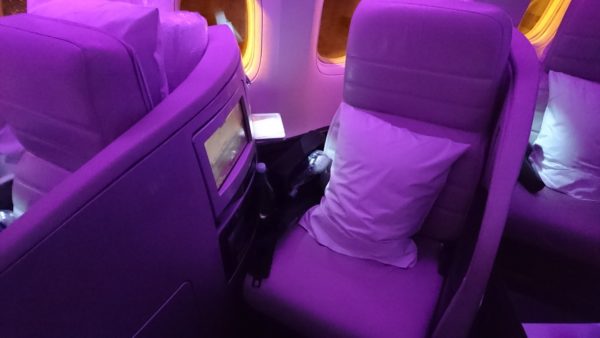 After sitting down crew distributed pre flight drinks and refresher towels. Air New Zealand only serve bubbly on the ground rather than Champagne - this isn't opened until after take-off. Air New Zealand's 777-300ER fleet features the Panasonic eX2 IFE system with 16:9 widescreen touchscreen monitors in every seat however these are not multi touch so don't support swiping. As of February 2017 the 777-300ER fleet is currently undergoing a full internal refit which includes an upgrade to the Panasonic eX3 system. Each seat comes with a bottle of water and an amenity kit, which while basic looking, contains socks, eye mask, lip balm, earplugs, moisturiser, pen and toothbrush.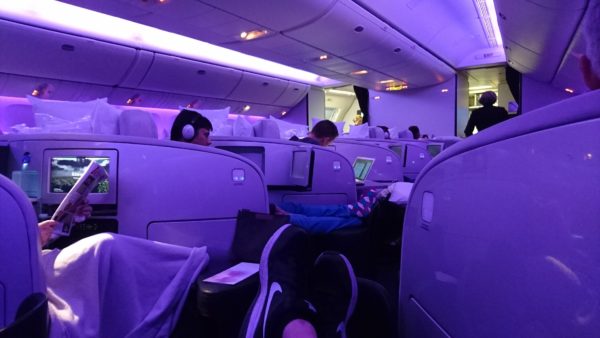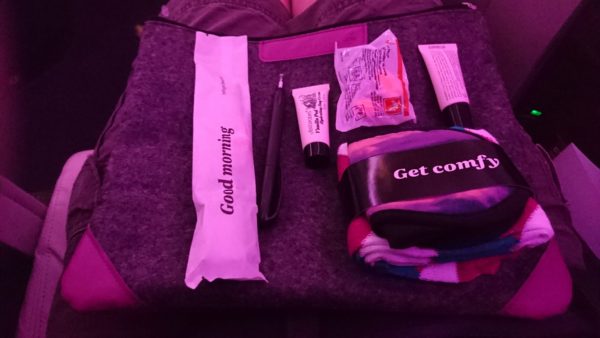 After take off drinks are once again delivered along with a snack of warmed nuts. Orders were also taken for dinner. Arrival documentation into the US was hand delivered by the Inflight Service Manager who also took this as an opportunity to personally greet all passengers.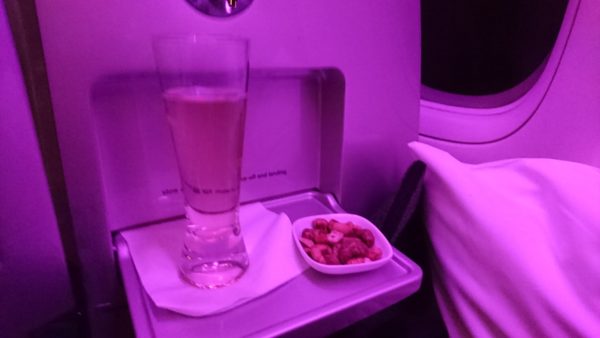 To begin I had grilled prawns with ajo blanco, gremolta and roasted chorizo crumbs. Bread is also on offer with a selection of ancient grain rolls, garlic bread, traditional dark rye and sourdough.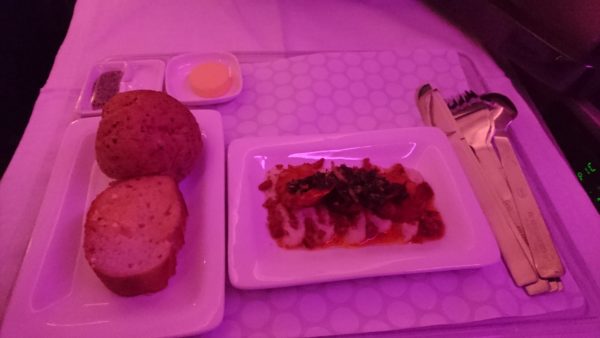 This was followed by the main course of chicken breast with walnut and rocket pesto, garlic fried potatoes, long stemmed sweet broccolini and sherry vinegar jus. This was washed down by a Charles Heidseck Brut Reserve Champagne. The tray tables offer plenty of space to keep your IFE monitor out while dining.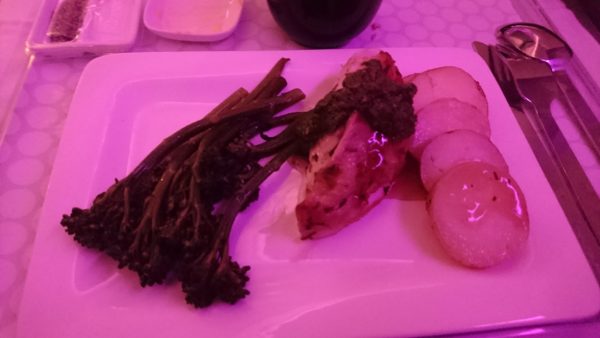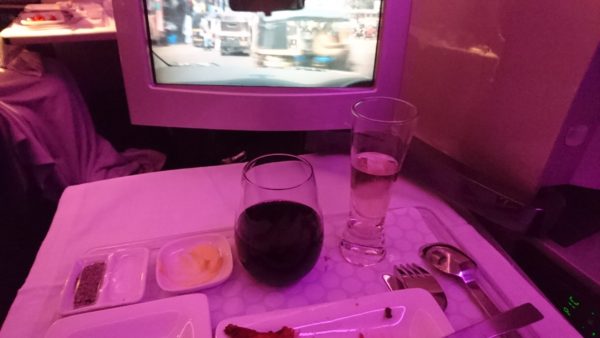 This was followed by a rhubarb frangipane tart with vanilla ice-cream, and then a cheeseboard to finish.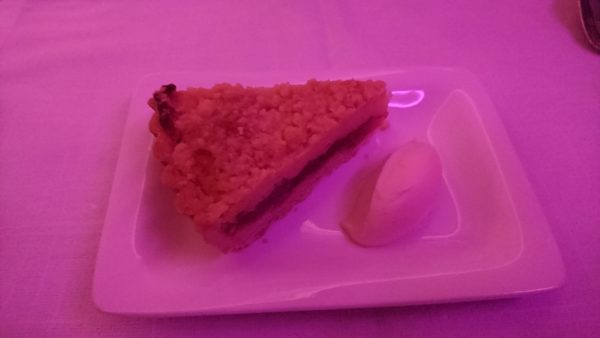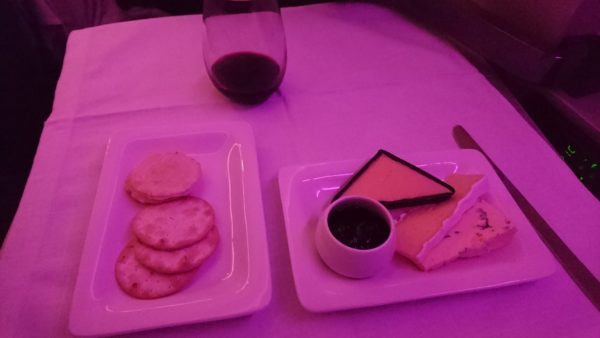 By the time I had finished this I was in a food coma and ready for a nap. If you're hungry mid flight a snack is on offer which on this flight was a bacon and swiss cheese roll with BBQ sauce. While I wasn't hungry enough to eat one on this flight, they do come highly recommended by me. Snacks including fruit, chocolate bars, snack bars and potato chips are also available from the self service snack bar in the galley. Once service was complete crew were on hand to help convert the seat to a bed. Once the seat is flipped over it turns into a  6'7.5" long bed topped with a memory foam mattress accompanied by two full size pillows and duvet to ensure that you'll sleep well. I've had an amazing sleep every time I've flown in Business Premier on Air New Zealand, and this flight was no different.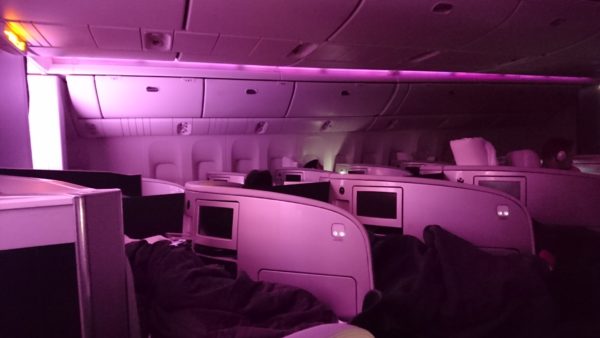 After a great 6 1/2 hour sleep I woke to watch some TV shows on the IFE, and prepare myself for breakfast. Around two hours out from San Francisco the crew begin the breakfast service by bringing around hot refresher towels and a juice or smoothie. This was followed by fruit salad, yoghurt and a choice of breakfast cereals and accompanied by a choice of a croissant and jam or Vogels or fruit toast. It's normally by about now that I realise how much food is actually served on the plane and as I didn't feel like an omelette or scrambled eggs I opted for the yoghurt and blueberry waffles with apricot vanilla compote and sweet syrup.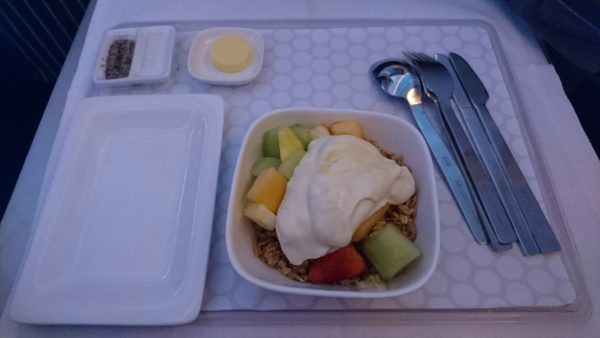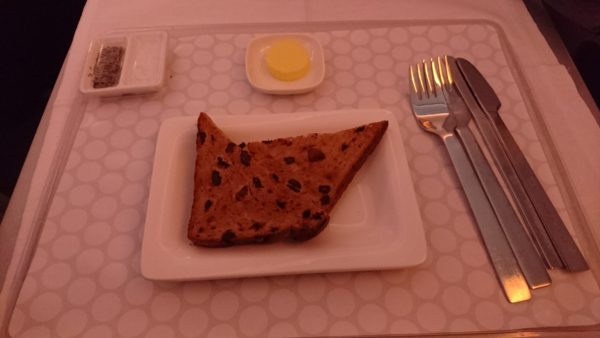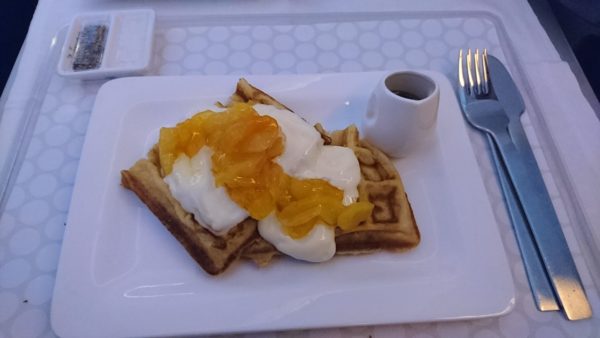 After breakfast was complete it was time to prepare the cabin for landing. Our flight path took is inland over Mountain View and over the San Mateo bridge for a landing on runway 28R on a stunning autumn day which delivered beautiful views out the window.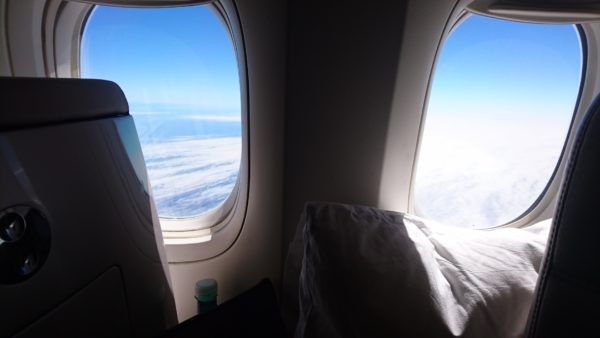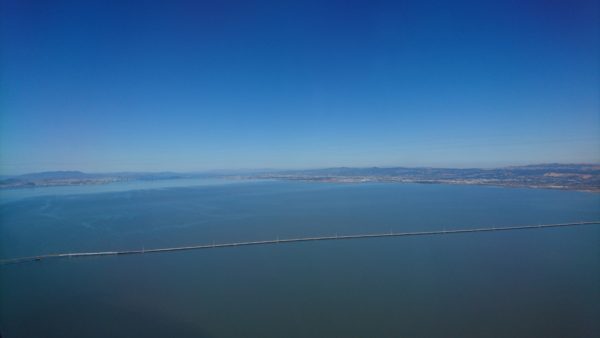 Over it was a great flight with a great crew. I've had a few mixed experiences with Air New Zealand in recent years and find that (in)consistency of the crew seems to be one of the biggest issues they face. It seems the skill and ability of the Inflight Service Manager will ultimately to dictate the outcome you'll have and the quality of your experience. I left the plane a happy passenger, and best of all flying through San Francisco rather than Los Angeles I had cleared immigration and had my bag within about 20 minutes of landing.