The first Air New Zealand Boeing 777-300 to undergo a full internal refit (ZK-OKM MSN 38405) has returned to service after spending six weeks in Singapore. Air New Zealand announced in 2016 that their fleet of  7 x 777-300 aircraft would undergo a full internal refit during 2017 to align the hard product with that already present on their Boeing 777-200 and Boeing 787-9 Dreamliner aircraft. This refit includes the replacement of all seats and installation of new Panasonic eX3 IFE to replace the existing Panasonic eX2 IFE system.
While Business Premier and Economy seating will be replaced, the seating configuration will remain identical with the same full lie flat seat in a 1-2-1 configuration offering direct aisle access in Business Premier, and 3-4-3 configuration in Economy Class. The most significant change is the removal of the Premium Economy Spaceseat and installation of the new Zodiac Premium Economy seat that already exists on the Boeing 787 Dreamliner and Boeing 777-200 fleet.
Premium Economy will change from a 2-2-2 configuration to 2-4-2 and mean an increase from 44 to 54 Premium Economy seats. The move to dump the Spaceseat isn't without it's critics - I'm a huge fan of the Spaceseat and personally believe it offers the best Premium Economy experience in the skies. Others also agree, with Air New Zealand winning numerous awards for their Premium Economy product. The Spaceseat itself however isn't universally popular, with some tall passengers finding it uncomfortable, and some finding it difficult to adjust the seat. Despite being incredibly innovative, it really is a product that's either loved or hated.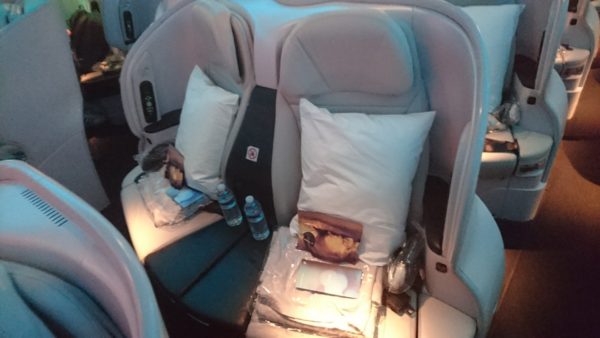 The replacement Zodiac seat is a "Business Lite" seat that has been fitted to the 787 fleet (picture shown below is from a 787) since it's arrival in 2014, and to the 777-200 fleet since it was refurbished in 2015. The seat offers seat pitch of between 41" - 42" throughout the cabin, a 19.3" seat width, a generous centre armrest, and legrests in every row. Unlike the Spaceseat that had a hard-shell back and didn't encroach on the space of the passenger behind when reclined, the new seat does. Getting out of a centre or window seat with the seats in front reclined is not really possible without disturbing the aisle seat passenger.
Having flown numerous flights now in both seats it's safe to say I much prefer the Spaceseat and will be shedding a tear or two on my last scheduled flight in a Spaceseat in July when I fly back from London.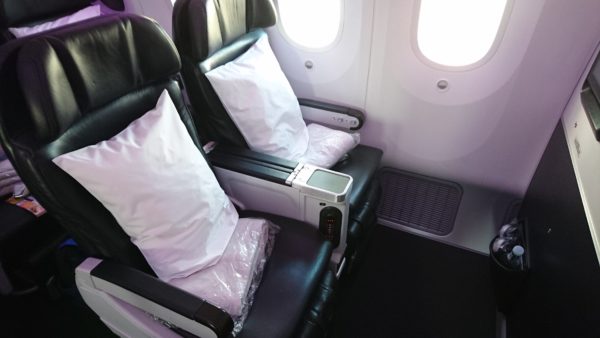 Since it's return to service ZK-OKM has so far been flying the Auckland to San Francisco route along with Australian hops during the day. ZK-OKN (MSN 38405) flew out to Singapore to begin it's refit on the 9th April and is expected back in service in late May. As the refit of all aircraft will not be complete until late 2017 passengers on services to San Francisco on NZ7/NZ8 and Los Angeles on NZ5/NZ6 will gradually see the refitted aircraft enter service. Excluding any last minute aircraft swaps, NZ1/NZ2 services from Auckland to London will continue to be operated by non refitted aircraft until August.