With more than 2.2 million New Zealanders now being Airpoints members it ranks as one of the biggest loyalty programs in the country. Airpoints earn now isn't just in the air - around 30 retailers and organisation ranging from electricity companies to supermarkets and petrol stations now offer the ability to earn Airpoints Dollars on the ground.
Every Air New Zealand flight earns Airpoints customers both Status Points and Airpoints Dollars, with the later able to be used to purchase any seat on any Air New Zealand flight. Airpoints Dollars can also be used to bid for single class upgrades using OneUp, or if you're an Airpoints Elite customer, Airpoints Dollar upgrades which offer single class upgrades at a fixed price. When purchasing a flight or upgrade with Airpoints Dollars, APD$1 = NZD$1.
Something many people don't realise is that Airpoints Dollars can easily be "purchased". Many people think that if they don't have enough Airpoints Dollars in their account to purchase a flight that they're worthless - but that can't be further from the truth. If you're a few dollars short of your required amount for a flight or upgrade you can simply purchase Airpoints Dollars to top up your account so you can book that flight or upgrade.
Prior to October 2016 every Airpoints customer was issued a combined OneSmart/Airpoints card as their Airpoints membership card. OneSmart was a multi-currency prepaid MasterCard credit card that used the MasterCard Rev platform. The OneSmart credit card was managed by BNZ, and once activated allowed you to load multiple foreign currencies onto your card at fixed rates. OneSmart also allowed you to easily purchase Airpoints Dollars - you simply topped up your OneSmart card and then transferred the required amount to your Airpoints account. Due to a break down in the relationship between BNZ and Air New Zealand, the OneSmart product was relaunched in late 2016 using a white label offering from Travelex rather than BNZ. While the actual product benefits haven't changed significantly, the ability to top up your Airpoints account is no longer supported using OneSmart.
If you have an Air New Zealand Airpoints credit card issued by Kiwibank you're still in luck. With one of these cards you can still proceed to top up your Airpoints Dollar balance to use it towards your next flight or upgrade if you don't have enough Airpoints Dollars outright. A $5 processing fee per transaction applies.
From your Air New Zealand account simply click on the Credit Cards option. Now click on 'Top up your Airpoints Dollars'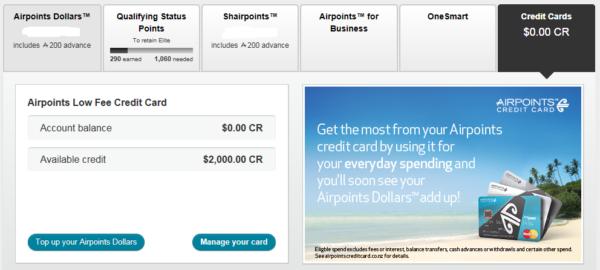 You'll now be sent to a Top Up page. Enter your credit card details for your Airpoints card and the required amount. The $5 processing fee will be added to this. After you click on Top Up your credit card will be charged.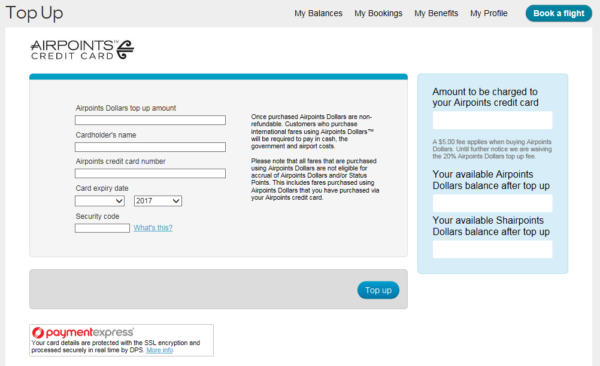 Your Airpoints balance will now reflect this update, and you can now proceed with purchasing your flights or upgrade.