UPDATE: Air New Zealand have now officially announced that airport parking will no longer be available in Wellington. Anybody with parking that's prebooked until the end of May will be able to use the current location. Any customers with bookings after the 1st June will be contacted and advised of a new parking location. Air New Zealand have also advised that Elite customers will not be provided any alternative parking or compensation for Elite parking vouchers that they're now unable to use.
Despite no official announcement yet from Air New Zealand on their parking website, it's understood the airline is no longer offering public parking at Wellington airport.
Air New Zealand operated a carpark at the Southern end of the airport offering both uncovered outdoor parking and covered indoor parking in it's long unused former hangar. The parks were shared with staff parking and it's location meant it was a quick 5 min walk to the terminal (something that was however discouraged due to safety issues crossing the road) as well as being serviced by a shuttle that ran approximately every 10 mins or so to and from the terminal.
The carpark was popular with many due to it's price - at $18 per day it was a comparative bargain compared to the $34 per day for the outdoor parking offered by the airport in it's terminal parking, and $29 per day offered by the airport at it's long term carpark which is further away from the terminal and not within walking distance.
Air New Zealand Airpoints Elite customers are provided 5 x valet parking vouchers yearly as an Elite benefit. As Air New Zealand have not offered Valet parking at Wellington airport for several years due to a dispute with the airport company over a price increase for their carparks, Elite customers have been able to use their vouchers for parking.
In late 2016 demolition of the old hangar began and public parking has been in limited supply since then. It's understood that some of the airport company land that Air New Zealand leased for their parking is now no longer available to them.
In recent weeks any attempts to book a park have resulted in the following message being shown -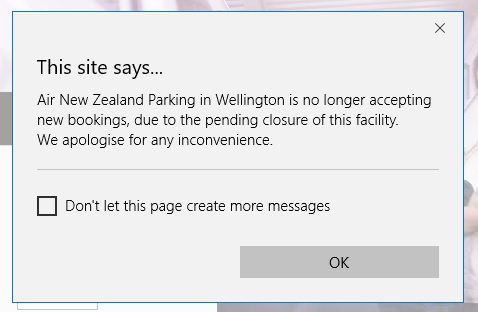 Air New Zealand have confirmed the closure of the carpark on social media, and have also indicated that they are looking at options for Elite customers who now have no way to use their vouchers.
With signifcant numbers of airport customers already choosing to park for free in nearby streets creating friction with local residents, the removal of what was a modestly priced parking option at the airport is sure to further escalate tensions between the airport, local residents and the Wellington City Council who are currently looking at the issue. Those who used Air New Zealand's parking and choose to continue parking at the airport will find the price they pay for airport parking increase by nearly 100%  - something many will no doubt be very unhappy about.