When NZ108 from Sydney to Auckland lands on Friday 31st March 2017 it marks the final scheduled passenger flight of a Boeing 767 for Air New Zealand.  A total of 26 Boeing 767-200 and 767-300 planes have graced out skies wearing the Koru tail since 1985 when Boeing 767-200ER MSN 23326 first arrived in New Zealand.
The 767 was a key component of Air New Zealand's international expansion in the '90s and was used primarily for services to Asia, the Pacific Rim including Hawaii and Los Angeles, and Trans Tasman services to Australia. With the arrival of the 777-200 fleet in 2006 and 2007 a number of 767-300's were retired, with the remainder being scheduled for retirement with the arrival of the 787-9 Dreamliner in 2010 which was planned as it's direct replacement.
Delays with the 787 program meant the decision was was made to keep the last five remaining 767-300's until Dreamliner deliveries eventually took place, and saw blended winglets being fitted to the fleet in 2009 to improve fuel efficiency. The first 787-9 Dreamliner ended up arriving in 2014, and retirement of the 767-300 fleet began in late 2016 with two of the aircraft continuing their life as passenger aircraft with Icelandair.
Unique to the aircraft were the crew rest areas fitted within the cabin itself - a self enclosed area on the left hand side of the plane just behind business class for a single member of flight crew, and on the right hand of the cabin in economy class was a larger area for the cabin crew. On newer 777-200 and 777-300 planes these crew rest areas are located above the passenger compartment and are not visible to passengers. Seats 10A and 10B were much sought after as they offered the best legroom on the aircraft as they were located directly behind the flight crew rest area.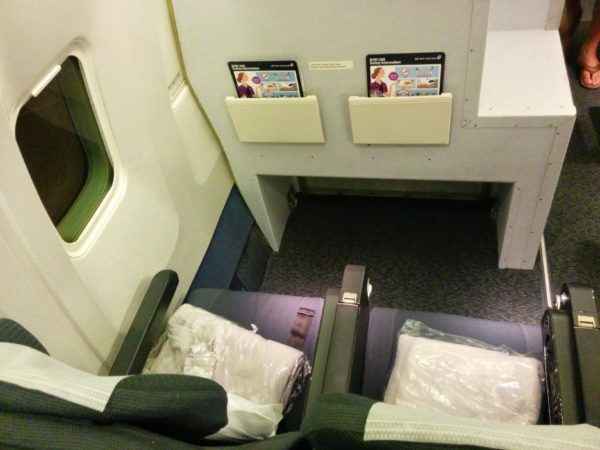 Having flown on numerous 767-200 and 767-300 aircraft it's certainly an aircraft I love. They were an incredibly smooth plane to fly in and handled turbulence very well. The 2-3-2 configuration and seat pitch made it the best Economy Class experience across the entire Air New Zealand fleet, however it's Business Class with it's legacy '90s style non lie flat seats certainly won't be missed by customers at the pointy end of the plane.
RIP 767. You will be missed (by some at least!).