I normally travel to the US a few times every year, and this typically means ending up at Los Angeles International Airport (LAX) at one point or another. While I can't say I love Los Angeles as a city, it's still an amazing place to visit and I love flying back to New Zealand via Los Angeles just to spend a night or two there sightseeing before I return to New Zealand
Air New Zealand uses the Tom Bradley International Terminal (TBIT) at Los Angeles International Airport (LAX). If you're connecting between international and US domestic flights ensure that you have plenty of time, particularly if you have to change terminals. LAX is big.. And very busy.
Airline MCT (minimum connection times) for transfers can at times be insufficient on very busy days so if you're not travelling on a single ticket it'll pay to ensure you have sufficient time to meet your connection, and to check your travel insurance adequately covers you for missed connections. Airside inter terminal walkways are now in place connecting terminals 4-8 and TBIT, so if you're connecting from a US domestic flight to an international flight and your bags are checked through your connection times will be a far quicker using this walkway rather exiting the terminal, walking to the other terminal and then reclearing security again.
If you've got a night to spend in the area due to flights, or simply want to relax in the Los Angles for a day or two, here's a few tips of places and things I love to see and do.
First up is accommodation. There are a lot of hotels very close to the airport with Century Boulevard being one of the main areas. All the major hotel chains are represented in the area, which is around 5-10 minutes from the airport via shuttle or taxi.
Two of my favourite hotels are the Hilton Los Angeles Airport and Crowne Plaza Los Angeles Airport. Both are located on Century Boulevard and if you're a fan of planes (like me!) they offer great views of runways 25L/R if you're in an airport facing room. Both hotels are incredibly busy with large numbers of single night stays. Both hotels offer executive lounges with evening canapés and breakfast for those who book an executive floor room or those guests with status with the hotel chain.
The only minor downside of the Crowne Plaza is that the rooms have opening windows which means the noise of planes is louder than the Hilton which is fully soundproofed.
Purdy Liquor on W 98st St (one block back from Century Blvd) does a great trade for hotel guests not wanting to pay hotel bar prices.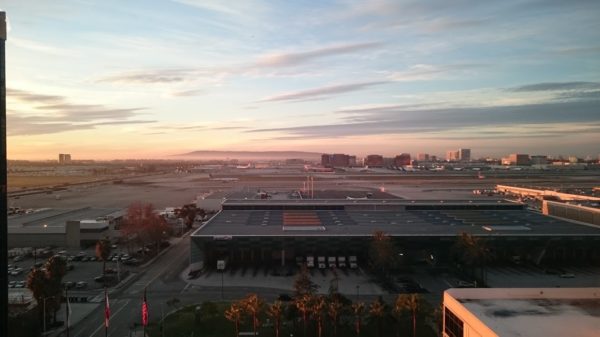 If you want to stay slightly further afield, the Manhattan Beach area offers a lot of accommodation options and is around 20 mins drive from the airport. Air BnB lists a myriad of options in the airport vicinity, with many offering very competitive prices compared to airport hotels.
Most airport hotels offer a free shuttle service to and from the airport. These shuttles run continually between the terminals and the hotels and typically run every 10-30 mins depending on the time of day. There are literally hundreds of shuttle buses that continually drive though the terminal pickup areas heading to hotels, rental car companies and airport car parks. In many cases these are contracted shuttles rather than a shuttle owned by the hotel itself, so a number are for multiple hotels in the same area rather than a single hotel so ensure you double check the signage before getting on the shuttle.
Shuttle departure areas are clearly marked on the arrivals level of the airport, simply look for the red hotel shuttle signs. If you're catching a shuttle back to the airport in the morning ensure you allow yourself adequate time as these can be incredibly busy.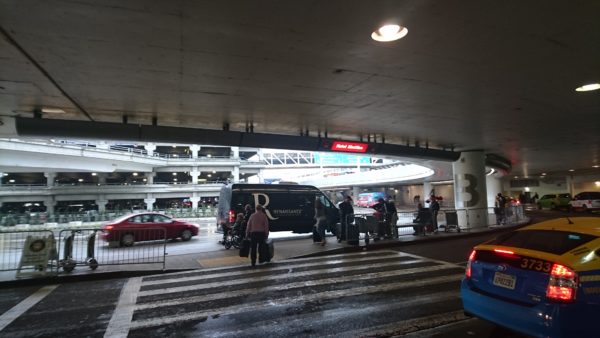 Los Angeles is a great place for food, particularly Mexican. You'll find food trucks all over the place which serve some amazing, and (often) incredibly cheap food. It's also the home to to what must surely be the world's busiest In-N-Out burger location located right under the runway on Sepulvena Bulevard. If you've never heard of In-N-Out you haven't really lived – my personal view (which many will consider biased!) is that they make the world's best burgers. Period.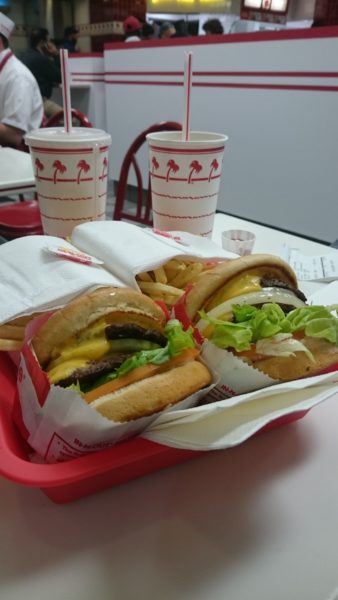 In-N-Out is also an incredibly popular place for plane spotting as it's almost directly under the approach for runways 24L/R. The park opposite is a fantastic place to sit if you want to watch planes and eat your burger, and you certainly won't be the only person there doing this with it being a favourite hangout for plane spotters.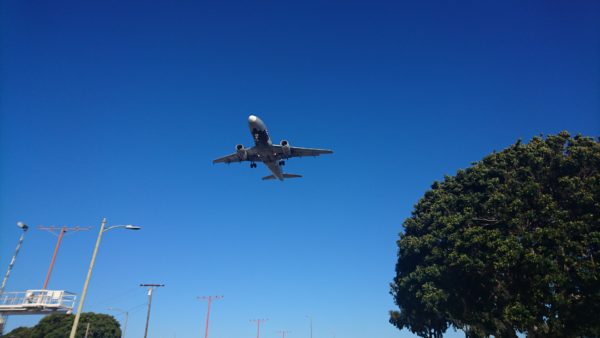 The Space Shuttle Endeavour is now on display in Los Angeles at the Science Center, and if you're staying near the airport this is easily accessible by public transport. The LAX Lot C Bus Center on West 96th St is around a 10 – 15 min walk from most of the Century Boulevard hotels. Bus #102 leaves from here normally on the half hour or the hour, and it costs $1.75 each way. Like all US buses ensure you have exact money – change isn't issued. It's takes around 50 minutes on the bus to get to the Science Center, so if you're looking for a quicker way to get there it's around $15 - $20 in an Uber of Lyft depending on traffic.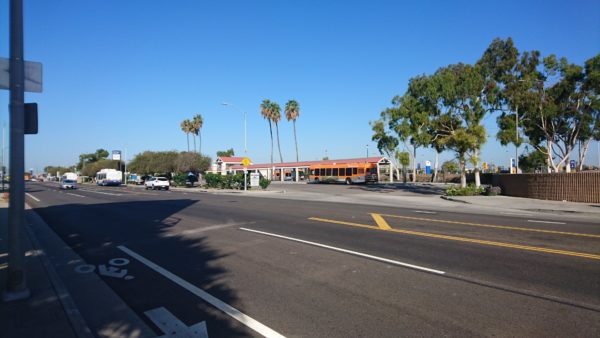 Buses also leave from this bus terminal to a number of other areas including downtown Los Angeles, Santa Monica, Manhattan Beach and Long Beach.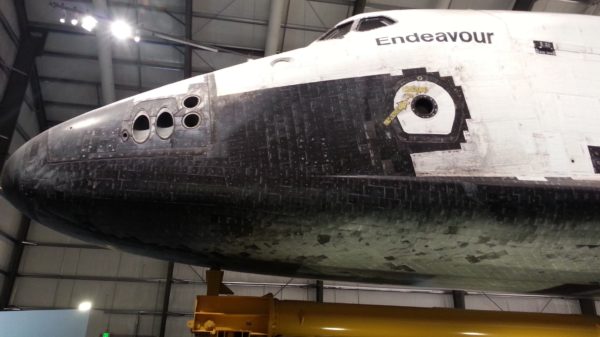 If you've staying in the area in the warmer months heading to the beach is a great option. LAX sits in the middle of two fantastic beaches, Santa Monica to the North, and Manhattan Beach to the South. While Santa Monica may be the more well known option, Manhattan Beach is a lot more laid back and is my personal favourite.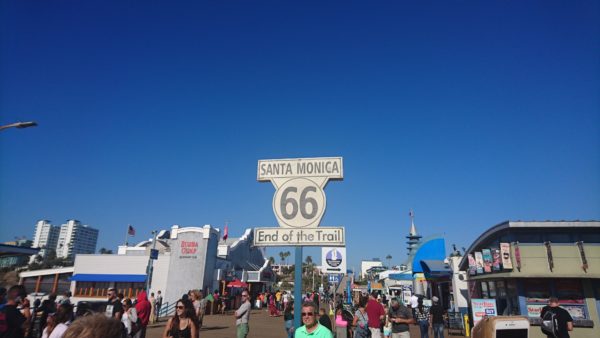 Manhattan Beach is home to lots of cafes and restaurants along with a lot of small craft stores. There are also a number of hotels in this area which are a lot more relaxing than staying near the airport.
If you're staying at a LAX hotel, The Ocean Express shuttle service operates hourly in a circle between the Century Boulevard hotels, Manhattan Beach and Manhattan Village shopping centre and costs $5 for a return trip. My recommendation for a relaxing afternoon is to hop off the bus at Manhattan Beach and enjoy a relaxing walk up to Manhattan Village shopping centre via the Veterans Parkway, a former railroad line that's now been turned into an extremely popular walking track. Once you get to Manhattan Village you can hop back on the bus again to take you back to your hotel.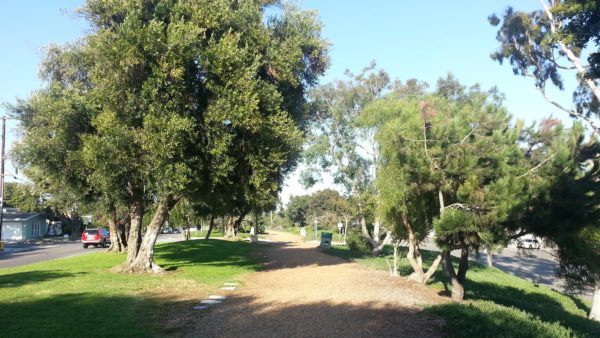 Manhattan Village is a convenient place for shopping with a compact mall containing a Macy's and Apple Store as key tenants, along with a mix of other smaller retailers, a drug store, supermarket and restaurants. A few minutes walk away is a massive Fry's electronics store. If you're after outdoor or sporting gear I recommend a trip to REI which isn't far away.
If you're after a larger indoor mall, Westfield Culver city is the closest to the airport and is around a 25 min bus ride away.
If you're wanting to head to Santa Monica you'll want to catch the #3 bus from the LAX Lot C Bus Center. Two buses run this route, a #3 and a R3 rapid with the rapid service taking around 45 minutes for the journey and around 10 minutes longer for the slower bus. The fare is $1.25 for the journey. Santa Monica is an incredibly busy place full of tourists, and many things are priced accordingly.
If you're after a 1/2 day adventure you can catch the bus to Santa Monica and then walk (it takes around 50 minutes) along the beach front to the world famous Venice Beach where you can catch a bus back to the Lot C Bus Center. Catch the #1 bus from Venice Beach and then change to the #3 or R3 to get back. If you don't fancy walking from Santa Monica to Venice Beach the #1 bus covers this route.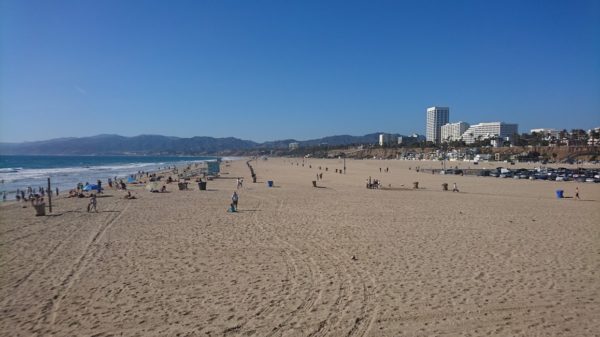 If you've got a day to spare then trips further afield to Hollywood are possible, but travel times by public transport are around 90 minutes each way.
If you've got any other comments or suggestions for people visiting the area, you can add them to our forums.
Hilton LAX Airport
Crowne Plaza LAX Airport
Manhattan Village
REI Outdoors Store
Space Shuttle Discovery / California Science Center
Manhattan Beach
Veterans Parkway
Westfield Culver City
Santa Monica Beach
LAX Parking Lot C Bus Center