Location: Outside International Terminal, Auckland International Airport
Loyalty Program: AccorHotels Le Club
Room: Superior King Room - 722
Rate: NZ$379/night (~US$270)
If you're looking for a hotel near Auckland Airport, there is none closer that the Auckland Airport Novotel. Opened in May 2011, the hotel is modern, well equipped and is a few metres walk from the international terminal.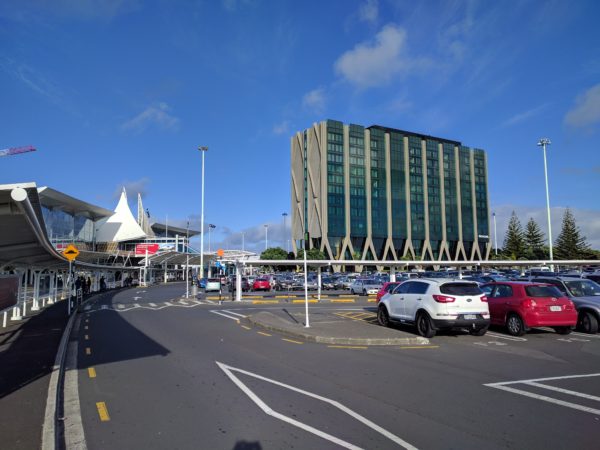 Checking In
Despite completing 'online check in' after receiving an email the day prior, I still had to sign check in paperwork and hand over my credit card for a pre-authorisation prior to getting my key. I was able to use the dedicated desk for Online Check In and Accor Le Club premium members, which saved a lot of time given a long line for the main check in counter. We checked in late, about 12.30am, after arriving on an international flight.
As a Le Club member, the hotel has my credit card on file and could have taken the pre-auth and an electronic signature during online check in to speed up the process, but we still had our keys and were heading for the elevator within a couple of minutes of arriving at the hotel.
The Room
Our room was a Superior King Room (as booked). Room 722 was at the North end of the hotel and had a nice view of the Runway 05 approach. I asked for a runway view at the time I booked, but as far as I know the room allocation was random and the hotel was almost fully booked. Despite the proximity to the airport and runways, I didn't notice any noise from outside the hotel or from neighboring rooms at all during our stay.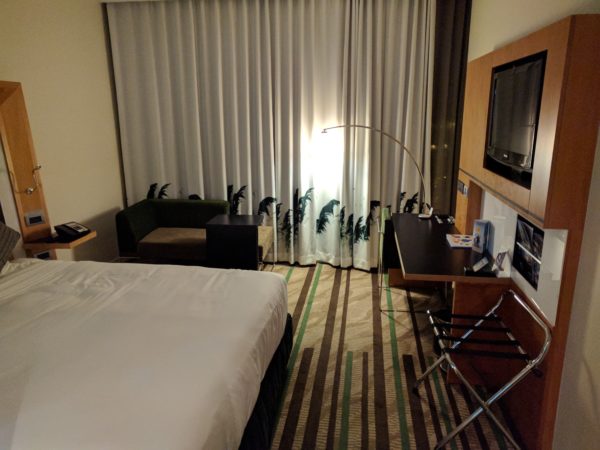 The room was reasonably sized, and was at least as big as I was expecting for an at-terminal airport hotel. There was ample room beside and around the bed, and plenty of space for bags, including a decently sized wardrobe.
The bed, a king, was very comfortable. I'm generally a pretty light sleeper, especially away from home but I had a good sleep and woke up refreshed to the wake up call I arranged with the front desk at check in. The wake up call was automated, but curiously the front desk also called with a wake up call a few minutes later. This was unexpected, but a nice backup had I fallen back asleep following the first.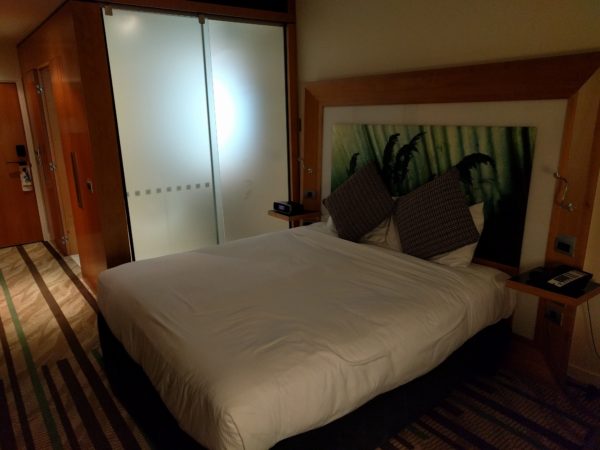 The bathroom was a little on the small side, with a separate toilet and walk in shower. The shower had both a wand and a 'rain' showerhead - the former my preference and I was pleased to see given the recent trend of only 'rain' showerheads I have seen in other hotels. The bathroom and shower were both very clean, as was the linen.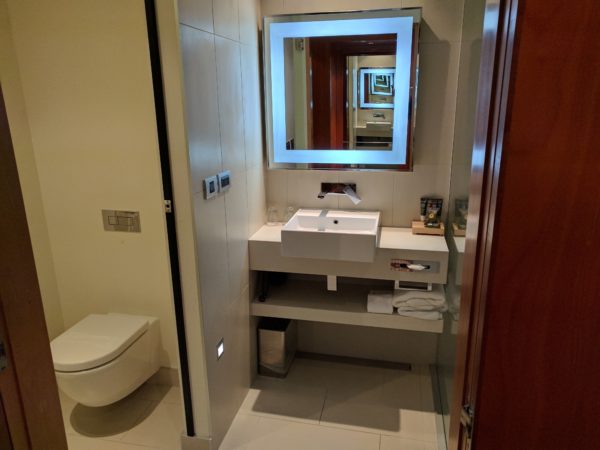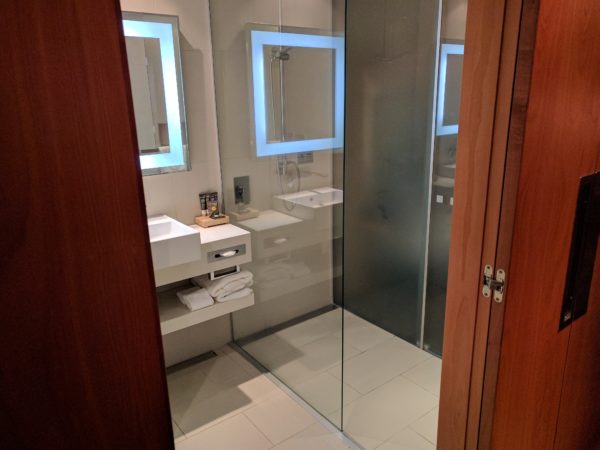 Between the shower and the bedroom, there was an odd frosted sliding glass pane, which when slid back gives an unobstructed view between the bedroom and bathroom through the shower. My assumption was this was there to allow you to get more natural light into the bathroom during the day, but I'm not sure how much real difference it would make. There was a switch in the bathroom that appeared to allow you to lock the sliding glass pane in place, giving privacy to the shower and bathroom from the bedroom, but it didn't seem to work, allowing someone in the bedroom to slide the glass pane back at will.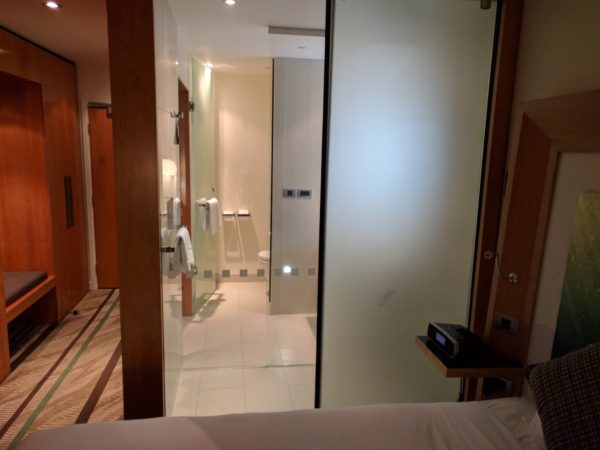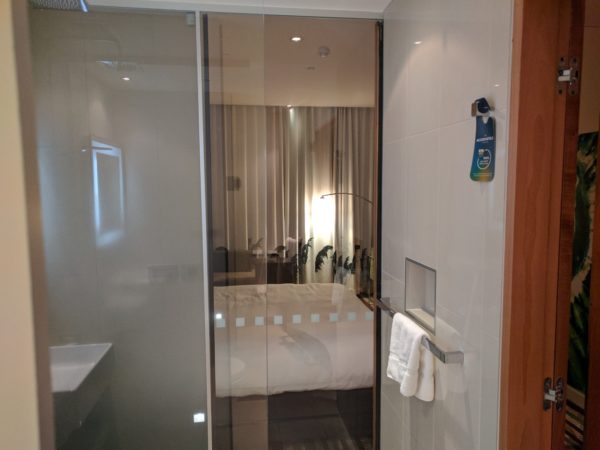 Work and Connectivity
The work desk was very decently sized, and I would have been happily able to do a days work sitting there - although with a view out over the runway, my productivity may give way to my av-geekiness. The desk had two powerpoints and an ethernet cable, but WiFi was also available and is complimentary and unlimited for Le Club members, which is free to join.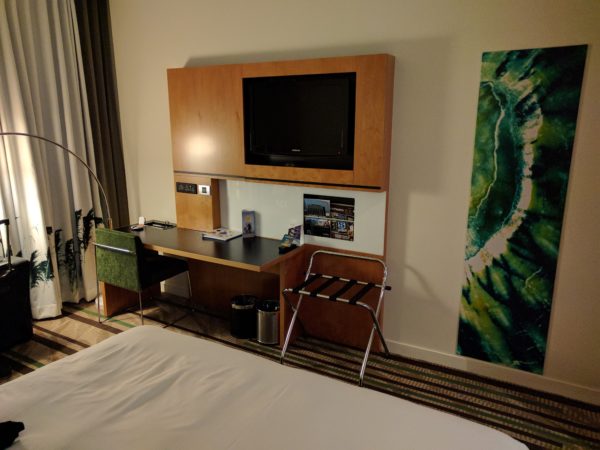 There were also a number of A/V connections to the TV available including HDMI, so if you're travelling with a laptop, bring an HDMI cable and you can have Netflix (or your content provider of choice) playing via the TV.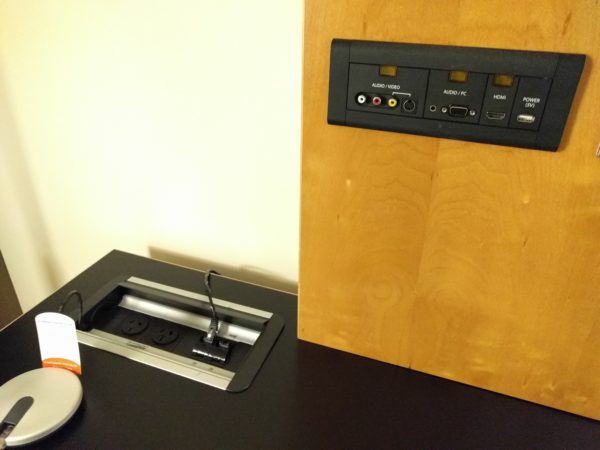 One of my favourite things about this hotel was that it had powerpoints besides both sides of the bed! Too often I find myself frustrated that there are either no usable powerpoints at either bedside, or at best only on the side my wife prefers to sleep on. While many people are probably OK with this, I like to have my phone next to the bed, as I often read news (or more likley Twitter) before I go to sleep and before I get up.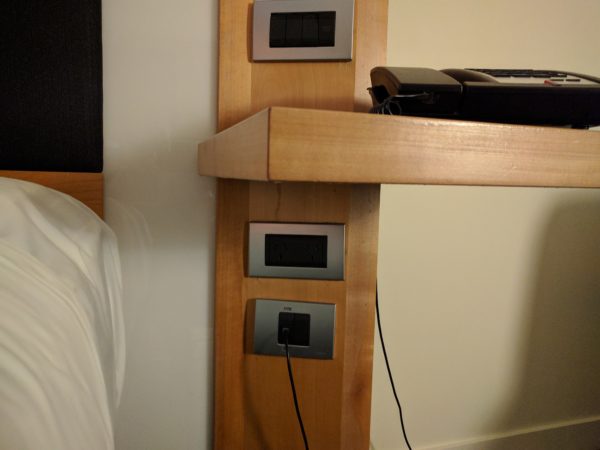 The hotel also has 7 meeting rooms available to hire, with seating for up to 315 people.
Food and Drink
On my short stay I didn't have the opportunity to sample the onsite restaurant, Square. Accessible from the Hotel lobby, Square Restaurant and Bar is open 24 hours a day, and food can be ordered to your room if preferred.
There is also a McDonalds a few metres away in the arrivals area of the international terminal if that's more your thing.
Check Out
My short stay ended very well with a nice, efficient check out process. A drop box was available for express check out but there was no line at the desk and an agent checked us out very promptly. I was asked if I wanted a copy of the invoice, and was pleased they were able to accommodate when I asked if they could email rather than print. The email arrived before I made it out the front door.