Location: 270 Flinders St, Melbourne VIC 3000
Loyalty Program: Hilton Honors
Rooms: 180
Website: www.hiltonmelbourne.com.au/doubletree-by-hilton-melbourne-flinders-street/
I'm a frequent visitor to Melbourne to visit friends and family. I'd both heard and read a lot about the DoubleTree so figured a Saturday night there on a recent weekend trip was the perfectly opportunity to try it out.
The DoubleTree brand sits as a midrange hotel in the Hilton family. Melbourne also features a Hilton that is soon to be rebranded after the recent sale of the building in April 2017, so this will leave the DoubleTree as the only Hilton brand in the city.
It's location on Flinders St directly opposite Flinders St train station makes it an almost perfect location in the city. If you're arriving from Melbourne or Avalon airports on the Skybus it will drop you around 100m away due to a lack of street parking directly outside the hotel.
CHECKING IN
I arrived at the hotel at around 9am on a Saturday morning after flying in from Wellington. As a Hilton Honors Diamond member I was greeted by Nikki who has to be one of the friendlist hotel receptionists I've ever come across. I was told a room would be ready around 12 so left my bag there and proceeded to head out for a walk around the city. Nikki told me she'd send me a TXT message when the room was ready (why can't hotels everywhere offer this service?) and at around 10:45 I received a message saying it was ready.
One fantastic aspect of check-in was being offered the buffet breakfast (which is complementary as a Honors Diamond member) when I mentioned I'd just flown in from Wellington. I wasn't hungry so declined the offer, but it was a nice touch.
I headed back around 1pm and picked up my room card and delicious warm Doubletree cookie and headed up to my room on the 11th floor. The 9th, 10th and 11th floors are Hilton Honors floors reserved for Hilton Honors members.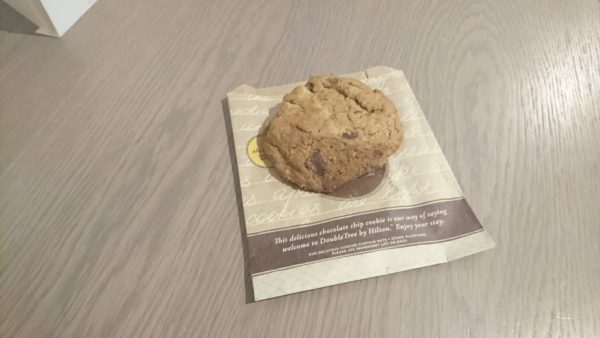 THE ROOM
The location and layout of this hotel means many mixed room styles. While booking it was made clear that some rooms are internal only and do not have windows - I had booked one of these originally and was upgraded to room 1104 at check-in. The room was a good size, and well laid out. It featured a single window that at a stretch could be classed as a "partial river view" and looked straight into an office several metres away. If you're after a room with a view, booking one of the rooms with a city or railway station view would be recommended.
I'm not a huge fan of rooms with no natural light (having said that they are fantastic for sleeping in) so if you're not wanting one of these be careful of the room type you book.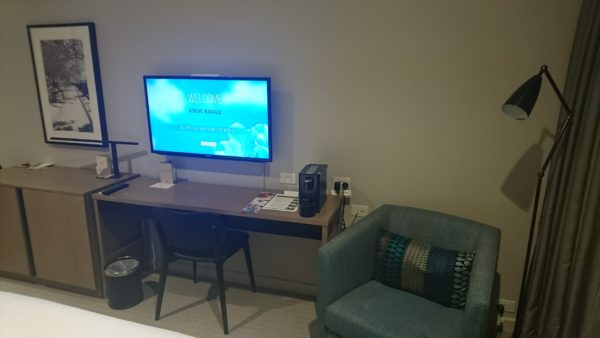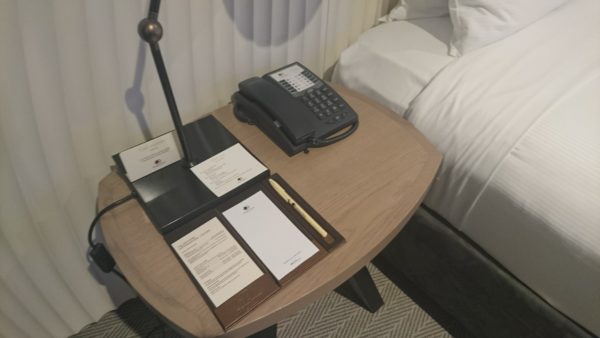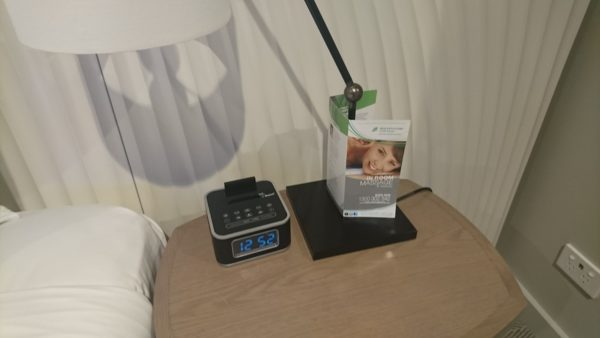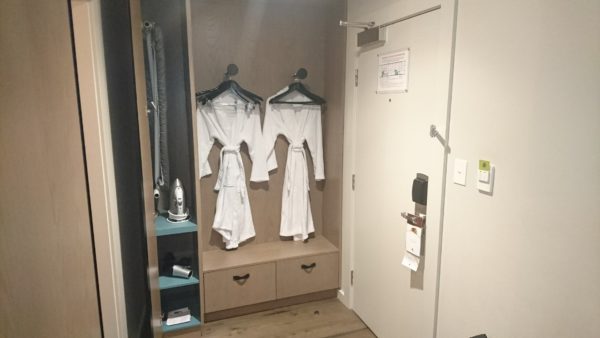 The King sized bed was a little firmer than I normally like but the pillows and triple sheeting were up to the usual Hilton standards. The clock radio featured an iPod dock and a combined power socket with USB by the bed.
While these USB chargers are convenient, they're fairly limited when it comes to fast charging modern devices as they're not a smart charger and don't support Quickcharge 2.0 or 3.0 standards. A quick test showed it charging my Sony Xperia at around 700mA which would mean it would take over 4 hours to fully charge. My Anker charger charges my phone at around 2000mA meaning it takes around 90 minutes to fully charge.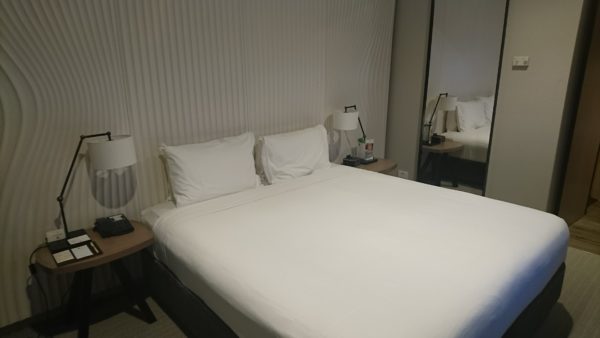 The bathroom was compact but well laid out. A lack of a shower door is the latest hotel design craze, and in some hotels results in a guaranteed flood in the bathroom. This was not the case here. The bathrobes were incredibly soft and something I could have stayed in it all day.
There was some wear on the desk which I'd pick being caused by people trying to open beer bottles on the corner of the desk. Why hotels don't provide a bottle opener in every room to save this sort of damage is something that still puzzles me.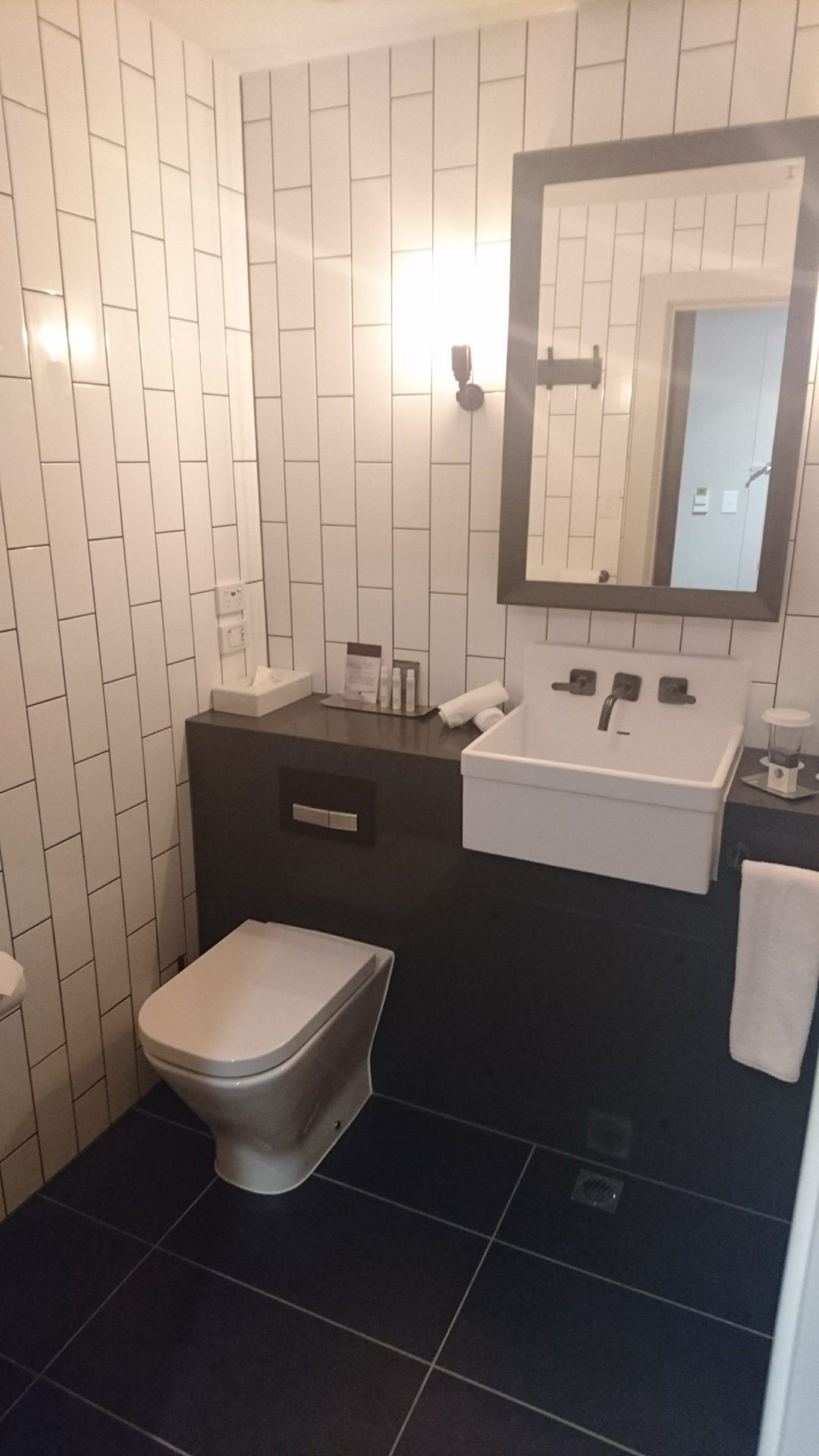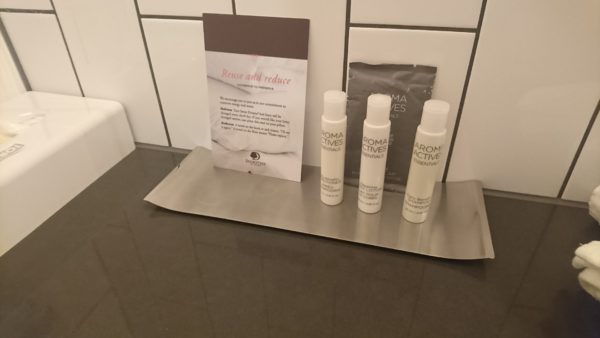 The TV used Hilton Australia's standard IPTV based solution which offers a great selection of free to air and pay TV channels, but does deliver a fairly poor quality low bitrate image which suffers from artefacts and could be hard to watch for long periods of time.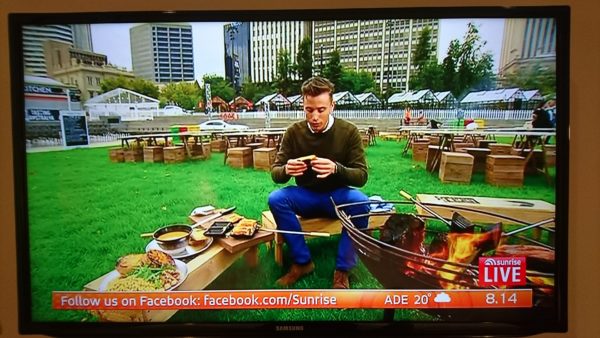 When I arrived back later in the evening the turndown service had been completed with two bottles of water and chocolates left in the room.
WORK & CONNECTIVITY
All rooms feature free WiFi for Hilton Honors members. While the WiFi worked well the speeds were fairly typical of Australia's very poor broadband and a speedtest.net test showed an artificially rate limited 2Mbps down and 2Mbps up. With limited desk space it's not the sort of room you'd want to spend long hours working in. The hotel does feature several conference rooms.
FOOD & DRINK
The hotel restaurant is on the ground floor behind the reception counter and bar. While I didn't dine there in the evening the menu looked good.
As a Hilton Honors Diamond member a complimentary buffet breakfast was included. The restaurant was reasonably busy on Sunday morning and while the single waitress was very friendly and efficient she did seem to be a little overworked. The breakfast selection was great with a good selection of hot food, bakery, fresh fruit and cereals. A juicing machine was also present with a selection of fruit and vegetables for those who wanted to make their own fresh juice.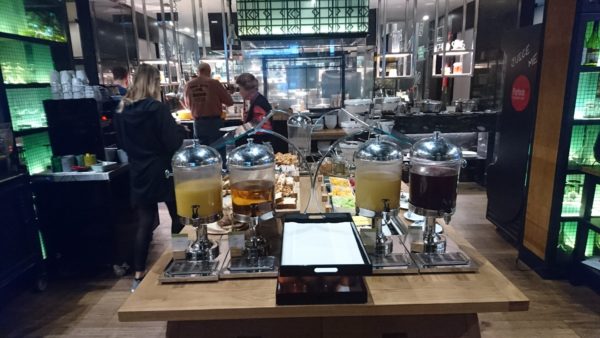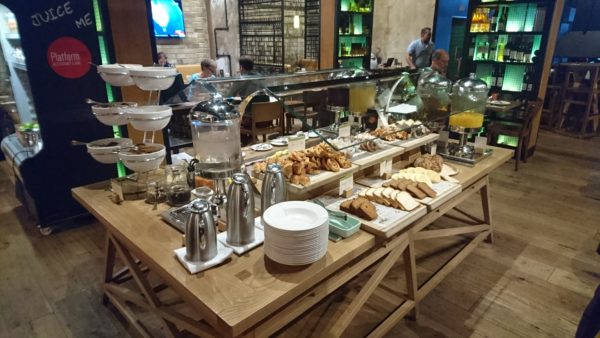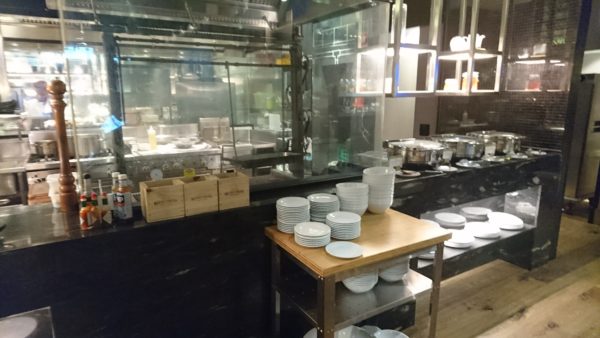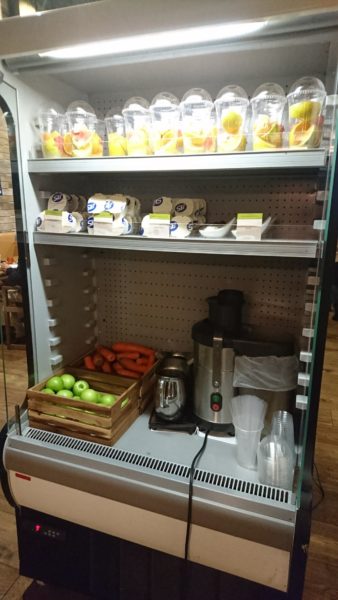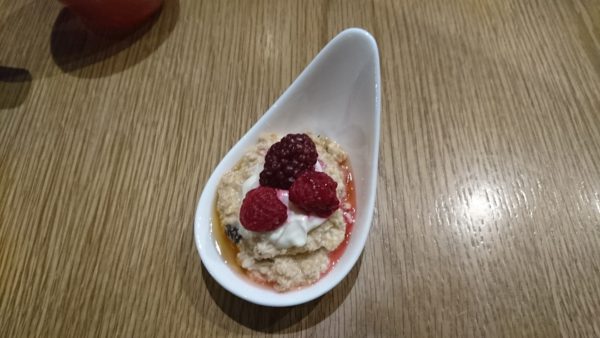 Overall the breakfast was great, except for what must rank as the biggest of first world problems - the bacon was poorly cooked and wasn't crispy!
CHECK OUT
Check out was super efficient. I was once again greeted by Nikki who remembered me and greeted me by name.  As I choose to simply get everything emailed to me I left my bag at reception and was on my way within about 60 seconds.
Overall my stay was a great one. The location is brilliant, staff were all super friendly, and when bacon is the biggest fault you have with a hotel it means they're doing a great job. For a mid market hotel it sets a very high standard, and is somewhere I'd definitely stay again.