Location: 102 North End Avenue, New York, NY 10282
Loyalty Program: Hilton Honors
Rooms: 463
Website: conradnyc.com
During a recent trip to New York I opted to split my stay between two different locations. As I have visited New York before I was keen to stay somewhere different to explore new areas, and as I planned to visit the new WTC and 9/11 memorial I opted for the The Conrad New York which is located in Lower Manhattan near the WTC.
The hotel is around 5-10 minutes walk from several subway stations and PATH which is located inside the WTC. It's also a couple of minutes walk to the World Financial Center ferry terminal on the Hudson river. As this is the business area of New York it's very busy on weekdays, but is a very quiet part of town on weekends.
The hotel features an open atrium with the walkways to all rooms looking right down to the lobby level. The hotel is nicely decorated with an extensive selection of art in public areas and it's 463 rooms.
CHECKING IN
I arrived at the hotel around 8pm on a Saturday night. The atmosphere was nice with plenty of people congregating around the bar and restaurant, but reception itself was quiet so there was no need to use the dedicated Honors counter. As Hilton have my credit card on file I simply needed to show ID and was on my way within about a minute. As a Honors Diamond member I was given an upgrade to an Executive suite on the 15th floor.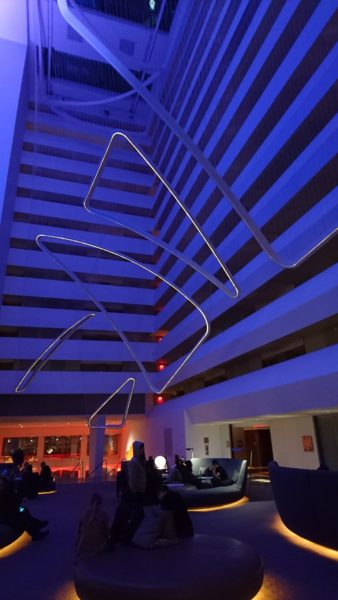 THE ROOM
The suite was located on a corner overlooking Vessey St with an amazing view of the WTC from the bedroom window. The suite itself was fantastic size wise at 700 sq ft. It featured a large lounge area, a well sized bedroom with walk in wardrobe, and off the hallway connecting the two was a toilet on one side, and on the other side a bathroom featuring a full sized bath and shower. The mini bar was well stocked but was sensor based meaning it was not possible to use any of the space for personal items. An extra fridge was available for $25 to store personal items if required.
The evening turndown service consisted of curtains being shut, lights dimmed, and a bottle of water and glass put on the bedside table.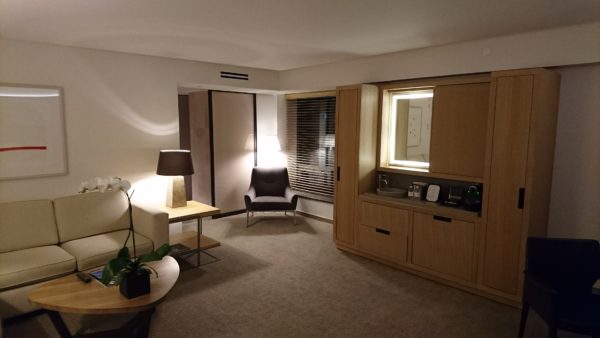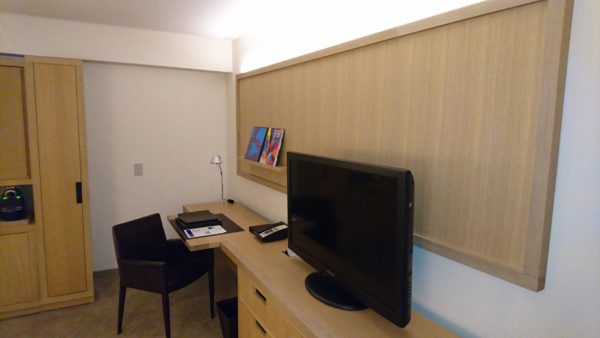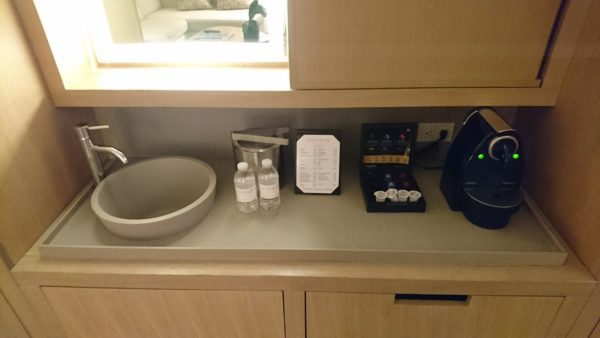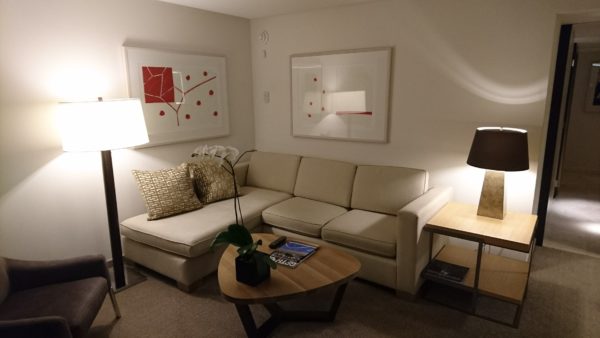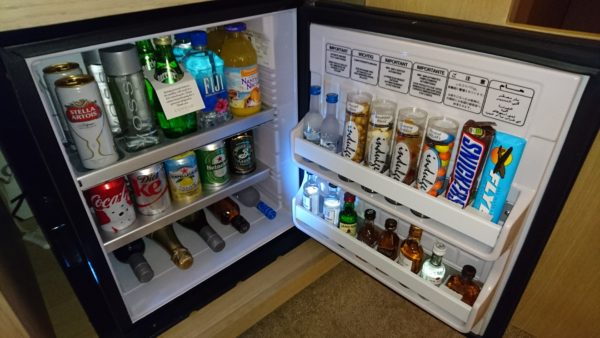 Power plugs were plentiful throughout the suite especially next to the bed where I always plug in my Anker USB charger to charge my phone and other devices. The TV's used Hilton's standard system with all channels in digital and featuring a full on-screen EPG and supporting HDMI inputs so you can plug in your own devices.
The bathroom featured a full size bath, separate shower complete with rain shower, bathrobes, and plenty of towels.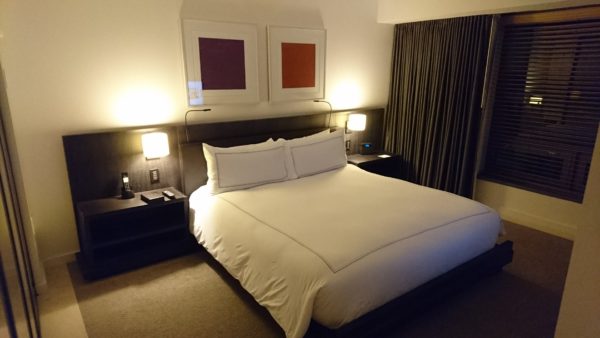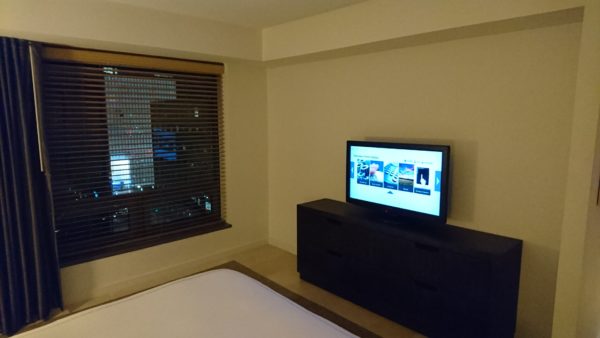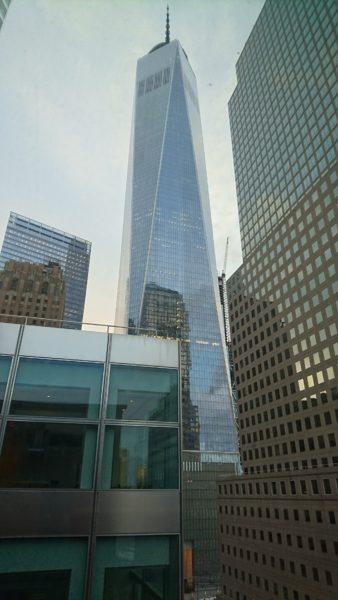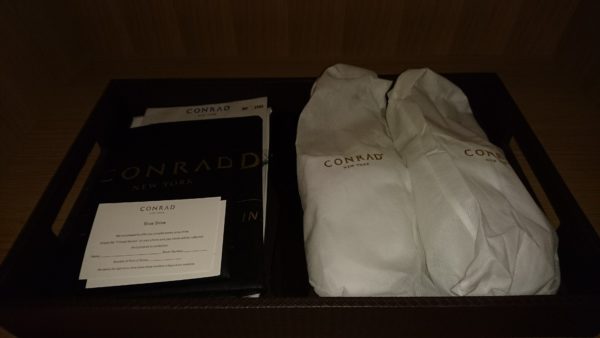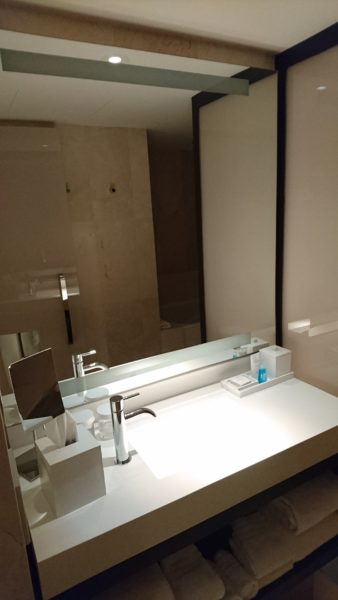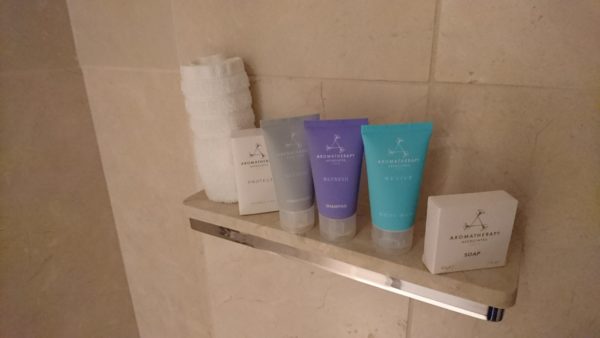 Upon walking into the room the first thing I noticed was was the sofa cushions all stacked on on top of each other on the sofa - it looked like cleaners had possibly tried to clean some very obvious stains from these and had left them to dry.  As the night went on I discovered a blown light bulb above the bath, lots of dust around the extracter vent in the toilet, and upon picking up the remote to turn on the TV in the lounge discovered it was all sticky underneath. There was also damage to the drywall caused by the security latch on the door.
While I don't consider any of these a huge deal breaker they do detract from the experience and certainly shouldn't happen in a hotel that pitches itself at the top of the market. In the 50+ nights per year I normally spend in hotels each year it's very rare for me to ever find such issues, and especially so find many in one stay.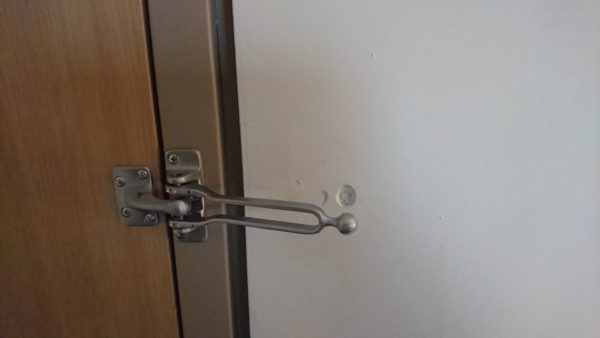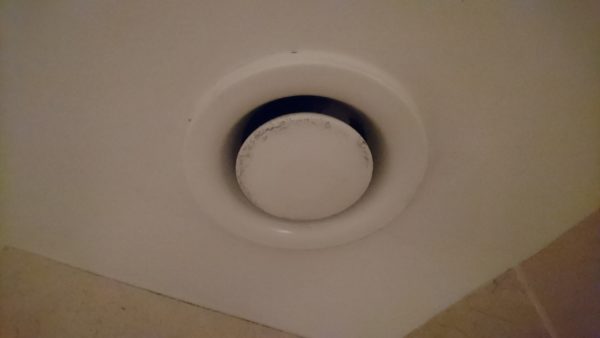 WORK & CONNECTIVITY
The room featured a nice sized work desk. It's unfortunate this wasn't near a window as if I'm working in a hotel I like to gaze out a window and watch the world go by. Free WiFi is available for Hilton Honors members.
FOOD & DRINK
As a Hilton Honors Diamond member I received a complimentary breakfast while staying at the hotel. This hotel features a full buffet breakfast on weekends, and on week days the hotel offers a breakfast menu with a special Honors section offering free items. If you'd like to order other items from the menu a $20 credit per person is provided towards the cost of these. Breakfast is served in the Atrio restaurant, which also doubles as a wine bar in the evenings. The hotel features a roof top bar with great views of the Hudson river, but unfortunately this is closed during Winter so I was unable to check it out.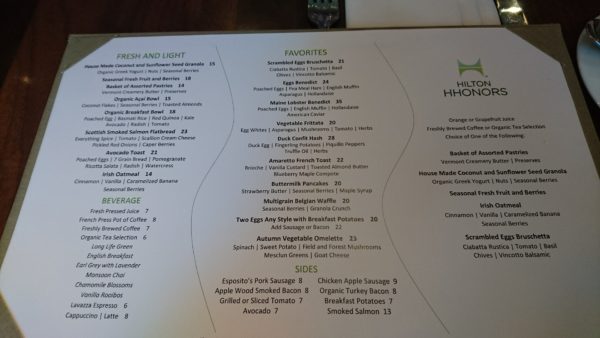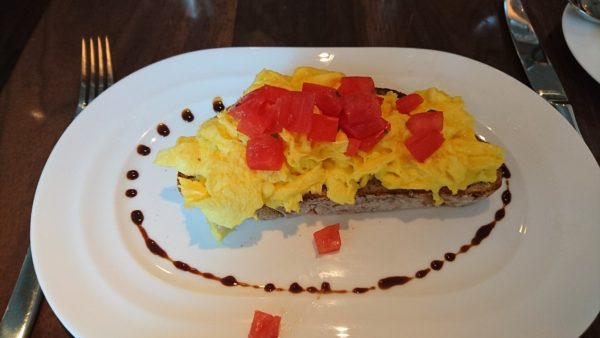 CHECK OUT
As I had a 2pm late checkout reception was once again very quiet as I checked out. The process was incredibly quick and efficient with the invoice automatically emailed to my address on file as I had no need for a printed copy.
Overall I really enjoyed my stay at the Conrad NYC. It's a great hotel in a good location if you're wanting to base yourself in Lower Manhattan. The rooms were very well furnished and staff were all incredibly friendly. The only downside was maintenance and housekeeping issues that do need work.