Flight: NZ2
Route: AKL (Auckland) -> LHR (London) via LAX (Los Angeles)
Flight Departure: 10:00pm
Flight Duration: 12h 00m AKL to LAX and 10hr 30m from LAX to LHR
Aircraft: Boeing 777-300ER
Seat: 3K Business Premier
July is normally a month of cold and wet winter weather in New Zealand. As I love spending my birthday somewhere warm and sunny I decided to escape the New Zealand winter for a European summer, booking with Air New Zealand on what is still regarded as their flagship service from Auckland to London via Los Angeles.
I arrived in Auckland after my domestic flight from Wellington on a Sunday evening with a couple of hours to spare before the scheduled 9:55pm departure of NZ2 to Los Angeles and London. It's a brief 7-8 minute walk between the domestic and international terminals in Auckland, and while a free bus service operates every 15 minutes, it's something I've only ever taken once when it was raining heavily as not all of the route is undercover.
I was already checked in for my flight to London but passed through the Premium check-in area as it features a lift to a dedicated immigration counter and SmartGate machine for Premium customers. Queues were non-existent, and within a few minutes I was on my way to the International Koru lounge.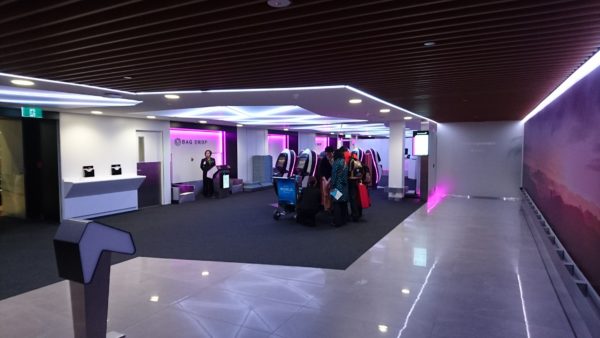 The Auckland International Koru is a beautiful lounge but can get incredibly busy at times - luckily tonight was not one of those times, and finding a seat was easy. I relaxed with a light snack and a couple of delicious kiwifruit and vodka based Highflyer cocktails (which come highly recommended by me) from the bar.
Food offerings late at night were still quite extensive with plenty of hot and cold options still on offer. I opted for a light snack of cheese and crackers and a sandwich as I knew plenty of food awaited me on my flights.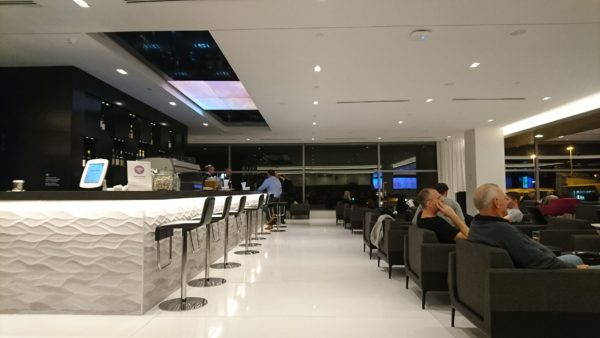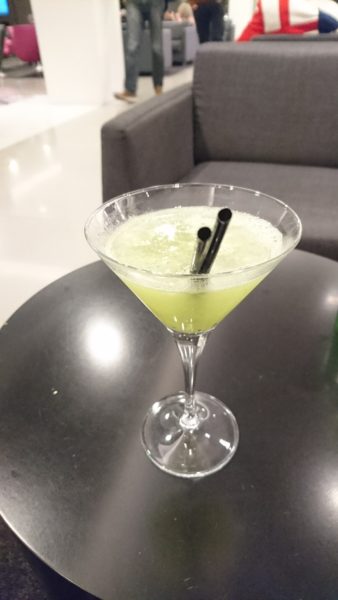 It didn't seem like long before a boarding announcement was made for NZ2, and I headed from the lounge to the gate which took about 5-6 minutes as it was at the far end of the terminal.
In my experience Auckland airport is one of the few places Air New Zealand really seem to get the whole boarding process working perfectly without lots of passengers forming crazy lines and pushing to get onto the plane. Clearly marked queues exist showing priority boarding and general boarding.
The boarding process was opened up firstly for Business Premier passengers, followed by Premium Economy passengers and high value customers (Koru/Gold/Elite) travelling in other cabins. The process was great and it wasn't long before I was warmly welcomed by the Inflight Service Manager as I boarded the plane and turned left to sit down in seat 3K.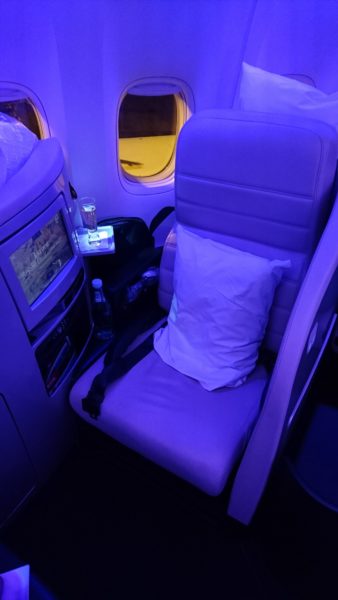 The crew introduced themselves to me and offered me a pre-takeoff drink of orange juice or sparkling wine. Air New Zealand do not serve champagne in Business Premier until in the air. Refresher towels were handed out and drink orders taken for a post takeoff drink as I laid back contemplating the 24 hour journey ahead.
I've written plenty about the Air New Zealand Business Premier seat and service in the past so will summarise with a brief rundown of the product on offer.
Air New Zealand's Business Premier seat is a now fairly dated fully lie flat herringbone seat originally designed for Virgin Atlantic in the early 2000s and licenced by Air New Zealand. The 1-2-1 layout on the 777-300ER means everybody has direct aisle access but faces towards the aisle meaning privacy is not as good as many newer seat designs which use a reverse herringbone design where all passengers face in the opposite direction.
If you're travelling with a companion there are no perfect seats to be able to be able to easily converse - instead you either need to sit opposite each other in the aisle, or sit one behind the other. My recommendation is to sit in the same row behind each other. The seat allows a dining companion to sit at the other end for meal service, which can be slightly uncomfortable but does works well.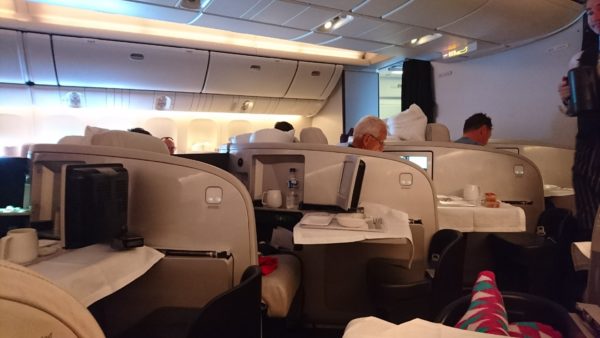 Unlike many modern seats the design means the seat must be flipped over to turn it into a fully lie flat bed. Once flipped over you'll have a 6 ft 7.5" long bed complete with memory foam mattress, two pillows and duvet.
Sleeping in this seat is still regarded by many frequent flyers as one of the best sleeping experiences in the sky, which is no doubt one of the reasons Air New Zealand have not moved away from this seat design to a newer one despite the age of the design and some of the disadvantages of it.
Business Premier seating is split between two cabins with a galley and bathrooms in the middle. In my view there are no "bad" seats however most Business Premier passengers will have their favourites after a few flights. Many also have a preference between the front and rear cabin, with many believing the rear cabin with fewer passengers is quieter. The biggest downside of the rear cabin is that it does feature bassinet mounts so you do run the risk of having a baby in this cabin.
My biggest tip with seat selection is to consider what type of sleeper you are - if you're somebody who sleeps on your back you'll probably find all seats equal. As I like to sleep on my right I prefer B/K seats as it means my face looks towards the open space and screen rather than the back seat wall. If you sleep naturally on your left you'll probably prefer A/J seats.
If you're a tall person in an A/K seat you may want to acquire an extra pillow as the air conditioning vents under your head can be a little uncomfortable.
The cabin features LED mood lighting which is normally set to a pink tinge. It's put to good use to wake up sleeping passengers by gradually increasing light levels before the breakfast service commences.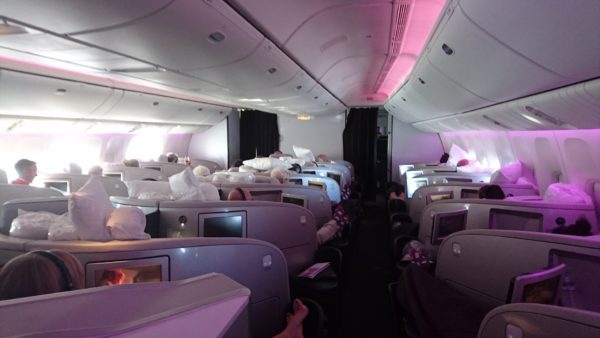 Business Premier seats on the 777-300ER have a 12.1" widescreen touchscreen, with the aircraft I was on using the older Panasonic eX2 Inflight Entertainment system (IFE). The IFE offers an extensive range of movies, TV shows and documentaries along with games and music. It features a seat chat which is handy if you're traveling with companions who are not in the same cabin as you.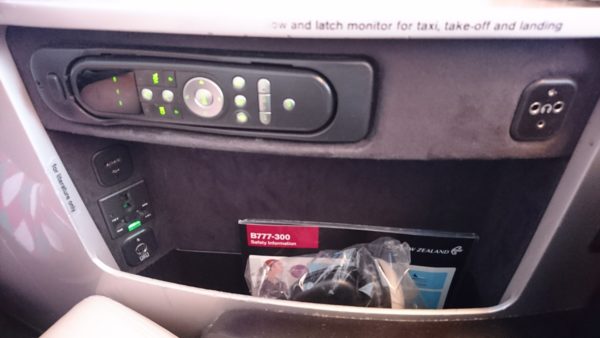 All Business Premier seats also have AC power and a USB port. Don't expect stellar performance trying to charge modern USB devices though - this port is limited to a maximum of 500mA and is not a smart charger which is a requirement to charge modern devices.
As a comparison a modern phone or tablet with QC2.0 or QC3.0 support will easily charge peaking at over 2000mA. As the screenshot below shows the USB port would charge my Sony Xperia phone at around 300mA, whereas my Anker QC3.0 compatible Powerbank will charge it over 7 times faster. This is the difference between taking over 10 hours to fully charge my phone from the USB port and around 90 mins using my Anker powerbank.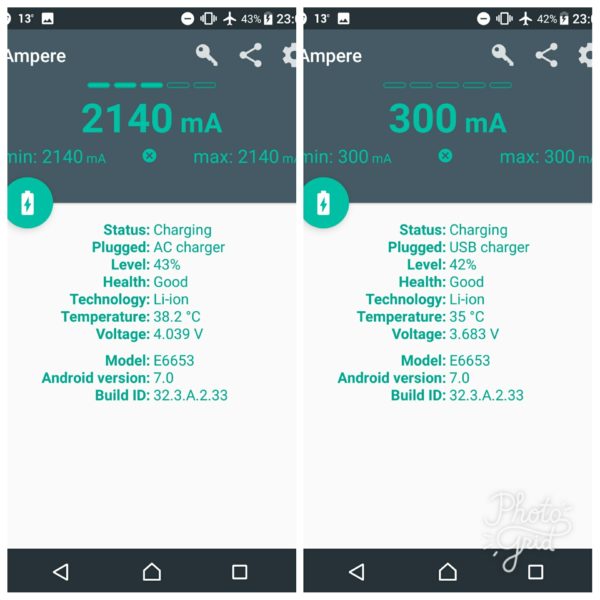 Air New Zealand are currently in the process of refitting all of their 777-300ER aircraft with new seats throughout the aircraft in a project that will be complete later in 2017. This seat replacement delivers the same identical Business Premier seat, but swaps out the Premium Economy Spaceseat for more traditional Zodiac Premium Economy seat and moves from a 2-2-2 layout to a 2-4-2 layout in Premium Economy. The upgrade also includes an upgrade to the newer Panasonic eX3 IFE system already present on Air New Zealand's Boeing 777-200ER and Boeing 787-9 aircraft.
While the newer IFE system offers the same level of content it's much faster, has a multitouch screen to support swiping, and also offers High Definition (HD) content. It also features a 3.5mm headset connector in the screen meaning you will not need an airline adapter if you're using your own headphones.
This refit will also see the launch of inflight WiFi on Air New Zealand services with a refitted 777-300ER to commence trials of the service in late 2017 before the product is rolled out across the entire Air New Zealand jet fleet in 2018.
In your seat you'll find a bottle of water, premium noise cancelling headphones and an amenity kit. Air New Zealand are currently in the process of launching new amenity kits for both Premium Economy and Business Premier. This flight still featured the older kits with Antipodes product.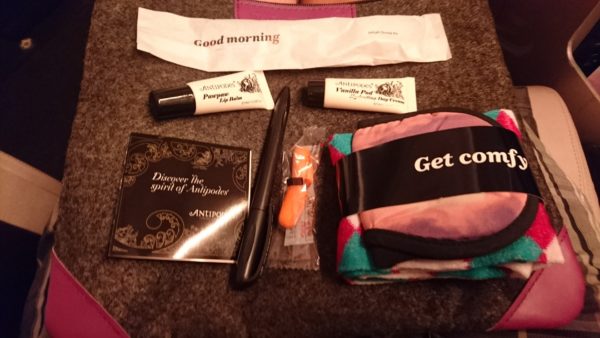 I do just have one word of warning - as I write this I've just completed two Premium Economy flights with Air New Zealand featuring the new amenity kits. These kits feature new black earplugs rather than the orange 3M earplugs in the old kit. These black earplugs are unlike any earplugs I've ever come across before and are totally useless - if you're somebody who likes to sleep on a plane with earplugs I highly recommend bringing your own ones along.
While the noise cancelling headphones are an enclosed over the ear type they're no comparison for a good pair of noise cancelling headphones like my Bose ones which I'll never travel without.
It wasn't long before we were airborne and drinks and a snack of nuts were served. Air New Zealand currently serve both Billecart Salmon and Charles Heidsieck Reserve champagne in Business Premier. This flight had Billecart Salmon catered on it which is a favourite of mine.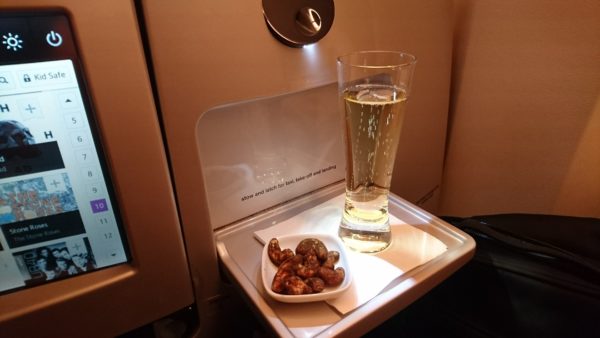 The Inflight Service Manager soon made his way around the cabin for a chat while distributing arrival documentation for the United States. If you're transiting Los Angeles on NZ2 to London you do not need to fill anything in - all other passengers need to complete the customs declaration.
The dinner and drinks service soon followed with table cloths put out and meal trays delivered. To start with I opted for the poached chicken salad with green soba noodles, daikon, and baby corn with pomegranate pearls. This was followed by a selection of bakery items including garlic bread (which is incredibly tasty!), sourdough and rye rolls.  Smoked salmon was also available as an option for the starter.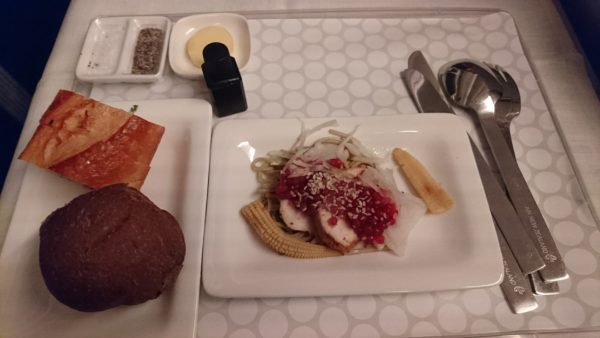 I'm not a big red or white wine drinker on flights and the selection didn't seem to stand out. In mid 2016 Air New Zealand made a big deal about offering high end wine offerings in Business Premier on their flights, and I had several flights with some fantastic wine offerings including Te Mata Bullnose Syrah which was absolutely delicious.
There was no sign of this and it's presumably fallen by the wayside. It's also possible that me drinking an entire bottle of the Bullnose on a flight blew the budget for the year. Sad.
For my main course I opted for the monkfish with smoked mussel and saffron chive sauce, crushed new potatoes, sauteed spinach and peas topped with a prosciutto crisp. This was especially delicious when washed down with another Billecart. Other main options included beef short rib with mashed mascarpone potatoes, vegetarian chana dahi, and tomato and lemongrass soup.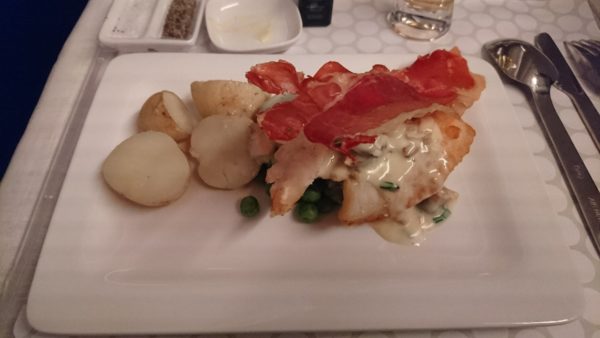 Dessert followed soon after with lemon shortcake ice cream with meringue and lemon curd. The food had me beat by now so I declined the offer of the cheeseboard.
Air New Zealand currently serve Glenlivet as their single malt whisky in Business Premier so after a nightcap it was time to get my bed made up and head to sleep.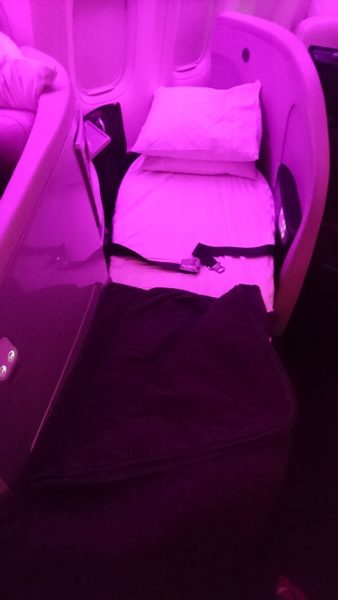 I woke up after an amazing sleep around three hours prior to our arrival into Los Angeles. As I was a little peckish I headed for the inflight snack bar. An overnight snack of a roll with bacon, caramelised onion and barbeque sauce was on this flight, and while I didn't opt for it it comes highly recommended by me from previous flights.
The snack bar in the galley has fruit, chocolate bars, cookies, snack bars and chips available along with a selection of beverages.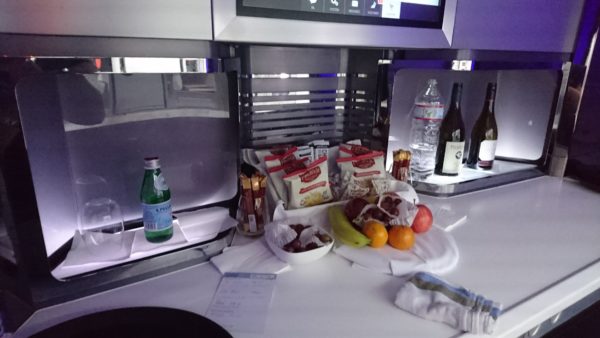 As other passengers began to wake up crew were busy converting beds back to seats. This is something that's easily done however if you've never done it before I recommend letting the crew do it for you.
Just on two hours out from Los Angeles breakfast service commenced - first up was a smoothie. This was followed by cereal, fruit salad and yoghurt and then toast or a croissant. I then opted for scrambled eggs with corned beef hash cakes, creamed spinach and tomato pepper relish served on a toasted muffin.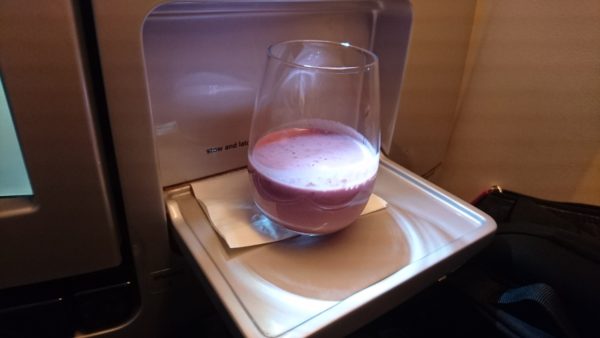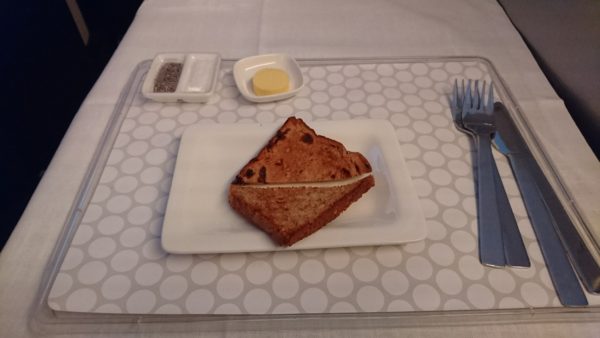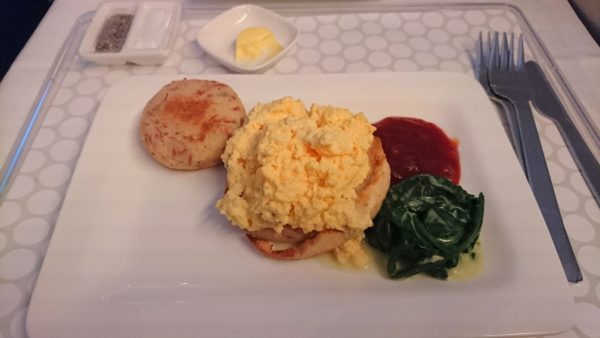 Overall the flight was a good one, but not one memorable enough to be considered amazing. Inconsistency in the delivery of the soft product and overall crew attitude is still something that I find inconsistent across Air New Zealand flights, particularly in Business Premier and Premium Economy. The customer experience on every flight should be an amazing one, and it's a shame that this is not always the case.
In my view if you get an great Inflight Service Manager you'll have a great flight - and it's a shame not all Inflight Service Managers are at the same level. There are several I've had on multiple occasions on long haul flights in recent years who go out of their way to ensure every flight has been a magical one.
Our approach into Los Angeles was from the North which offered great views out of my window on the right hand side of the plane as we passed over LAX airport and then turned downwind to land on runway 24R.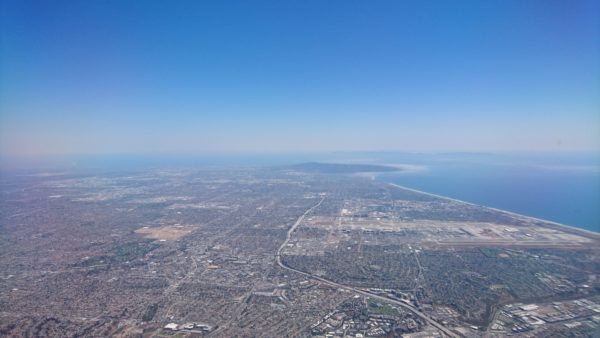 Transiting through Los Angeles airport is very rarely ever a great experience. In all my previous trips I rate it on a scale of "just bearable" to "why am I doing this to myself". When flying to the US itself I much prefer to fly through San Francisco or Houston which in my experience are far more enjoyable.
NZ2 is scheduled to arrive at 2pm and depart again at 4pm. As boarding starts around 45 minutes before takeoff it means you have roughly 1hr 15 to clear immigration and security before boarding your flight again. This sounds like plenty of time but the reality is it's not - my experiences are all ones of spending 95% of that time standing in queues and the other 5% rushing to get between queues.
We touched down around 30 mins early just after 1:30pm. Unfortunately this meant there was no gate for us, so after a scenic tour of LAX with a great commentary by the pilot finally pulled up at our gate just after 2pm.
If you're continuing on NZ2 to London you'll need to take all personal possessions with you from the aircraft. Once you've left the aircraft ensure you pick up a blue transit card from one of the Air New Zealand ground staff who will be waiting just inside the terminal after the airbridge. (Note this image shows transit on NZ1 the other way).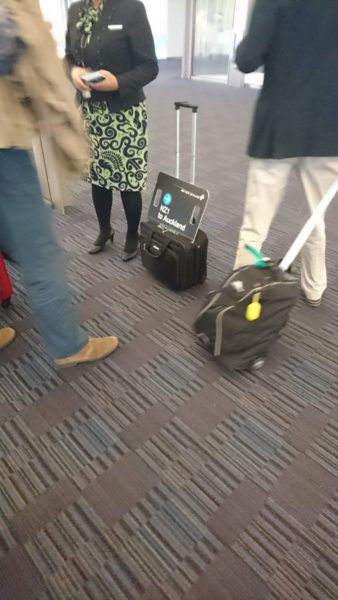 Once inside the terminal you'll need to clear US Customs and Border Protection (CBP). New Zealand passport holders transiting the US on Air New Zealand are required to have a ESTA and can therefore use the automated kiosks. After being fingerprinted and having your photo taken at the kiosk you'll join another queue to speak to a CBP agent. Queues here are nearly always a nightmare, however they weren't too bad today and I managed to breeze through in a little under 40 minutes - I've encountered delays of 60-70 minutes here in the past.
Once clear of CBP keep an eye out for Air New Zealand ground staff pointing you towards the transit desk. Here you'll hand over your transit pass, be checked off against a list of transit passengers and have your boarding pass stamped with "transit" allowing you to use the transit queue for security screening.
Once you leave the transit desk you'll end up back on the upper floor on the terminal in the check in area. If you're wanting to briefly enjoy the fresh Californian air or are a smoker needing to partake in a nicotine fix here's your chance. Just don't spend too long enjoying the view of traffic - you're now only half way towards getting back on the plane!
Now you'll head up the stairs or escalator to security screening. Dedicated queues normally (but not always) exist for transit passengers so ensure you head for the correct line. Despite there only being around 20 passengers in front of me in the transit queue, security screening was moving so slowly it took just over 25 minutes to get through.
Depending on the day of the week screening measures at LAX seem to differ which can severely affect screening times. Most of the time shoes and belts are required to be removed and all electronics, liquids, aerosols and gels (LAGs) required to be removed from bags. On other occasions they're not, and this speeds up screening considerably.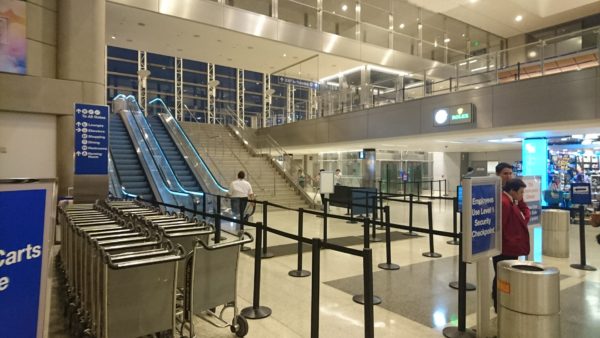 By now it was just after 3:10pm and boarding for NZ2 was due to commence in 5 minutes. I rushed up the escalators to the Air New Zealand managed Star Alliance lounge at LAX and was able to immediately find a shower free and (almost) had time to relax seeing the screen showing boarding had been pushed back to 3:30pm. After a quick shower and snack it was time to head back to the gate for boarding.
It's worth mentioning here that I'm a great fan of transiting from Auckland to London using NZ6 and then NZ2, or London to Auckland using NZ1 and NZ5 rather than NZ2 or NZ1 the entire way. The extra 1 1/2 - 2 hours that these combinations offer means you can actually enjoy the LAX stopover without being rushed. I love connecting from NZ6 to NZ2 as it means it's an early evening departure from Auckland, giving plenty of time to leave LAX airport and watch planes and enjoy a snack at In-N-Out burger before heading back to the airport for a shower before my onward flight.
If you opt for this split flight option your transit process will be slightly different from that detailed above. You're not eligible for a transit pass (which really just means you're not eligible for the transit lane at security screening) and despite getting your bags tagged right through to your destination, you will need to pick these up from the luggage carousel and drop these off at the luggage transfer area. You will also need to complete US arrival documentation and should mark "in transit" as your US address.
Once back at the gate boarding went relatively smoothly and it wasn't long before I was back sitting in the same seat feeling like this was groundhog day as I enjoyed the view out the window of Marina Del Ray and Santa Monica as we departed LAX.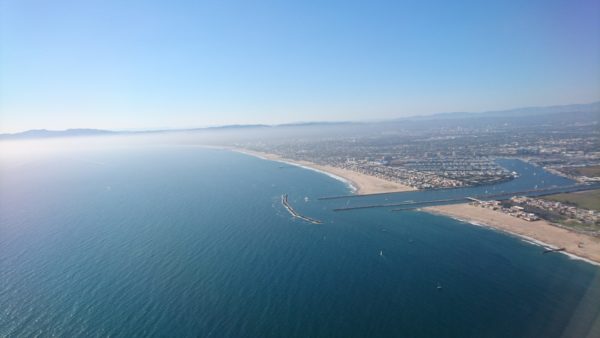 Air New Zealand cabin crews between London and Los Angeles are all London based and most are not New Zealanders. It does seem a little strange to not hear the New Zealand accent and in my past experiences the friendliness and service is different to that of New Zealand based crews - they're not quite so informal, but are often more friendly. My experience on this flight was a stark contrast to some previous flights where I've only considered the crew to be average - Inflight Service Manager Matt Major and his crew were truly awesome and it ranks as one of the best Air New Zealand flights I've experienced.
As luck would have it Billecart was not served on this flight so I had to settle for a Charles Heidsiek Reserve to enjoy with my snack of nuts.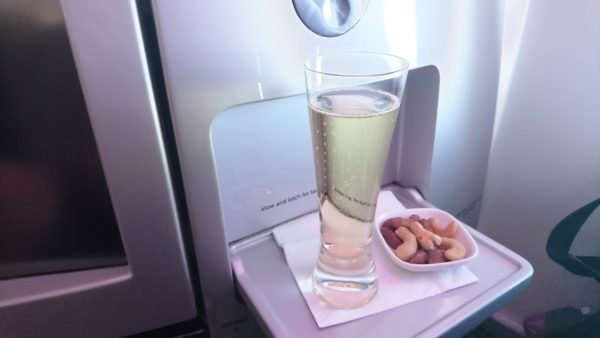 NZ2 from Los Angeles to London leaves Los Angeles late afternoon and arrives in London late morning so dinner and breakfast is served. The menu wasn't overly appealing but it did feature the (in)famous Air New Zealand burger. I don't get why a burger is the only way to get red meat to or from North America on Air New Zealand services (steak is routinely served on Air New Zealand to and from Japan to New Zealand) and a burger has no appeal to me. Having said that, it's always a popular option and today was no different.
The meal service commenced with tray tables being set and the starter being delivered. I opted for the prawns with spring pee puree, shaved asparagus and bloody mary jelly. This was followeed by a selection of bakery items including whole grain sourdough rolls, garlic bread and olive bread.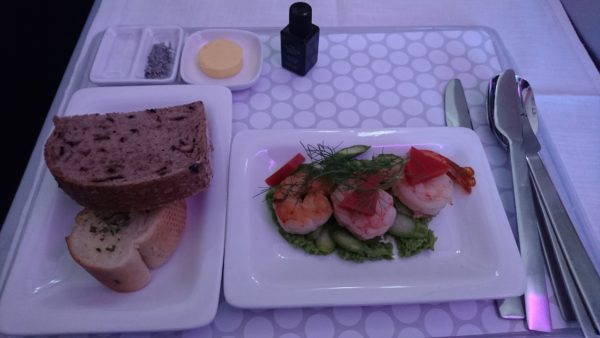 For my main course I opted for for the chicken breast stuffed with sage, chard and mozzarella with butternut squash puree, radicchio with pinenuts and honey.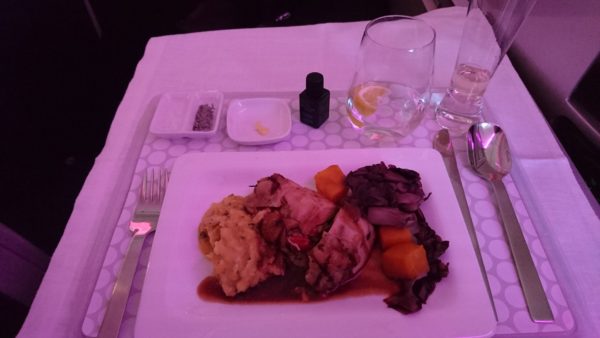 This was then followed by a delicious apple and rhubarb tart with rosemary cream. A cheeseboard was on offer for those who still had the space.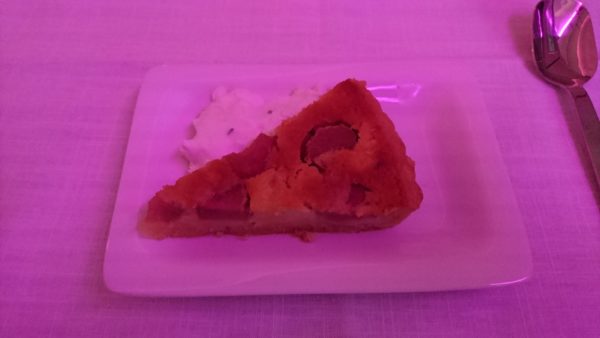 Dinner was accompanied by amazing views of the Colorado Rockies as the sun began to set. Part of the beauty of flying is being able to look out the window, something I think a lot of people totally forget about.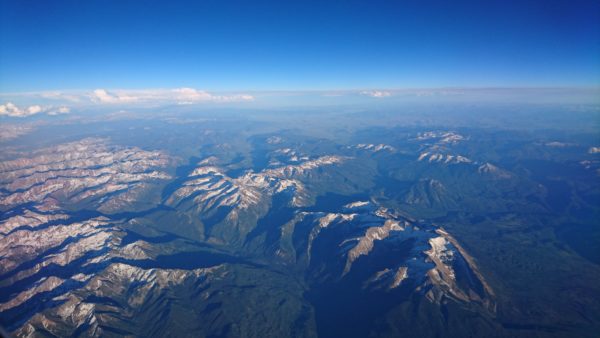 As I'd slept so well to Los Angeles I wasn't particularly sleepy so after the meal service was complete I watched a few TV shows before calling it a night. I only managed a few hours sleep but felt great when I woke up.
Around two hours out of London it was time to indulge in more food with breakfast on offer. Up first was the usual smoothie, cereal, fruit salad and yoghurt followed by a delicious quesadilla. These are always delicious when catered ex Los Angeles.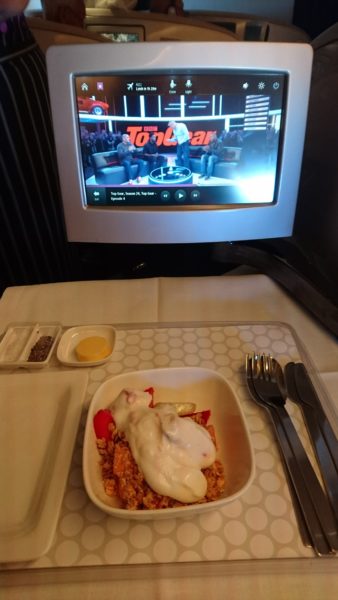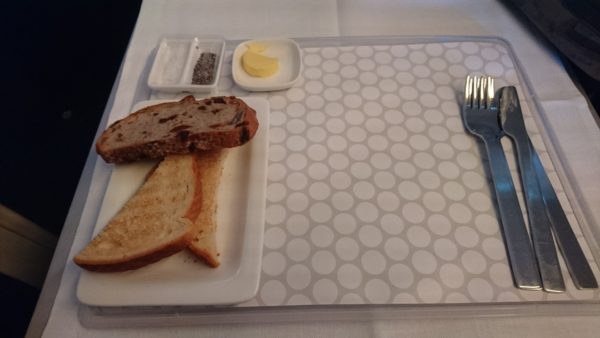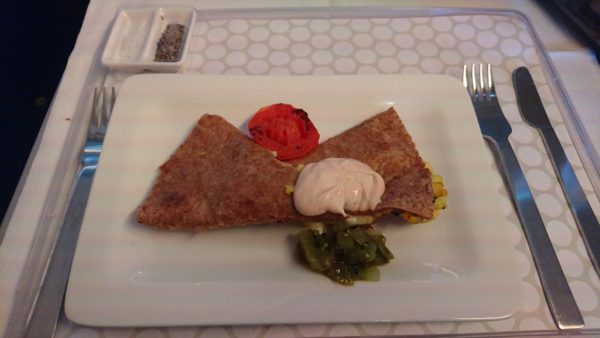 Once the service was complete and cabin cleaned up Inflight Service Manager Matt headed around the cabin again saying a few final goodbyes and it was soon time to begin out approach into London Heathrow. Air traffic wasn't bad so our delays were minimal, and our approach over the city was my favourite with absolutely amazing views of the City of London before our touchdown on runway 27R.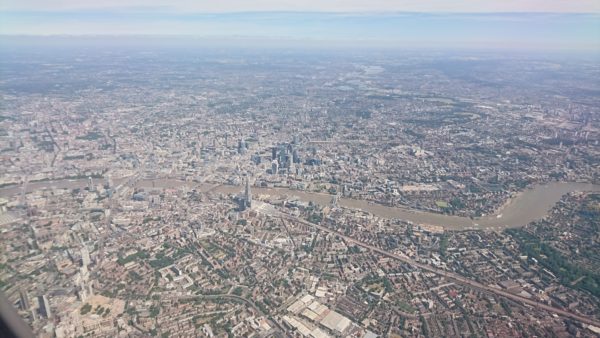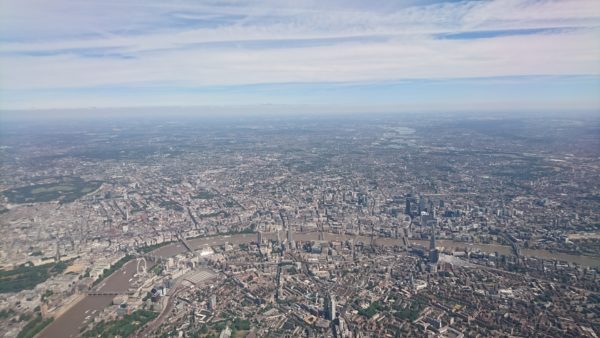 Air New Zealand uses Heathrow Terminal 2 but all flights are from the Satellite Terminal 2B meaning it's around a 10 - 15 min walk from the gate to immigration. Air New Zealand Gold and Elite customers will receive a Fast Track card handed out in flight allowing you to use the Fast Track lane at immigration.
It took around 10 minutes to clear immigration and while general queues for non Fast Track passengers weren't that long,  I'd estimate it would still take at least 45 minutes to clear. Once through immigration there was a brief wait for bags before passing through the green customs channel and heading outside to a beautiful 29 degree summer day in London. Everything was so perfect.. until the stark realisation of an hour long tube ride sitting in a sauna made me realise not everything in life can be perfect!
Would I fly Air New Zealand to London again? Definately. My preference however is to fly NZ6 and then NZ2 (or NZ1 and NZ5 in the reverse direction) giving a longer transit time at LAX and avoiding the rushed connection of NZ2.
Competition via Asia and the Middle East has left Air New Zealand charging a significant premium for flights to London via Los Angeles. Despite this I find both the time zone changes and flight times far more enjoyable heading east around the world rather than west.