Air New Zealand has today announced Chicago as its latest international destination. Chicago becomes their fifth North American destination, joining Vancouver, Los Angeles, San Francisco and Houston.
The 7112nm route from Auckland (AKL) to Chicago O'Hare (ORD) will be flown by a Boeing 787-9 Dreamliner, and will commence on November 30th after the arrival of Air New Zealand's last two Dreamliner aircraft from their initial order of 13 (with an additional leased aircraft expected to be added next year). These two aircraft will be fitted with the lower density Code 2 "North American" seating configuration (27 Business Premier, 33 Premium Economy and 215 Economy) which is currently fitted to Dreamliner aircraft serving the Houston route. Flight times will be around 15 hours from Auckland to Chicago, and around 16 hours for the return journey.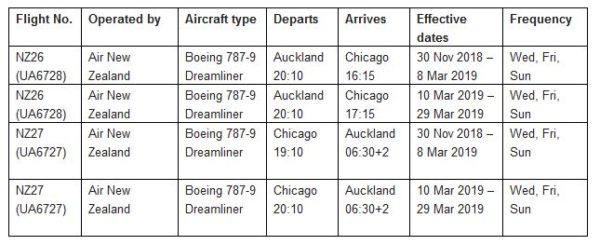 Chicago is a major United airlines hub, and significantly increases connectivity options for those passengers traveling to the American Midwest, and also those traveling through to the East coast. It also offers a significant number of connectivity options through to Europe.
Air New Zealand have previously said they see plenty of growth potential in the US market, particularly for inbound tourism, and have indicated that non stop flights from New Zealand to New York are on the cards once they have an aircraft capable of flying this distance. A decision is expected later in 2018 as to whether Air New Zealand will opt for Airbus A350 or Boeing 777X aircraft to replace its existing Boeing 777-200ER and Boeing 777-300ER fleet from around 2021 onward.
In February Air New Zealand announced services to Taiwan which also commence from November using a Boeing 787-9 Dreamliner.