I first discovered the TripIt app when I was planning a trip to the US back in 2008, and since then I can't think of a single trip where I haven't used it.
When I travel, I like to travel light, but I also like to have a nice easy reference for my travel plans at my fingertips, and I don't want that to be paper. As planning for a trip comes together, I forward all my confirmation emails (airline reservations, hotels, rental cars, activities etc.) off to TripIt, and they automatically collate all the relevant info and add it to my trip itinerary.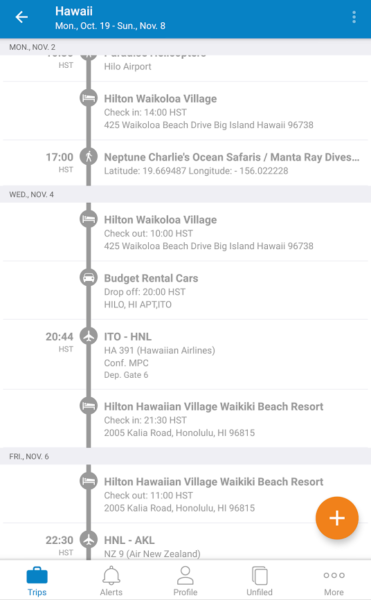 TripIt is available on the web, but also as an app for both iPhone/Ipad and Android, and everything stays nicely synced, so if you use multiple devices everything works together. They even have a Blackberry app if you're still rocking one of those (I kind of miss my old Blackberry some days).
TripIt comes in two flavours - a free and a paid version (Known as TripIt Pro which costs US$49/year), but I must confess the free version was enough for me for a very long time as a semi-regular traveller. The free version is great for collating all our travel plans into one place, but if you travel regularly, particularly overseas or to places where you have lots of connections, TripIt Pro can really come in handy.
One of the biggest advantages of the Pro version is alerts for changes to your flights. A few years back when I was in the US this came in REALLY handy when United Airlines kept changing the time and the gate of our flight from Newark to Los Angeles (We ended up missing our connection back to Sydney too - but that's a whole other story). I was getting alerts from TripIt letting me know about the gate and time changes before even the boards in the airport terminal were updated.
TripIt is built in the US, so some of it's features tend to be a little more applicable to the US (and their way of flying) than perhaps to this part of the world - but there is certainly lots of great stuff in both the free and the pro version for anyone who travels regularly - and if you travel to the US a lot, it really starts to shine. Things like alternative flights and refund alerts will really come in handy when, perhaps after an involuntary denial of boarding situation, you find yourself needing an alternative to get to your destination. (Side note: Thanks to United - hopefully overbooking situations in the US become less frequent - but they will still happen, and TripIt Pro will be your best friend).
One of my favourite features (available in both the free and the Pro version), is the ability to sync your trip plans directly into your calendar of choice. I'm a Gsuite/Gmail user and so I have my TripIt plans feed straight into my Google calendar. I forward all my travel plans off to TripIt by email when they hit my inbox, and TripIt does some magic in the background to pull together my nicely formatted itinerary, then kindly plugs it straight into my Google Calendar too. If you use another calendar app like Outlook or iCal, that works nicely too.
I have a good few travel apps on my phone, but TripIt is easily one of my favorites, and probably the only app I would use on pretty much any trip I take.
Do you have a favourite travel app? Share it with us in the forums