Singapore Airlines is scrapping it's Singapore to Wellington via Canberra route a mere 16 months after the launch of the "Capital Connection" service. The flight was reviewed by TravelTalk in August.
The Singapore to Canberra sector will continue, but now fly inbound via Sydney, meaning the flight will have a brief stop at Sydney to offload passengers and refuel before continuing to Canberra.
Wellington will now see the flight to Singapore route via Melbourne, along with a change of times. The total flight time to Singapore now being slightly longer, and the 22:45 arrival into Singapore also means it will also not offer the easy onward connections that the previous early morning arrival offered.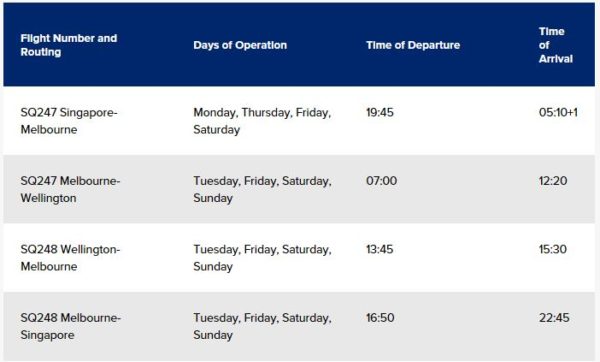 The existing Singapore to Melbourne SQ247/SQ248 service will be upguaged from an Airbus A330-300 to the same Boeing 777-200 used at present on the Canberra route. The age of this Boeing 777-200 aircraft means the premium cabin experience is sub-par compared to their modern aircraft, but economy passengers will get to enjoy much more space than a modern aircraft, but will suffer with a very dated in-flight entertainment (IFE) experience.
The Canberra flight has struggled with loadings since it began. Singapore Airlines could only sell around 1/3 of the plane from Wellington for onward flights to Singapore (due to loadings from Canberra) and Canberra isn't exactly high on many people's list of places to visit to fill the remaining seats. Despite being a pretty nice place for a weekend away, Singapore Airlines were hampered when it came to offering low priced fares on the sector due to high airport charges at Canberra airport. The tax component of a return Wellington to Canberra flight was around NZ$250 - around $50 to $70 more than every other Australian airport.
The Canberra flight has been controversial from before it even started due to a multi-million dollar 10 year subsidy being offered by the Wellington City Council for the flight. Despite the Singapore Airlines flight now competing with Air New Zealand and Qantas on the Melbourne route, Mayor Justin Lester has confirmed that the subsidy will continue. Exactly what both airlines will think of their new competitor receiving a subsidy to fly an already competitive route remains to be seen.
The previous entry (and subsequent exit) of Jetstar on the route along with annual seasonal schedule cutbacks by Air New Zealand to meet demand shows the route will very likely be unable to sustain the extra seats into the market from Singapore Airlines. With airfare prices to Australia already being hamstrung by the very high taxes, the response from Qantas and Air New Zealand will very likely be reductions to the number of flights which means frequent flyers will ultimately end up being the losers.