Air New Zealand has today announced a three month trial of a downtown check-in and bag drop facility in downtown Queenstown from the 20th November 2019.
The pop-up facility located at 5 Earl Street opposite the Novotel Hotel will allow passengers to check-in for their flight and drop their bags off for flights on the same day.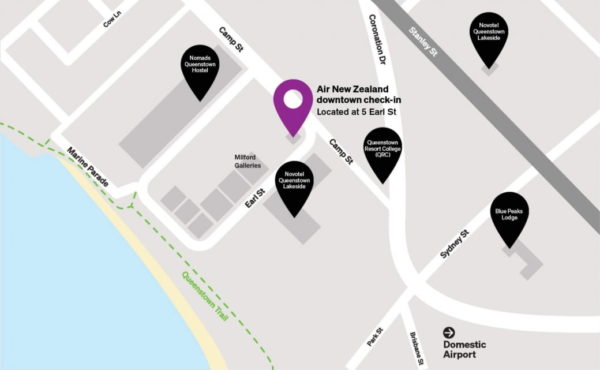 The check-in and bag drop service will be available free of charge for the first two and a half weeks from 20 November, with a $15 per booking fee applying from Monday 9th December. Customers will able to pay using credit card or EFTPOS at the site.
Air New Zealand General Manager Customer Experience Nikki Goodman says the trial is all about expanding the travel experience for its customers.
"We know it can be a chore having to plan your final day in your destination around what to do with your luggage.  This new check-in and bag drop service in downtown Queenstown is designed to give customers the option to leave their luggage in a central and secure location so they can have the freedom to continue their holiday before heading straight to the airport and flight departure gate.
"Allowing customers to drop their bags will also mean an easier journey to the airport, especially for groups and families – and travellers can have peace of mind their luggage is being securely transported to Queenstown Airport and onto their flight, leaving them to collect it at their destination."
The downtown check-in is available between 8am and 2pm daily, with customers required to drop their bags at least 90 minutes before a domestic flight, and 120 minutes before an international flight.