Air New Zealand has provided details around the entry into service of its first Airbus A321neo (new engine option) aircraft.
Air New Zealand has ordered a fleet of 13 x A320neo family aircraft (a mix of 7 x A321neo and 6 x A320neo) to replace the current A320ceo (current engine option) aircraft used on Trans Tasman and short haul international routes. The first two A321neo aircraft are due to arrive next month, and the first A320neo is due to arrive in February 2019.
The first scheduled A321neo service is NZ707 from Auckland to Sydney on Monday 12th November. Over the following weeks the aircraft will be deployed on services between Auckland and Apia, Brisbane, Gold Coast, Melbourne, Nadi and Nuku'Alofa.
The delay in the A321neo delivery has seen Air New Zealand opt for the new Airbus cabin flex layout which sees the aircraft doors relocated and new over wing exits to increase the seating capacity of the A321neo to a maximum of 240 seats. Air New Zealand have opted for a cabin layout featuring 214 seats in an all economy class 3-3 configuration.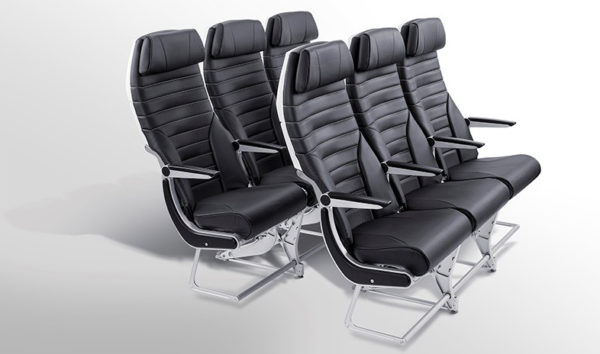 The aircraft will feature brand new Acro Series 6 seats which offer the added bonus an extra wide middle seat offering additional 3.8cm of seat width compared to the window and aisle seats. 48 of the seats towards the front of the plane will be Space + seats offering 83cm of seat pitch available for Airpoints Gold, Elite and Koru frequent flyers along with those customers paying extra for a preferred seat. The remainder of seats will feature a seat pitch of 76 or 73cm.
Air New Zealand have not opted to fit any premium seating to the aircraft, instead opting to sell its Works Deluxe product as the top offering of these aircraft. Like the current Works Deluxe offering the first few rows of the aircraft will feature a blocked middle seat with only the aisle and window seats being sold.
The aircraft will feature Panasonic IFE with 10"HD screens along with USB-A and USB-C ports. It will also include inflight WiFi powered by Inmarsat's GX solution.
The USB-C features USB-C PD (Power Delivery) providing 27W (9V @ 3A) output. The PD standard is an enhancement to USB-C delivering up to 100W of power, and PD support is required to charge most modern tablets or laptops that feature a USB-C connector.
The 27W output will allow some USB-C tablets and laptops to be powered or charged. The majority of USB-C powered laptops require a minimum of 30W USB-C PD (20V @ 1.5A or 15V @2A ) to power up or charge. My HP EliteBook as an example requires a minimum 30W PD to charge, and 85W PD (20V @ 4.5A) to charge at full speed. It will not power up or charge if connected to a 27W USB-C port.
If you have a modern laptop with USB-C charging it would be well worth understanding whether your device will work or not, and if you rely on it being powered for work, picking up a USB-C Powerbank with PD support that can deliver a minimum of 45W. A great review of such devices is available here.
Haven spoken to the Panasonic team at CES earlier in the year I understand the challenges of delivering power around the cabin, and hopefully going forward we'll see higher output USB-C PD ports that will support powering and charging all USB-C devices.
The introduction of these neo aircraft will see three of the current A320ceo international short haul fleet moved to domestic operations as a temporary measure before those three aircraft along with the four oldest current domestic A320ceo aircraft are replaced by 7x A321neo aircraft between 2020 and 2024.