Air New Zealand has added the Impossible Burger to its Business Premier menu on its NZ7 service between San Francisco and Auckland. This follows the launch of the burger on the Los Angles to Auckland route in July.
The Impossible Burger is a plant based product engineered by US company Impossible Foods. The texture and taste of the product is designed to taste just like meat, and it differentiates itself other plant based burgers by featuring heme - a soy plant extract that contains iron and replicates many of the characteristics of meat.
I had the opportunity to try the Impossible Burger on my flight back from Los Angeles last week and was very impressed by it. The texture of the burger was great and the flavour was amazing.
Did it taste just like a beef burger? No it didn't - but it also didn't leave any aftertaste in my mouth. I however rate it as a very good burger that I would happily eat again. It was certainly far tastier than some of the meat based inflight burgers that Air New Zealand have previously offered.
Some added bacon with it from the breakfast roll would have made it perfect but unfortunately the chef wasn't willing to meet my request. 🙂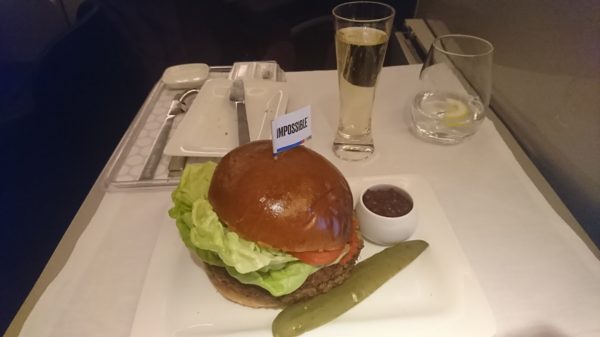 The Impossible Burger will be served as smaller bite sized sliders on the San Francisco to Auckland route rather than a single burger. They will be served with a tomato jalapeno chutney, sundried tomato mayo with buttermilk slaw and vegetable crisps.
Now that Air New Zealand have mastered the plant based burger I'm setting a new challenge for them. How about serving up California's best beef burger - the iconic In-n-Out Double Double? Of course it would need to be washed down with one of their chocolate thick shakes..