Air New Zealand officially launched their inflight WiFi offering in  May 2018. Since then they've progressively been fitting WiFi to their long-haul Boeing 777 fleet during scheduled aircraft maintenance in Singapore.
WiFi is currently offered on most of their Boeing 777-200ER and Boeing 777-300ER aircraft, and will come factory fitted on their new Airbus A321neo and Airbus A320neo aircraft that are in the process of being delivered over the next few years for short-haul flights to Australia and the Pacific Islands.
The remaining Boeing 777 aircraft are currently being refitted one by one, and once that is complete the airline will commence refits of their Boeing 787-9 Dreamliner fleet.
WiFi is currently fitted to the following aircraft as of the 13th March 2019
Boeing 777-200ER ZK-OKB
Boeing 777-200ER ZK-OKD
Boeing 777-200ER ZK-OKE
Boeing 777-200ER ZK-OKF
Boeing 777-200ER ZK-OKG
Boeing 777-200ER ZK-OKH
Boeing 777-300ER ZK-OKO
Boeing 777-300ER ZK-OKP
Boeing 777-300ER ZK-OKQ
Boeing 777-300ER ZK-OKS
Airbus A321neo ZK-NNA
Airbus A321neo ZK-NNB
Airbus A321neo ZK-NNC
Airbus A321neo ZK-NND
Airbus A320neo ZK-NHA
Boeing 777-200ERs ZK-OKA and ZK-OKC are still to be refitted. Boeing 777-300ERs ZK-OKM, ZK-OKN and ZK-OKR are still to be refitted.
So how can you tell if your flight will have WiFi? It's pretty easy actually.
Aircraft are typically rostered onto routes up to a week or so in advance. If your flight will be on an aircraft fitted with WiFi the Air New Zealand app will show a WiFi logo next to your flight details up to around a week or so before your flight.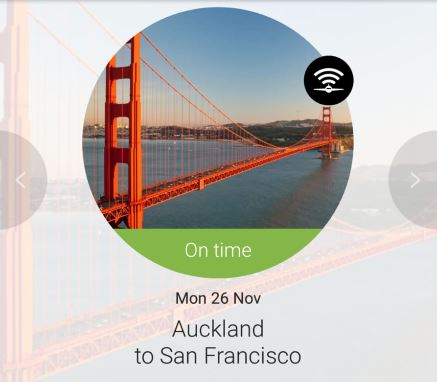 You can also look at the aircraft that will fly your flight using the flightradar24.com app or website. This will show a historical view of the aircraft that flew a route, and will normally show the registration of aircraft scheduled to fly a route a few days in advance. You can then cross reference the aircraft registration against the list above.

It is however important to note that aircraft changes can occur for a number of reasons, so it is possible an aircraft could be swapped out before you fly.
WiFi is available on all short-haul and long-haul routes flown by these aircraft with the exception of flights between Auckland and Buenos Aires where service is unavailable for several hours across the Pacific Ocean due to a gap in the satellite coverage of the Inmarsat Global Xpress satellites that provide the service. My tests of multiple flights have shown awesome speeds up to around 20Mbps down and 5Mbps up, but these speeds will vary depending on the number of people on the aircraft using the service.
After experimenting with pricing for several months after the launch, Air New Zealand finalised their pricing at $30 for short-haul flights to Australia and the Pacific Islands, and $40 for all long-haul flights to the North America, South America, Asia and London. A single hour of Internet access can be purchased for $9
For those on connecting flights such as NZ1 or NZ2 from Auckland to London via Los Angeles, you'll need to pay for each flight individually. Likewise for Australian passengers connecting to North America via Auckland, you will also need to pay for each flight individually.
At present Air New Zealand are offering free WiFi to all passengers from the 1st December until the 28th February 2019 as a Christmas promotion.