Air New Zealand has cut the price of its cheapest entry level airfares on over 40 of its domestic routes, in some cases by up to 50%
The price reductions apply to flights in P booking class which will see price cuts and increased availability of this booking class across these routes, with Air New Zealand now offering 750,000 seats a year across their domestic network available for under $50.
Other fare classes and prices remain largely unchanged, meaning that last minute seats on any of these routes could still be significantly higher.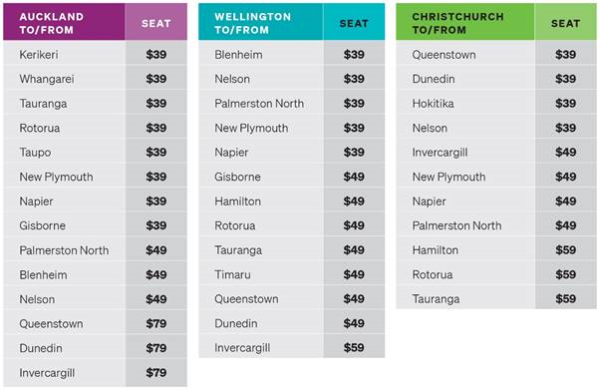 There has been a lot of media reporting of this announcement over the past day, and some of this has not been entirely accurate. Newshub's Duncan Garner incorrectly inferred that many airfares would be slashed by half. This is not the case - no $200 fares will become $100, and no $500 airfares will become $250.

This announcement is not necessarily a "game changer" despite media such as Garner using the word. Rather than merely reporting on the headline, TravelTalk will explain the real impact of this announcement.
To understand the impact it's important to understand how airline booking classes work on any given flight. While this is very basic, it is something most people neither realise nor understand. Knowing how fares are set is particularly important if you want to know why there are no $39 on the flight you want to fly on!
On (for example) a 50 seat Bombardier Q300 flight between Auckland and Kerikeri there could be up to to 56 different combinations of booking class / fare basis available for any given flight, ranging from a $39 P class seat only fare, right up to a  $344 Y class flexidate fare.
Air New Zealand offers booking classes of P, K, X, G, S, L, T, W, V, Q, H, M, B and Y on domestic flights. Each of these fare classes is set at a fixed price which is published and publicly accessible. Each of these 14 booking class can also carry a fare basis for seat only (SAT), seat+bag (BAG), Flexitime (FXT), and Flexidate (FXP) giving a total of 56 different combinations. You will see the booking class in the booking engine when you select a fare option.

Not all booking classes will be available on every flight, and in particular the cheapest P class fares will not be available on all flights. The number of seats available in each booking class can also vary depending on the time of day, even on the same route.
Typically speaking airline inventory is sold in price order, meaning that customers will buy the cheapest fare class, and once that is sold fares will then become available at the next level up.
Using the example of the Kerikeri flight this means that once the 6 x P class fares are sold (and my example of 6 does not necessarily represent a real world figure of available on this route), the next customers will pay $49 for the 6 x K class fares.. And once those K class fares are sold the next fare available may be $89 G class.. And once they're sold the next fare is $109 S class, followed by $129 L class and $149 T class fares.
Those booking last minute or on full flights may find that a $289 Y class ticket is all that is left available on a flight.
Working out how many seats are allocated on each flight at each booking class is a job for airline load management and revenue staff.
Typically speaking the further out you book a flight, the cheaper the flight will be. This is because there will be more seats still available to purchase, and more importantly more cheaper fare classes still available.
At any given time however airlines can (and do) release cheaper fare classes back into a flight. This can be done for several reasons - if there are several near near full flights on a given day but a flight that has fewer seats sold they can chose to offer cheaper seats on that flight for competitive reasons, or they can do this simply to fill seats.
Overall this announcement is probably close to being revenue neutral for the airline - losing $150 worth of revenue on P class fares on a flight that may bring in over $5000 of revenue is not significant. These changes are not about revenue however, they're about driving demand for air travel.
Despite what many people may think, the cost of an airline flying a plane around is not cheap. The cost per passenger to fly somebody from Auckland to Wellington of a full Airbus A320 jet is lower than the cost to fly somebody from  Auckland to Kerikeri on a full Bombardier Q300.
Many people in regional areas feel they are being ripped off by Air New Zealand, and that paying hundreds of dollars for a flight is a rip off - however this conveniently ignores the fact people regularly pay over $300 for a flight between Auckland and Wellington.
Air New Zealand has been adding a huge number of extra seats on domestic routes in recent years, and that will continue in the years to come with 7 new Airbus A321neo aircraft which will be configured with a minimum of 214 seats scheduled to replace older 171 seat Airbus A320ceo aircraft between 2020 and 2024 on domestic jet routes.
Many regional routes have also seen increases in recent years with the upgauging of 50 seat Bombardier Q300 to 68 seat ATR 72 aircraft.
Filling these extra seats means encouraging people to fly - and the easiest way to do that is to offer pricing that encourages people to fly more often. This has to be balanced up however against higher oil prices which have forced the price of fuel up in recent months, resulting in significantly higher operating costs for the airline.
These changes are positive, but my only concern is that many people will have expectations of an influx of $39 - $59 fares on regional routes that will be available whenever they want to fly, which will lead to disappointment when they realise fares aren't quite that cheap. The 750,000 seats for under $50 represents only a small percentage of the total number of seats sold by the airline